[Update 3rd August 2021]: Sadaf Kanwal was in hot waters for quite a few days after her recent statement belittling 'liberals' and 'feminists'. Right around this time, Shahroz also shared an Instagram story as a support for Sadaf. The statement that the story made was that a liberal has attention-seeking, anti-Islamic thoughts coursing through his/her mind.
Offended Pakistanis started delving into their past to bring about evidence that contradicts what the couple is preaching.
Shahroz answers Sadaf's critics
To answer that, Shahroz appeared in an interview. He said that sharing Sadaf's past videos is not going to affect them because it is all in the past and that Islam allows room for forgiveness.
This pro-Islamic narrative seems forced but it also makes sense if you look at comedian Shehzad Ghias' statements on the matter.
"The truth is that the easiest way to get viral is to pretend to be Islamic, pretend to love Pakistan, and hate on liberals/feminists."
"Sadaf Kanwal is in hot water because of her comments about feminism and the role of a wife, and again Shahroz is trying the same trick by branding criticism of Sadaf as being 'Anti-Islamic'."
---
---
[July 30th, 2021]: Sadaf Kanwal and Shahroz Sabzwari appeared for a special Eid interview with ARY News on Eid-ul-Azha. The two appeared on 'Hamare Mehman' after many requests from the audience and gave many talking points to the netizen after!

The Chemistry Between The Two
As soon as the two came in front of the camera, the chemistry is very obvious and rather tangible. The interviewer asks Shahroz Sabzwari, "did you give her Eidi?" to which he said "no". However, Sadaf Kanwal immediately picked up on that and said "I get it every day!" being super shy.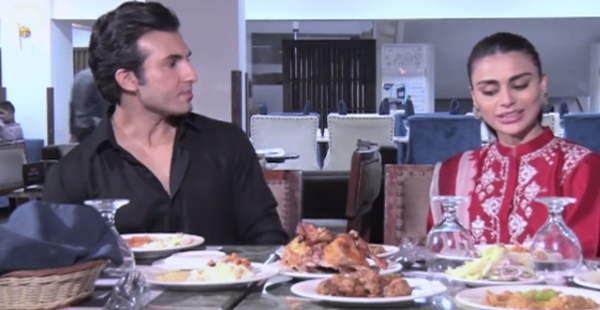 The two also kept talking about what the other loves and does and does not do. Shahroz Sabzwari is especially smitten with Sadaf Kanwal's beef burgers. The top model makes such patties that cheese oozes out of them!
Watch The Interview:
Marriage Rules
When asked about marriage rules is when the interview becomes borderline controversial. Sadaf Kanwal agreed that she does indeed have certain marriage rules. According to her, her rules are very 'simple'. She believes that a husband should be considered a husband. That is to say, he should have a higher status.
View this post on Instagram
Her reasoning behind this is that the husband earns and feeds the family and takes care of them. She also acknowledged that she too works and earns. However, in her eyes, she can never compete with Shahroz Sabzwari's status as a husband.
Read more: This Girl's Mimicry Of Sadaf Kanwal Is Breaking The Internet
Netizen's Reactions
Netizens have always already shown their discontentment with this couple. Be it when they introduced themselves to the world or when they do anything slightly against the norm. Even when this statement saw the light of the day, netizens found their cue to criticise them.
They simply do not agree with Sadaf putting husbands as superior. Here's what all they said: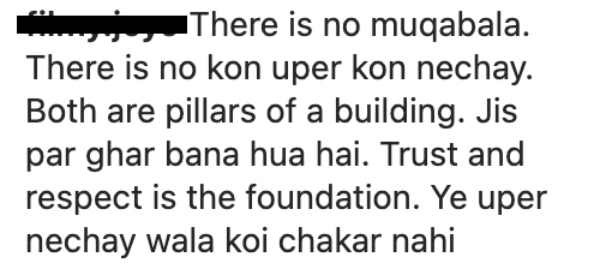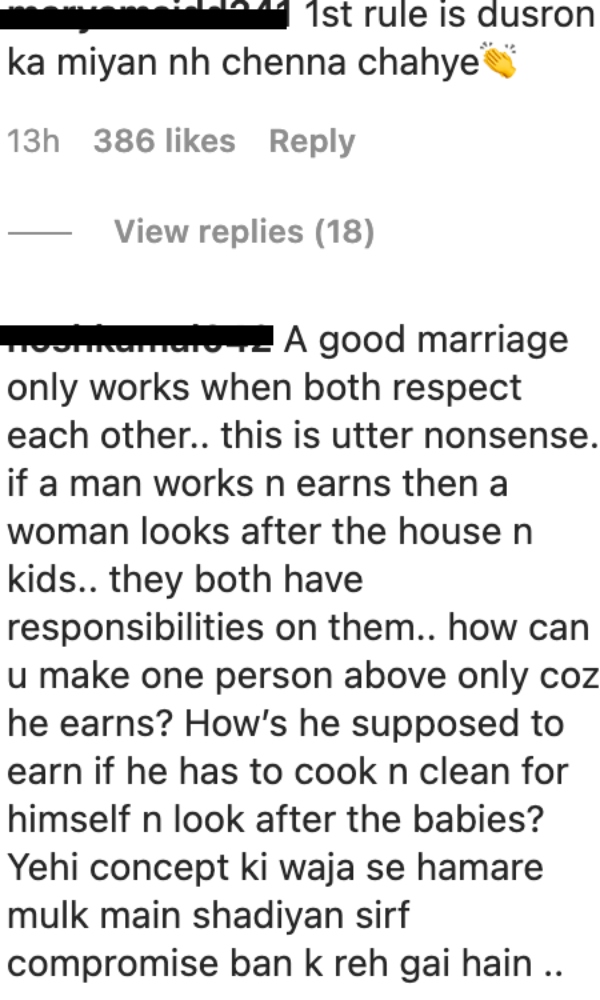 Enough With The Levels
The current circumstances around us show us that it's high time we start saying 'men are superior' without any solid reasoning. In marriage especially, he who earns and takes care of the family is not superior. Both are on an equal level regardless of who earns. It is not as if a woman does not earn she is doing nothing for the family. It is also not as if she is not earning, her care for the family is inferior to that of her husband's.
Stay tuned to Brandsynario for the latest news and updates.