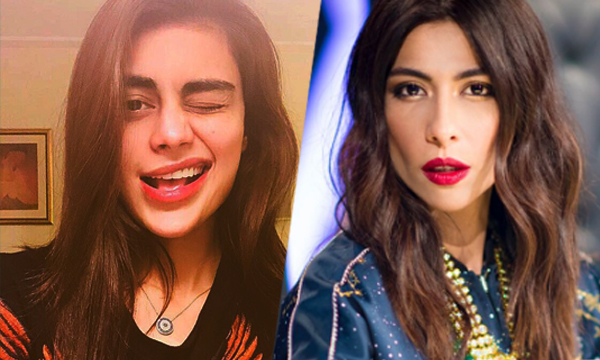 The gorgeous Pakistani model and actress, Sadaf Kanwal is recently catching some heat after making pretty bold comments about Mahira Khan and #MeToo movement on a talk show.
During an interview with a renowned designer Hassan Sheheryar Yasin on "Tonite with HSY", the 25-year-old star did not shy away from making extremely controversial statements that have left her fans in utter shock.
Taking a dig at Mahira Khan, the supermodel lashed out at the Humsafar haseena that it's her fair-skin that makes her so successful in the industry.
What do you think about why people like Mahira Khan, it's because of her skin color. She doesn't have any unique thing in her.
She added that anyone can be Mahira and her looks are all that make her desirable.
Her face just isn't specific.
In yet another daring opinion, the Balu Mahi starlet stated that women should come forward as soon as they are harassed and there is no point in raising the issue after a while.
She said:
I don't understand this #MeToo trend. I don't know what to say about it. I mean If I was the victim of harassment under #MeToo then I will raise my voice immediately. I'll never post about it on social media and make a big deal.
Surprisingly, her co-guest on the show, Amna Ilyas immediately disagreed with Sadaf and said that when someone is harassed, it takes courage to speak up.
She said:
Some people don't have the courage to speak up so they raise their voices a while later and everyone should talk about it whenever they are ready.
Pakistani Celebrities React to Sadaf's Take on #Metoo
Of course, Meesha Shafi who has been an active part of the #Metoo movement took a subtle dig at Sadaf for mocking the campaign.
#Mein OUT NOW! #PepsiBattleOfTheBands @pepsipakistan @PepsiBoTBands #MeeshaShafiLIVE https://t.co/r0DDtjHoA7 pic.twitter.com/DUween6cnu

— MEESHA SHAFI (@itsmeeshashafi) September 3, 2018
Mentioning the model's bushy eyebrows, she slammed Sadaf for her views.
Strong eyebrows.. do not a strong backbone make 🤷🏻‍♀️ Pfffft

— MEESHA SHAFI (@itsmeeshashafi) September 19, 2018
Did you notice how Shafi wrote the incorrect grammar in her tweet? It was yet again a savage dig at the supermodel and her bad grammar.
Following the controversy, Sanam Saeed also posted an empowering message on her Instagram for all to learn.
Needless to say, fans are not happy with Sadaf for talking about the sensitive issue so lightly.
After this whole Sadaf Kanwal incident, I realize how difficult it must have been for @itsmeeshashafi to take a stand for herself and point a harasser in the same media community which harvests people like Sadaf.

— Javaria (@JavariaWaseem) September 18, 2018
Why I don't like women like Sadaf Kanwal. #MahiraKhan #MeToo

— Ayesha (@_Woke_AF) September 18, 2018
I'm disappointed how Sadaf Kanwal made light of #metoo movement, how I was her fan, how her privilege blinds her to ordeals of sexual abuse victims who find courage to fight the evil, how all this education and exposure doesn't bring empathy, how this is how she uses her impact. pic.twitter.com/XqY4u4Fw55

— Maryam (@maryamful) September 18, 2018
I was reading about #SadafKanwal 's interview with @HSYCOUTUREKING and seriously that girl didn't say anything good for anyone. She said very weired stuff about Mahira (Which we can only listen and laugh at 😂) she pointed out Maya and of course #MeeshaShafi. 2/2

— Faria (@FariaSays) September 18, 2018
Somebody knock some sense in Sadaf Kanwal's head for ridiculing #MeToo and the victims of harassment on HSY show. She was horribly problematic throughout the interview. Why was she even invited?!

Though Amna Ilyas was the sane guest on the episode.

— Hija Kamran (@hijakamran) September 9, 2018
sadafkanwal is a prime example as to how mediocrity and toxicity receive appreciation in Pakistani Fashion industry.The woman doesn't even know a damn thing regarding significance of #MeToo and spews crap as to how meray sath #MeToo kabhe nahi huwa .how Disgusting it is!

— sad&disturbed feminist (@Ayesha_kamal007) September 18, 2018
Fans of Mahira Khan were also quick to bash the model on her contentious words.
Sadaf kanwal on Tonite with hsy saying Mahira is famous just because of her fair complexion and she doesn't have anything unique like seriously dude ?what are you saying ? you are reducing a successful woman to just her fair complexion .Mahira is not the only woman in Pakistan

— Durray shafaq (@shafake_durray) September 18, 2018
Try not to rip apart a woman who has held her ground multiple times and made us so proud. Her craft, her resilience, her screen presence and Mahira Khan is what we love and appreciate. So while you're trying to revise your very much dead career, call me when you represent Loreal

— zach (@outsoldyafaves) September 18, 2018
Soon #SadafKanwal will be in the best friend league of #SabaQamar & #MehwishHayat after giving hateful remarks about Mahira.I Hope Saba,Sadaf,Mehwish get something better to do rather then getting fame in the name of #MahiraKhan. Shame on you ladies. May Jealousy kills you👹👎

— RealAamirButt (@Aamirbutt81) September 18, 2018
She made fun of the #MeToo campaign, mocked bullying, claimed that mahira khan is only famous cuz of her fair complexion, fat-shamed, and had the audacity to advise other models to "stay quiet" when she herself is so dumb and ignorant. what a problematic woman

— Gomz 🥀 (@KomzHolmes) September 18, 2018
Never in my life i understood the pointless hate on Mahira Khan? 🤐

— Mahadzzz (@The_kebab_lad) September 18, 2018
Watch the full episode below:
https://www.youtube.com/watch?v=_d5CLUvdJQE&t=860s
Shahid Afridi Video Bombed Sana Fakhar's Workout & Its Hilarious!
We would just advice the model to be a bit more careful in the future!
What are your views on the Sadaf's post? Tell us in the comments. Let us know in the comments section below.
Originally published on Veryfilmi.com