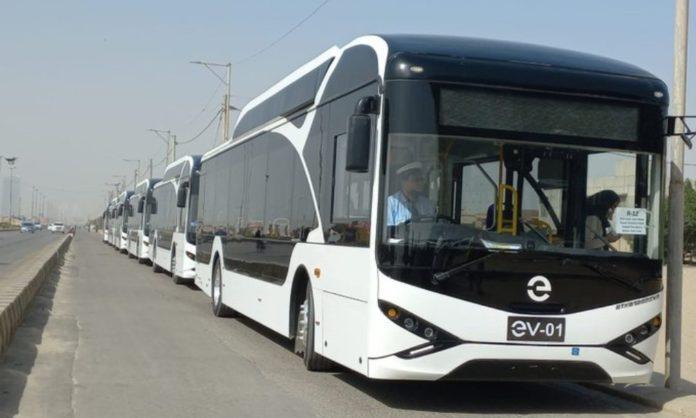 The poor condition of Karachi's public transportation is one of the city's biggest problems; it not only makes traveling stressful but also poses a serious safety risk. Bus travel in cities has long been a source of constant nightmares. However, the Sindh government took control and introduced not one but three new services: Pink Bus, People's Bus, and People's Electric Bus. This was done in response to decades of complaints and a nearly complete shift of people to rickshaws and private cab services, which have grown in popularity despite constant fuel price increases.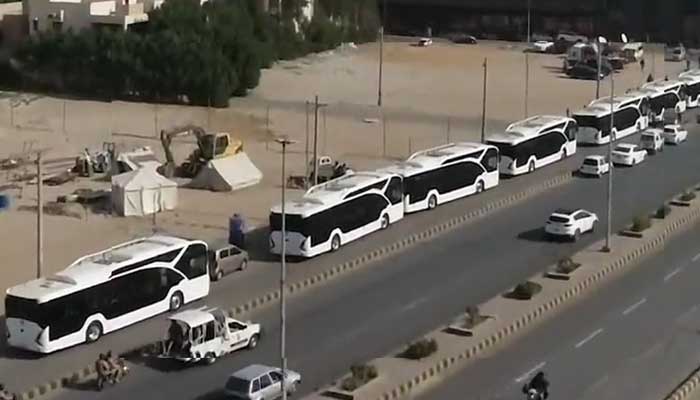 Women Only Pink Bus 
The Pink Bus, a citywide service that solely serves women, was introduced on February 1. Sharjeel Inam Memon, the minister of Sindh's information ministry, announced it on Twitter.
Shaheed Benazir Bhutto always taught us about Women Empowerment. She initiated many projects to strengthen the position of women in our society. Transport Dept. Govt. of Sindh will start new bus service in Karachi from tomorrow. This will be exclusively for Women. #PinkBusKarachi pic.twitter.com/4rmO0Hdq7j

— Sharjeel Inam Memon (@sharjeelinam) January 31, 2023
The Sindh Mass Transit Authority (SMTA) has shared the bus's route, which is as follows:
Currently, there is only one route for the bus, which travels from Model Colony to Tower through II Chundrigar Road and Shahrah-e-Faisal Road.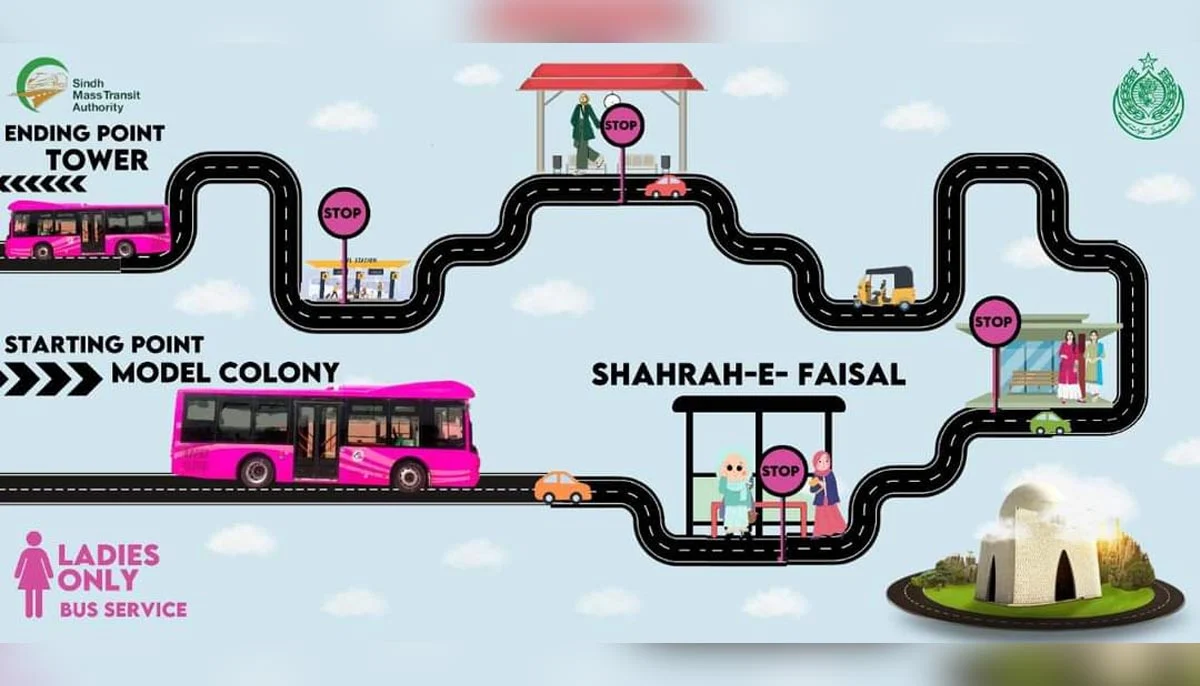 Peoples Bus Service 
Karachi will host the Peoples Bus Service in June 2022. The best aspect of this service is that it will just cost you Rs.50. (depending on your route, of course). Bilawal Bhutto-Zardari, the foreign minister, formally opened this bus service. The politician also took a trip on the bus to inspect the amenities. For the intra-district bus project, 240 red hybrid air-conditioned buses were purchased from China. The following routes are offered by the people's bus service:
Route 1: The 29-kilometer course passes through Shahrah-e-Faisal and travels along the city's major thoroughfares. Model Colony is the starting point, followed by Malir Halt, Drigh Road, Karsaz, Metropole, and Tower.
Route 2: It begins in North Karachi and travels 32.9 kilometers before arriving at Indus Hospital. Buses traveling this route pass through Shah Faisal Colony, Nagan Chowrangi, NIPA, and Singer Chowrangi.
Route 3: This 33 km route travels from Nagan Chowrangi to Singer Chowrangi, passing via North Nazimabad Town, the Civic Center, the National Stadium, and the KPT Interchange.
Route 4: This route begins in North Karachi and travels through New Karachi, University Road, the M9, Ayesha Manzil, Lalu Khait, Guru Mandir, Empress Market, the Sindh High Court, II Chundrigar Road, and finally arrives at the dockyard.
Due to ongoing road maintenance, Routes 5, 6, and 7 are currently inoperable.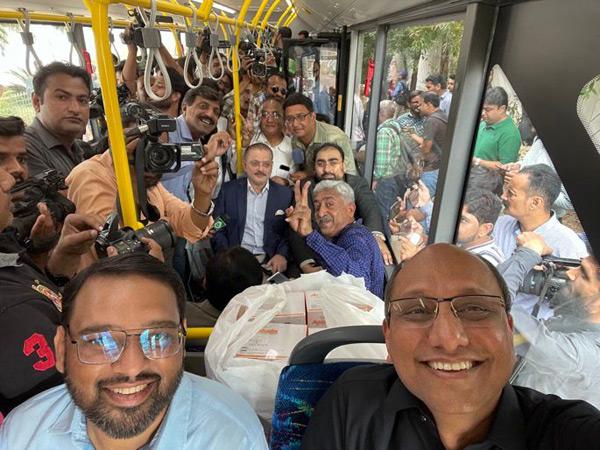 Route 8: Awarded to Larkana (intra-city).
Route 9: The path to Lyari travels through Boat Basin, Mai Kolachi, Native Jetty, and Mauripur Road beginning in Shireen Jinnah Colony.
Route 10: By way of MA Jinnah Road, Tower, II Chundrigar Road, Arts Council, Metropolitan Hotel, Marriott Hotel, Teen Talwar, Do Talwar, Abdullah Shah Ghazi, and Dolmen Mall, this route travels from Numaish Chowrangi to Clock Tower, Clifton.
Route 11: Shahrah-e-Faisal is used on this route to connect Gulshan-e-Hadeed and Tower.
People's Electric Bus Service 
On January 13, the transport minister, Syed Nasir Hussain Shah, minister of local government for Sindh, and Saeed Ghani, minister of labor for Sindh, officially launched the People's Electric Bus Service at Clock Tower, Seaview. According to the minister, "These buses, which run totally on stored batteries, are of European quality and will not spread any form of pollution." He also said that in addition to decreasing pollution, the buses will provide low-cost travel options to citizens. This bus runs on Route 12 of the People's Bus Service and is a component of that company.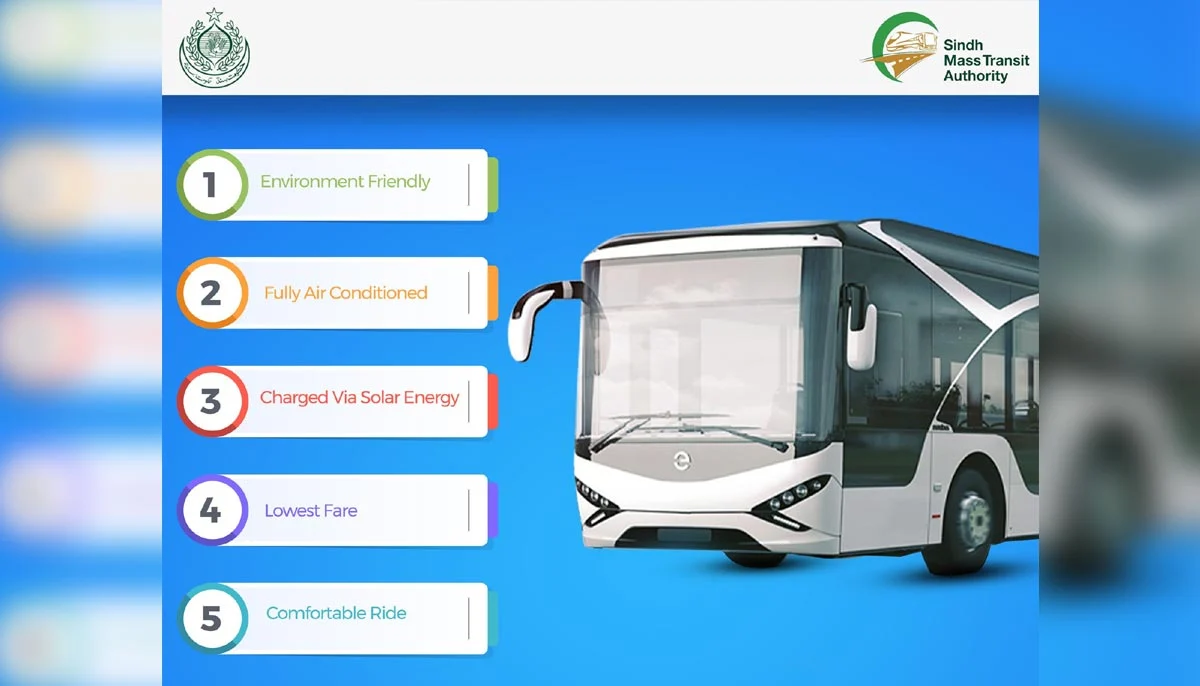 Route 12: This bus runs to the Clock Tower Roundabout at Sea View through Shahrah-e-Faisal, the FTC building, Korangi Road, and Khayaban-e-Ittehad starting at Malir Cantt check post 6. Also though it just costs Rs. 50, this bus is special in that it even travels to the Jinnah International Airport.
In addition, the People's Bus Service has already begun in Hyderabad and will shortly begin in Sukkur.
Stay tuned to Brandsynario for more news and updates.