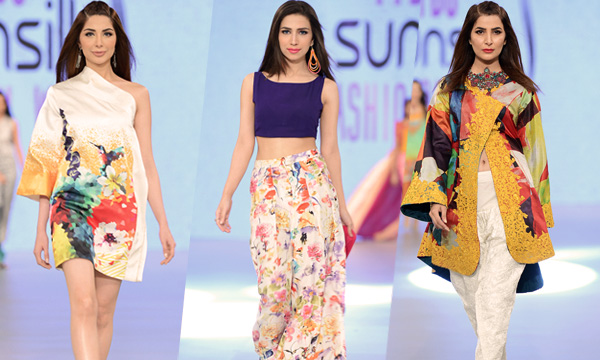 The Day 4 of PSFW was a bonus to fashion lovers as we usually have a three-day fashion week here in Pakistan. It was actually an unwanted day that was added to the schedule.
Except for Deepak Perwani, there were no designer showcases; rather, retail brands and textile houses were offered this forum to showcase their voile collections, which we think is not required as these brands individually host their lawn launches with proper presentations.
Nevertheless, it is good to see fashion week expanding its horizons and inviting more brands and adding new genres. Let's see which of these design houses made an ever lasting impression on us with their collections and which one could not succeed in doing a good job.
Deepak Perwani
Ace designer Deepak Perwani showcased his The Return of D-Philosophy collection. Geometric prints, splashes of colours and artistic strokes defined this assemblage of Perwani.
Overall, the collection was modern and edgy featuring trousers, palazzos, skirts and asymmetrical hemlines on a variety of fabrics including silks, chiffons chamois and rawsilk.
Television and film personality Wiqar Ali Khan walked the ramp as the brand's celebrity showstopper.
Al-Karam
Popular retail brand and textile house exhibited its spring/summer collection on day 4 of PSFW.
The usage of crochets and lace with bold peacock and preppy ajrak prints was a break from usual floral prints that we see on every other lawn, but the way collection was presented completely killed its vibe.
All the designs were tailored without putting any thoughts and trends which made it look less than ordinary. 
Khas
Khas also showcased its premium lawn 2016 collection. Sober colour tones were used by the brand and the placement of prints wwas done with a spin of creativity.
There were a few prints that truly stood out not only because of their prints but also because the way they were tailored and styled like the one worn by Mehreen Syed. 
Warda Prints
Warda Prints paid tribute to eminent painter Frida Kahlo. The collection was inspired by the painter's ever famous self-portraits. In fact, all the models paraded on the ramp with Kahlo's signature floral head band.
Most of the dresses that were part of the collection had prints in stripes running down the neckline forming a rectangular shape just like Khalo's most of the clothing design. Even though the prints and its placement was inspired by this legendary artist, but the cuts and silhouette of the collection were in complete contrast of Khalo's style.
She was known to wear ankle length hemlines to hide her damaged legs. Also, the collection had influences of Khalo but lacked the prodigious talent and arresting beauty that she used to exude.
House of Ittehad
House of Ittehad collaborated with iconic designer Nilofer Shahid to design their lawn collection for their SS'16 collection. From monochrome to bright hues to sober tones, the colour palette for the range was quite diversified.
In addition to floral prints, we also witnessed colourful tapestry masterly arranged on fabrics as well as some intricate embroidery to bring the glam quotient.
Gul Ahmed
This glitzy affair of fashion week came to an end with Gul Ahmed. The renowned brand showcased its spring/summer collection. Floral prints over a varied colour palette were dominant. Most of the prints looked repetitive and there was nothing refreshing about this collection.
However, the way the collection was presented by focusing on seasonal trends and by adorning all the dresses with captivating baubles was something that made the collection appealing to eyes.