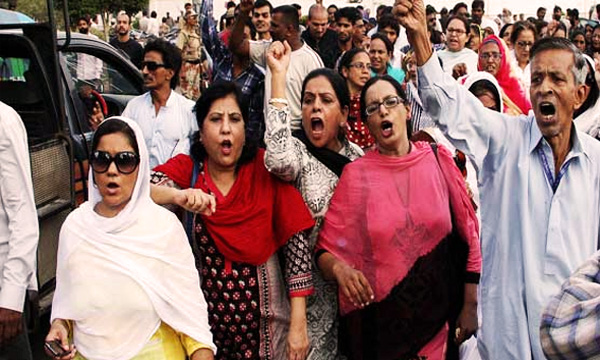 A certain political party will stage protests today all over Karachi to express solidarity with its chief, Altaf Hussain. The announcement came after the former mayor of Karachi, Mustafa Kamal's no holds barred press conference against MQM's Chief.
"Protests will be staged at 18 different places in the city and will begin at 4:00 pm today. Protests will be held in Clifton, Landhi, Korangi, Malir and Shah Faisal areas." an MQM Leader told Express Tribune.
Thursday proved to be a shocking day for political parties in Karachi as Mustafa Kamal challenged his former political party openly. He announced the foundation of his own political party whose name hasn't been decided yet.
Mustafa Kamal earned a powerful follower base and support after becoming the mayor of Karachi. His spell which started from 2005 and ended in 2010 saw Karachi develop rapidly with improved public services and resolved traffic problems.
Mustafa Kamal and Anees Qaimkhani publicly denounced their party membership on Thursday. This is the first time that they have held a press conference after departing from the party in 2013.
Kamal accused the MQM chief of working for India's primary secret agency RAW. Following these allegations, the MQM's top echelon held a press conference in response and interestingly held a calm stance. The leadership claimed that the political party has been dealing with all such accusations for decades.
Nadeem Nusrat, MQM's convener addressed the press conference at MQM's Headquarters Nine-Zero from London. He said, "These allegations are not new. Since 1992, we have been facing them. In every election, we have been getting the mandate and votes despite all these allegations. The mandate alone is the defense of Altaf."