Update: 21st April 2020
On Tuesday, the Sindh government has granted permission to 82 more industries to continue their operations after submission of undertaking to fully follow the SOPs designed by the government in the wake of COVID-19.
In a notification issued by the Sindh home department, 82 factories have been allowed to continue their operations to complete their export orders.
"The factories would be bound to follow the SOPs amid coronavirus outbreak", the notification read.
Earlier, 69 units were allowed to continue their operations in Karachi.
---
---
Update: 20th April 2020
After suggestions from businessmen and traders, the Sindh government has prepared a set of SOPs to reopen a few businesses in Karachi. In a meeting at the commissioner's office, it was decided that each business sector will be allowed to be opened for a few days a week.
Cloth markets, tailors, automobile sector, mechanics and auto parts shops will be opened for two days a week. Moreover, furniture sellers will also be allowed to work for two days. Electronic and mobile markets will be open for two days as well.
On the other hand, poultry shops and grocery stores will be open five days a week. Adding on to this, bakeries, milk shops and medical stores will be allowed to remain open the entire week.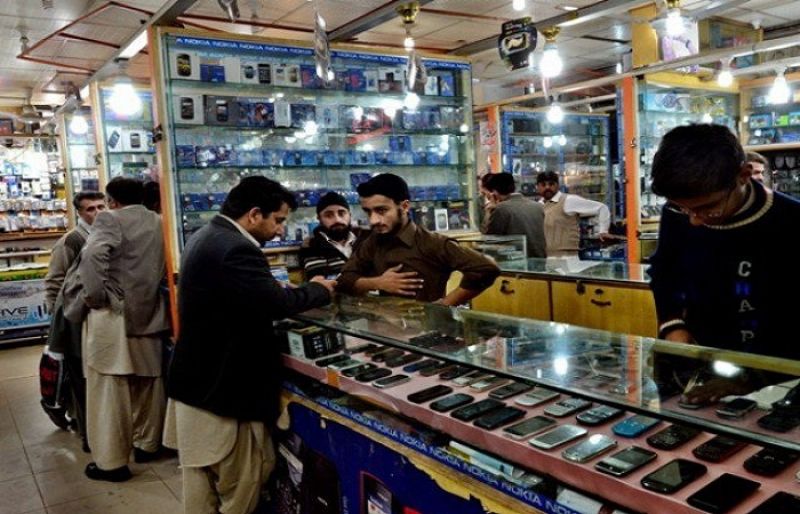 Former president of the Karachi Chamber of Commerce and Industry AQ Khalil suggested that wholesale and retail markets of the city be opened in two phases.
The decision has not been finalized and all the suggestions have been sent to Chief Minister Murad Ali Shah. If approved, the suggestions will then be forwarded to the federal government for a final look.
---
---

Update: 17th April 2020:
The Sindh government has decided to impose a complete lockdown in Sindh for the third consecutive week from 12 pm to 3pm on Friday, to help contain the spread of coronavirus as the number of cases in Pakistan has crossed 7,000.
The decision was made on Thursday by Sindh Chief Minister Syed Murad Ali Shah announced tafter meeting a delegation of ulema which was led by Mufti Muneebur Rehman, who is also a chairman of Ruet-e-Hilal committee.
Moreover, he thanked the religious scholars for supporting the government's efforts to help contain this spread of this virus.
علماء نے وزیراعلیٰ سندھ سے مکمل تعاون کی یقین دہانی کروائی.
وزیراعلیٰ سندھ نے کل 12 تا 3 بجے تک سخت لاک ڈائون کا اعلان کردیا. pic.twitter.com/jHKWxvdLuR

— Sameer Mandhro (@smendhro) April 16, 2020
---
---

15th April 2020:  Religious leaders have rejected restrictions imposed by the government. They have demanded the federal government to lift restrictions on congregational prayers at mosques in the country.
The lead clerics believe that prayer is essential and must be allowed to perform in mosques while taking care of precautionary measures.
The demand comes right after the government eases lockdown in Sindh for certain industries and services.
As Ramadan is approaching, Tarawih prayers and Itikaf will continue as per schedule said, religious clerics.
However, Pakistanis on twitter oppose the decision.
All those in favor of #WeStandWith_MuftiMuneeb , Kindly wrap your Boria bister and please go in Aetekaf for a month in your respective mosques. Do Ibadat and Gain lots of Sawab and let others live peacefully.

— Zainwain (@zainwain) April 15, 2020
Bus Pakistan ne hi Islam bachana hai. pic.twitter.com/RqQBZTtSOd

— Rehan Ulhaq (@Rehan_ulhaq) April 14, 2020
I completely understand relaxing the lockdown for the industrial and commercial sector. Our economy is in shambles.

But what economic benefits are there in reinstating mosques? These mullahs nothing to society, let alone the economy. All they do is mooch off chanda.

— BuffetKhor (@BilkulSahiKaha) April 14, 2020
---
Update: March 27th, 2020
On Thursday, the Sindh government decided to ban congregational prayers in mosques including Jummah prayers in Sindh till April 5th, 2020 amid coronavirus fears, according to ARY NEWS.
Provincial spokesman Murtaza Wahab announced the decision on his Twitter account. He said that the Sindh government has taken a big decision placing a ban on congregational prayers at the mosques from masses.
Here's what Murtaza Wahab tweeted:
کورونا وائرس کے پھیلاؤ کو روکنے کے لئے حکومت سندھ کا بڑا فیصلہ، مساجد میں عام افراد باجماعت نماز ادا نہیں کرسکیں گے، فیصلہ تمام مکاتب فکر کے علمائے اکرام اور طبی ماہرین کی مشاورت کے بعد کیا گیا ہے۔ مسجد کے عملے سمیت پانچ افراد باجماعت نماز پڑھ سکیں گے۔شہری فیصلے کی پابندی کریں۔

— SenatorMurtaza Wahab (@murtazawahab1) March 26, 2020
Earlier, in the light of recent events, President Arif Alvi took it to his twitter advising citizens to avoid joining crowds for the Friday prayer to avoid any exposure to the deadly virus.
The higher authorities of the country are concerned about citizens being infected by a coronavirus.
Provincial governments of Sindh and Balochistan announced official holidays for educational institutes
---
28th February 2020: On Wednesday, the first case of coronavirus was confirmed in Karachi following panic in the masses. The epidemic initially broke out in Wuhan, China at the end of 2019.
People who have fever cough shortness of breath or any flu symptom should avoid going to public gatherings. I have taken opinion from Ulema that for the sake of community well being they can perform prayers at home & avoid Jumma congregation so as not to put other people at risk.

— Dr. Arif Alvi (@ArifAlvi) February 27, 2020
Shehzad Ghias, a comedian, took it to his Facebook to spread awareness.
Earlier, the Friday prayers were canceled in Iran due to the outbreak in the country. Currently, many countries in the middle east have been under a state of emergency.
With the disease spreading across the globe, we will most likely witness greater travel bans restricting people to move freely due to the virus.
Brandsynario sat down with Dr. Bushra Jamil from Aga Khan University Hospital (AKUH) and asked relevant questions regarding the deadly COVID-19.
Watch Exclusive Interview Here: 
For more news and updates, stay tuned to Brandsynario.