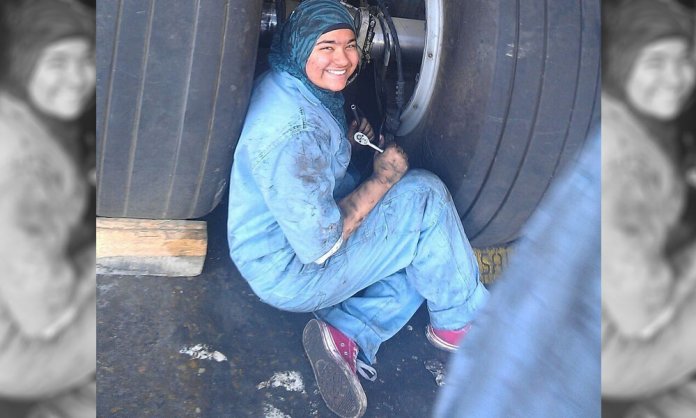 When Justin Trudeau was chosen Prime Minister of Canada, he was asked why was it important for him to choose a cabinet which is gender biased, to which he replied, "Because it's 2015!"
Fast forward to 3 years of this celebrated statement, we have seen the women of Pakistan also take up challenging roles in society to break all norms and stereotyping!
Our unsung heroes excel in many fields in this day and age, however, often go unappreciated.
Pakistan International Airlines (PIA) wanted to show their appreciation for the hard working and dedication of the women behind incredible journeys.
Recently, PIA praised one such talented young lady, the youngest Senior Aircraft Technician named Eeman Faheem who was caught in a candid moment while changing the brake assembly harness of the Airbus.
Look who we found! Eeman Faheem, our Senior Aircraft Maintenance Technician, changing the brake assembly harness of the Airbus. She is one of the youngest entrants in the field of Avionics Engineering. Kudos Emaan!! #PIA #ProudPakistani #GirlPower pic.twitter.com/MhIEUV2J4q

— PIA (@Official_PIA) July 19, 2018
Social Media Trolls Eeman Faheen
While it has made us immensely proud to know that there are women out there who are breaking shackles to make their dreams come true, we are even more happy to know that there are many people who appreciate their hard work.
Unfortunately, there are also some who need an excuse to troll such amazing individuals because they themselves can never make it in that position themselves, a few examples of such people are as below;
isi lye PIA ki halat aisi hy 😅😂😂

— Pakistani Janooni. (@PJanooni) July 19, 2018
At least she will be able to change the spare tyre of her own vehicle

— Sheheryaar Ali (@Sheheryaarali) July 19, 2018
Are they paying her salary on time ?

— T_Sidd (@T_Sidd) July 19, 2018
This is might be one of the reasons top air line is not even in top 100 now.

— I'm Mumtaz (@mabs239) July 20, 2018
No offense to her but im sure she had a damn good reference too.

— Jawad Khan (@ImJawadKhan) July 19, 2018
Kul ko inho nay hi break fail karkay musafiron ka traaaa nikal dena hai! 😂😂 waja: ghar mai larai huwi hai…

— PTI (@sirajashah) July 19, 2018
It is really sad and sick to see that in 2018 this is the mentality most of the people have in a prospering Pakistan. Acceptance is key to develop a country so that it can provide for its people and cater to their needs. However, in a society which the majority of the people think that a girl belongs to the kitchen, or she cannot do a man's job, the need to change this backwards conservative 'soch' is highly necessary.
Time and time again in history, whether it dates back to the Prophet's time or even before, women have played a very important role in the development of society and in raising a brighter mindset to give back to the nation.
Previously, the national airlines covered the story of their brave Captain, Maryam Masood and First Officer, Shumaila Mazhar, for a successful flight to Gilgit from Islamabad.
The flight to Gilgit is very challenging and requires a lot of precision and technique. Our dynamic duo, Captain Maryam Masood and First Officer Shumaila Mazhar make it look so easy as they fly through the mountains celebrating the beauty of our northern areas! Way to go!! #PIA pic.twitter.com/UOQC8VbRUZ

— PIA (@Official_PIA) June 21, 2018
PIA's Female Pilots Ridiculously Trolled for Flying to Gilgit!
Kudos to you Eeman and to all the other young gals out there working day and night to make their dreams come true!
Stay tuned to Brandsynario for more news and updates.