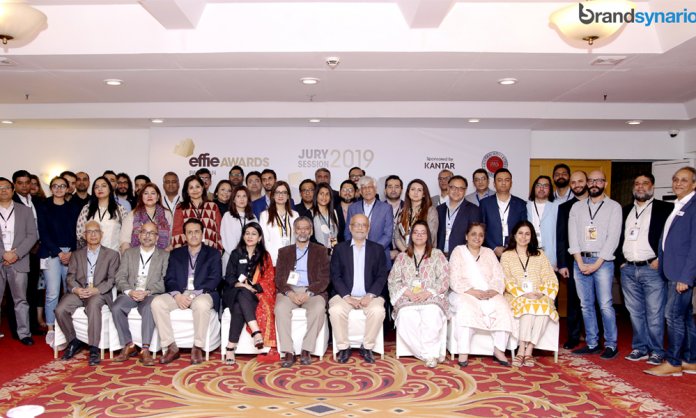 Pakistan Advertisers Society (PAS) recently partnered with US-based Effie Awards, a prestigious global network recognizing effective marketing communication, and held the first jury round on the 15th and 16th of March at Marriott Hotel, Karachi.
Effie Awards with its 51 national programmes, 4 regional awards and 1 global award, leads, inspires and champions the practice and practitioners of marketing effectiveness, whose efforts are celebrated with the award.
With the affiliation with Effie, PAS Awards, which have been highly respected in the industry have now been replaced by Effie Awards Pakistan. To contest for the renowned title, the competition was open to all marketing entries that ran in Pakistan between the period of July 1, 2017, till September 30, 2018.
The jury entailed 63 admirable leaders from the industry who are experts in their fields of marketing, advertising, academia, creative, media and research from around the world and have a positive track record of exemplary performance working in their areas.
The jury judged 40 entries each in the span of 2 days. It was vital that the jurors belonging from one industry judged cases opposite to their interesting categories to eliminate biases and conflict of interest.
To ensure this, the jury was divided into 5 groups; each group containing 10 to 11 people. The group was perfectly balanced with a mix of creatives, marketing and advertising heads to media and research executives. Each group was monitored by a moderator who had professional experience in holding a jury before.
The jury members were nominated through an online process and included top tier management of some of the biggest brands of Pakistan. It included titles such as; Director Marketing of RB Pakistan, Marketing Manager of National Foods, Head of Strategy at Nestle, Executive Creative Director at Ogilvy Mather and Head of Media at HBL. A few foreign delegates were also part of the Jury, such as Andy Wilson, who is the Head of Strategy at BBDO Asia. The entries were judged on demonstrated excellence in 4 key areas: definition of objectives, strategic development, creative execution, and measurement of results.
Each jury member examined written content and viewed creative reels in order to score a campaign. The scores were not discussed within members. The second round of scoring the shortlisted entries will take place on the 29th of March, with a concluding award gala held in May 2019 and the winners will be awarded a Gold, Silver and Bronze trophy. A special recognition award, the Grand Effie Award will also be awarded to the most effective and standout campaign of the year.
The Effie Pakistan finalists and winners will also receive credit in the Global Effie Index, which identifies and ranks the most effective agencies, marketers, brands, networks, and holding companies by analyzing finalist and winner data from all Effie competitions worldwide. Announced annually, the Effie Index is the most comprehensive global ranking of marketing effectiveness.