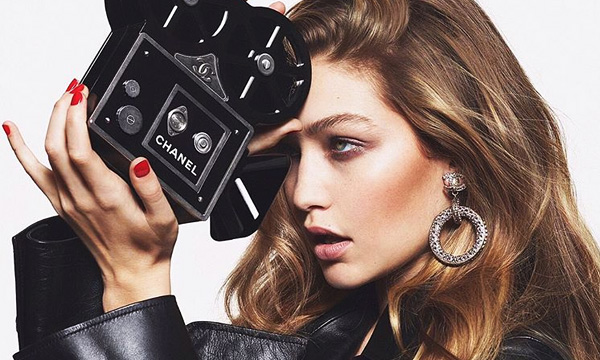 Each season, the hottest models in the fashion world tread the Paris runways for big-name, ready-to-wear labels when Fashion Week rolls into the French capital.
Savvy fashion fans can get a behind-the-scenes look at the Paris event, which runs March 1-9, 2016, by following the current must-book models on Instagram.
Here's a look at who to follow for a glimpse backstage at the upcoming shows.
Gigi Hadid
Last season, Gigi Hadid took to the catwalk for Giambattista Valli, Elie Saab, Balmain, Versace and Anna Sui, while her younger sister modelled for Balmain.
Bella Hadid
With both Hadid sisters highly active on the photo-sharing social network, they're bound to share plenty of backstage snaps from their upcoming appearances at Paris Fashion Week.
Mica Arganaraz
While this Argentinian model's account hasn't yet been verified by Instagram, there's no doubt it will gain a slew of new followers during Paris Fashion Week. As the face of Chanel's spring/summer 2016 campaign, this unconventional brunette seems to have caught the attention of Karl Lagerfeld, who picked her to open and close the last Chanel haute-couture show. Last season, Mica Arganaraz appeared on the runway for Miu Miu, Louis Vuitton, Valentino, Sacai, Mugler, Loewe, Balenciaga, Isabel Marant, Dior and Haider Ackermann.
Kendall Jenner
Kendall Jenner needs no introduction these days. Still, she can't go unmentioned in a list of must-follow models, as she's sure to post photos from her upcoming catwalk shows on social media sites. The famous brunette is tipped to star in the Balmain and Chanel catwalk shows, but could also appear on the runway for labels like Elie Saab or Givenchy.
Lily Donaldson
Although a little less active on social networks than many of her counterparts, this British model still has a definite online presence. In any case, she's certain to be booked by designers and fashion houses showing off their latest ready-to-wear creations. She could take to the runway for Balmain, Elie Saab or Mugler.
Jourdan Dunn
This British model is another must-follow for aspiring fashionistas, especially on Instagram. With over 1.6 million followers, she's sure to treat fans to a few backstage snaps from the Paris shows. Jourdan Dunn didn't make many appearances on the Paris runway last year, sticking mostly to Balmain shows, which attract all the star models. Still, she could surprise us with more Parisian runway miles this year.