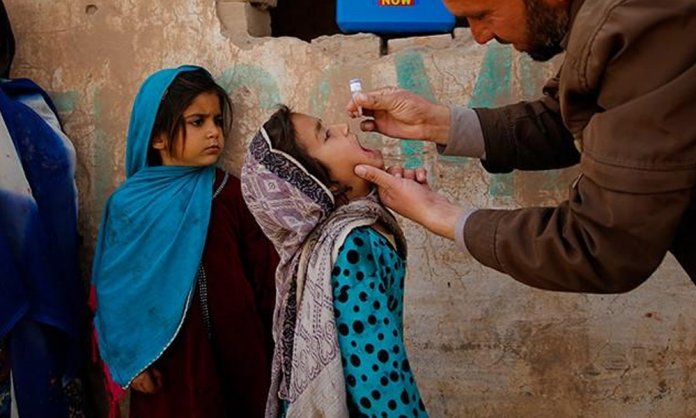 According to a source in Pakistan's polio eradication programme and documentation seen by the Guardian, a dozen children have been infected with the P2 strain of polio, which causes paralysis and primarily effects those under five.
Dr Malik Safi, coordinator of the national emergency operation centre of the Pakistan polio eradication programme, confirmed the P2 outbreak, but refused to give any further comment apart from the confirmation.
It is alleged that the new cases, which have all resulted in paralyses, were deliberately kept hidden from the government and international donors, including the UK's Department for International Development.
The Pakistani law requires that every single case of polio that emerges must be registered with the government officially so that international health bodies can be alerted. Hiding the cases is a sign of an attempt at hiding the incompetence of the officials.
The alleged cases have been discovered mainly in Diamer district, with one in the capital, Islamabad.
Pakistan and Afghanistan are now the only two countries in the world that have failed to entirely eradicate polio despite constant polio vaccination drives.
Here's what a source had to say about it:
"Somewhere, somebody has inaccurately used this vaccine and because of this negligence … this virus was brought back into the environment and our children are again getting infected with P2,"

"This P2 outbreak can only be contained if they do a quality vaccination campaign, and how can you do a quality campaign if you are carrying it out in secret, without any awareness or accountability?"

"If anything goes wrong and this P2 polio spreads throughout the whole country, who will take responsibility? Will they just keep telling more lies to cover up their mistakes and put more children at risk?"
What are your thoughts? Let us know in the comments.
Stay tuned to Brandsynario for more news and updates.