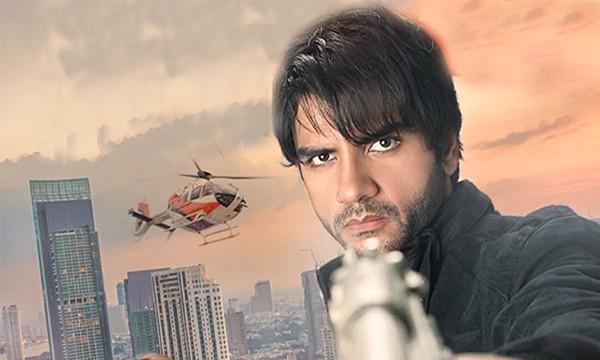 UPDATE: The old school Pakistani film by Shahid Qureshi, titled 'Sawaal 700 Crore Dollar Ka' has released its theatrical trailer and poster that looks promising than ever; the movie was all set to release this Eid, however due to some issues the release date has been delayed.
By the looks of the trailer, Sawal 700 Crore Dollar Ka promises to be a rollercoaster ride! Revolving around a world of crime and suspense, the movie showcases the lives of Ali Mohiuddin and Javed Sheikh two criminals, who do constant robberies, one after another.
The movie is a blend of action, revenge, hatred, love and loss. Doesnt it sound like Don?
View the official theatrical Sawal 700 Crore Dollar Ka trailer below:
Bollywood singers, Shaan and Alka Yagnik, have also lent their voices adding magic to the highly anticipated blockbuster.
---
The film is directed by Jamshed Jan Muhammed, and will release this Eid; let's have a look at the movie's 2nd official poster below;
The cast of the movie includes Javed Sheikh, Shamoon Abbasi, Iftikhar Thakur, Ismail Tara, Nayyer Ejaz, Ghulam Mohuiddin, and is introducing Qurat Ul Ain, and Ali Mohiuddin
The producer has roped in Bollywood singers like Shaan and Alka Yagnik. The Indian Singer Shaan said, "It was fun to sing two songs and especially since they were in 'Hinglish'…I wish Jamshed bhai, and all my Pakistani brothers and sisters, all the best."
---
A project by Jamshaid Jan Mohammad, 'Sawaal 700 Crore Dollar Ka' is the latest in the long line of Pakistani movies set to release this year. The poster has just been released on social media.
See the official poster below:
With the entire shooting to be done in the exotic locations of Sri Lanka & Thailand, behind the scenes pictures were bound to surface.
Take a look below:
The film's cast includes veteran actors of the industry like Shamoon Abbasi, Ghulam Mohiuddin, Javed Sheikh and Nayyar Ejaz.
Acclaimed Indian actor, Rajpal Yadav will also be seen in the upcoming Pakistani thriller.
The movie is slated to release later in 2016.