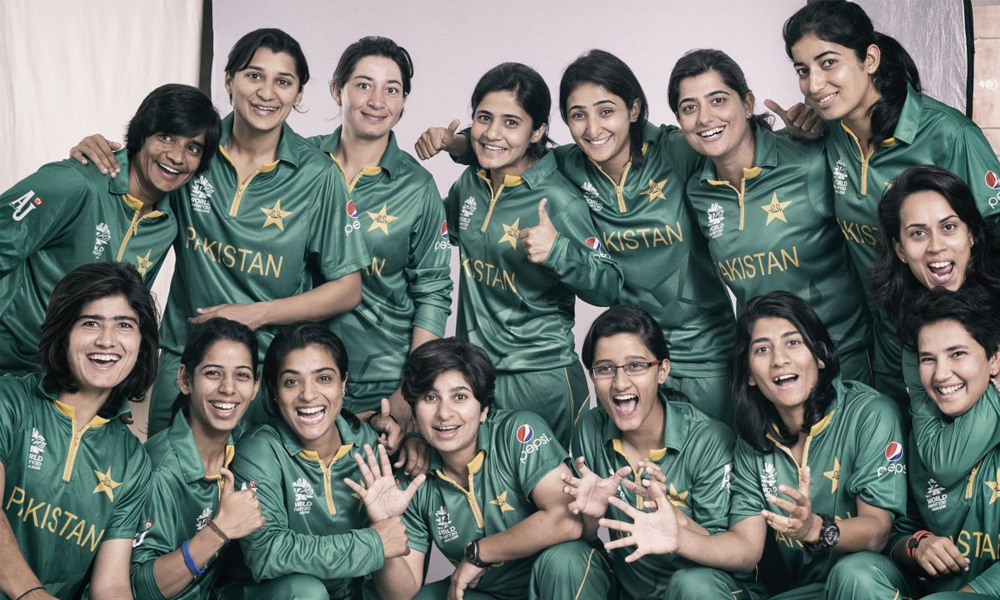 The year 2016 began with a wave of cricket fever in Pakistan but surprisingly, it wasn't the men in green who became the centre of attention but Pakistan's women cricket team that rose to fame after their impressive performance in ICC World T20.
While the whole country was hopelessly busy cheering for the men, these girls managed to do something that our boys couldn't achieve.
Now that the whole nation is encouraging these brave girls, we thought it's a great time to share the team's current standing and a brief profile of the squad members with our readers. Yes, you're welcome!
Current Squad
Led by charismatic and a girl with a vision Sana Mir, current women's cricket team of Pakistan includes: Bismah Maroof, Nida Dar, Sadia Yousuf, Nain Abidi, Sidra Nawaz, Aliya Riaz, Sidra Ameen, Iram Javed, Asmavia Iqbal, Nahida Khan, Muneeba Ali, Anam Amin, Diana Baig and Ayesha Zafar.
Current ICC Ranking
Currently, Pakistan's women cricket team is on the number 7 spot according to ICC rankings.
Brief Profile
Here we present a brief profile of all the players.
Sana Mir
Sana Mir is probably one of the most popular names nowadays in the country. Mir is one of those women who are regarded as the pioneer of women's cricket in the country.  She was amongst the nine female debutants who played the first match under the PCB banner back in 2005. She continued her journey showing her staunch determination and is now Pakistan's top-ranked T-20 bowler.
She is an all rounder and is currently shouldering the responsibility of captaining Pakistan's women cricket team. Under her captaincy, Pakistan won 2 gold medals in Asian Games2010 and 2014. She also holds the title of being first Pakistani woman cricketer to be titled as Player of the Tournament at the 2008 Women's Cricket World Cup.
Not only she is the most experienced player of the team but she is also a leading wicket-taker. She has more than 100 runs on her name and is also about to complete her 100 wickets.
Role: Captain
DOB: 05 JAN 1986
Place of Birth: Abbottabad
Bismah Maroof
This 24-year-old athlete shows her power through her bat. She comes to bat on one-down position and never fails to perform for the team. In 2014, she was among the top 5 run scorers in World T20 series and continues to play with the same fervour. In October 2015, she won three consecutive 'player of the match' awards as a result of her mind blowing performances.
Role: All Rounder
DOB: 18 JUL 1992
Place of Birth: Lahore
Nida Dar
She started playing international cricket in 2010. Her magical spell often lends a helping hand to Pakistan in winning the game. Her career's best performance was when she scored 46 runs against Ireland in 2012 T20 cricket and another best when she took 3 wickets by giving 12 runs against India. She also has the record of joint-leading run-scorer for Pakistan in ICC Women's World Cup 2013 with 82 runs on the cards in three matches.
Role: Bowler
DOB: 02 JAN 1987
Place of Birth: Gujranwala
Sadia Yousuf
She is a magician bowler of women's cricket team. She played her first ODI in 2008 and debuted in T20 format in 2010. Her best bowling figures of 4-9 against Ireland is a record for any Pakistani women bowler in the T2- format.
Role: Bowler
DOB: 04 NOV 1990
Place of Birth: Faisalabad
Nain Abidi
Nain Abidi made her ODI debut in 2006 against India and played her first T20 in 2009. She is the shining star of Pakistan's women cricket team as she is the first Pakistani woman to score a century in ODI format of cricket. Besides performing her task of batting in the field, she is also the vice-captain of the team. She has a Masters degree in health and physical education.
Role: Batting
DOB: 23 MAY 1985
Place of Birth: Karachi
Sidra Nawaz
Hailing from Lahore, she first started her cricket career playing for Lahore Schools in PCB National Schools U17 Women's Championship 2007-08. She made her debut in international cricket in 2014. She shows her alertness and sharp decision making while keeping the wickets. In a recent match, she did one stump, 3 run outs and caught 1 catch
Role: Wicket Keeper
DOB: 14 MAR 1994
Place of Birth: Lahore
Aliya Riaz bats for Pakistan's women cricket team. She made her debut in 2014 against Australia and has given amazing performances a number of times.  Keeping in consideration her undefeated 106 runs off just 39 balls that she scored against USA Women in Fort Lauderdale in a T20 match in November 2015, it would not be wrong to declare her the boom boom of women's team.
Role: Batting
DOB: 24 SEP 1992
Place of Birth: Rawalpindi
Sidra Ameen
Sidra Ameen made her debut in 2011. She was a part of Pakistan national women cricket team in 2013 Women's World Cup but could not prove her mettle with the bat. But, she is truly utilizing the forum of T20 world cup, where she showed amazing performance against Bangladesh by scoring 53 off 48 balls. Besides cricket, she loves to play lawn tennis.
Role: Batting
DOB: 07 APR 1992
Place of Birth: Lahore
Iram Javed
Iram Javed made her debut in 2008, playing for Lahore in the PCB National U19 Women's Championship 2010-11. She was a part of Pakistan's cricket team on its tour to England and Ireland in July 2013. She is yet to open her pandora box and show the world her real potential in T20 format as she has only two double figure scores in this fast-paced format.
Role: Batting
DOB: 16 DEC 1991
Place of Birth: Lahore
Asmavia Iqbal
Asmavia Iqbal is no short of impressive credentials be it cricket or academics. She is a part of Pakistan's women cricket team since 2005 and is still representing green shirts. None of her game goes without 3 or 4 wickets hauls, but the match in which she took 4 wickets by giving only 16 runs against Bangladesh is regarded as her career's best performance. She also holds a Masters degree in economics.
Role: Bowler
DOB: 01 JAN 1988
Place of Birth: Multan
Nahida Khan
This Quetta queen made her ODI debut in 2009 against Sri Lanka, since then there is no stopping for this talented player. She has also won gold medals in Asian Games 2010. Keeping her inclination towards sports, she opted to do her Masters in the field of physical education.
Role: Batter
DOB: 03 NOV 1986
Place of Birth: Quetta
Muneeba Ali
Having impressed everyone with her tremendous fielding during Pak vs. Bangladesh, Muneeba Ali is the youngest player in Pakistan Women's XI. She made her debut in WT20 against West Indies in the ongoing T20 world cup. With her energetic attitude and bright smile, Muneeba is surely one of the most exciting prospects in Pakistani cricket.
Role: Batting
DOB: 08 AUG 1997
Place of Birth: Karachi
Anam Amin
Anam Amin is the star bowler of Pakistan. An international debut followed in 2015, when she did an immaculate spell and took four wickets in three different matches against big teams like South Africa, West Indies and Bangladesh. Through this performance, she equalled the record of best figures in an ODI.
In 2014's WWT20, she was the most economic bowler giving 5.22 runs per over in her five matches. Anam Amin is expected to have a bright future for Pakistan in all formats of this game.
Role: Bowler
DOB: 11 AUG 1992
Place of Birth: Lahore
Diana Baig
Diana Baig is more commonly known for representing Pakistan in football, but cricket is her passion too and that is what brought her to the cricket field. This uncapped all-rounder found a spot for herself in the current squad to play ICC WWT20.
Role: All-rounder
DOB: 15 OCT 1995
Place of Birth: Gilgit
Ayesha Zafar
Ayesha Zafar is a new face in the international cricketing arena. She made her place in the current squad in place of Javeria Khan who got injured in a match against West Indies. She showed a glimpse of her talent in a tour match against theUSA where she hit 55 runs merely on 37 balls and went not-out.
Role: Batter
DOB: 9th September 1994
Place of Birth: Sialkot