[June 7th, 2021]: Heatwaves in Pakistan, especially for Karachi, have become one of the most dangerous times in recent years. People even die if they don't take the necessary precautions. Instead of Karachi, however, this time it is for most of Pakistan that is expected to be affected by the heatwave.
Heatwave in Pakistan
The weather analyst, Jawad Memon announced this heatwave. According to him, in most areas of Punjab, many parts of KPK, Sindh, and Northern and Eastern regions of Balochistan will experience hot weather. It will begin from 7th June and go on to 13th June. The temperature will rise 2 to 4°C  above the normal range of these regions.
Karachi and other coastal regions will stay in the normal range of temperature.
Let's stay hydrated to be able to get through this heatwave safely, shall we?
---
---
[June 4, 2020]:

A Spell Of Heavy Rain To Begin In The Coming Weeks
Another spell of rain to begin this week all across Pakistan. The storm is said to bring down the mercury level, the Meteorological Department said.
The Met Office has issued a weather update predicting a spell of rain to be entering the country from June 17.
Moreover, the Met Office predicted rain and windy-thunderstorms (with few hailstorm and heavy falls) in Punjab, Khyber Pakhtunkhwa, Kashmir, Gilgit-Baltistan, Northeast Balochistan, and Islamabad.
Meanwhile, dust-thunderstorms with rain are also expected in some districts of Sindh.
According to the Met Office, a westerly wave is pouring down in most parts of the country and likely to continue in some parts till Tuesday.
During the last 24 hours, rains with windy-thunderstorms have been observed in various parts of Punjab, upper KP, upper Sindh, Kashmir, Gilgit-Baltistan, north & central Balochistan, and Islamabad.
---
---

May 28, 2020:
Pakistan Meteorological Department (PMD/MET) has predicted rainfall, dust storms across Pakistan from May 27 till Tuesday, June 2, 2020.
Previously, Pakistan found itself facing several heatwave spells influenced by other countries.
According to the official PR released by MET, Punjab, Khyber Pakhtunkhwa (KP), and Azad Kashmir can expect rain, whereas showers are expected in some places of Sindh and East Balochistan.
It reads:
With intermittent rainfall, thunderstorm and blowing winds, other parts of the country to witness the downpours include Kashmir, Gilgit-Baltistan, Islamabad, Rawalpindi , Jhelum, Chakwal, Attock, Mianwali, Sargodha, Bhakkar, Layyah, Khushab and Mandi Bahauddin,

In addition, parts of Punjab including Lahore, Gujarat, Sialkot, Sheikhupura, Faisalabad, Jhang, Sahiwal, Toba Tek Singh, Okara, DG Khan, Multan, Rahim Yar Khan, Bahawalpur will also witness rainfall with dusty winds in the coming days,
On the other hand, the National Disaster Management (NDMA) has directed all provincial departments, including National Highway Authority (NHA), Frontier Works Organisation (FWO), and other agencies, to remain alert in case of emergencies.
Stay safe, stay tuned to Brandsynario for more news and updates.
---
---
May 4, 2020: Pakistan Meteorological Department (PMD) has issued a heatwave warning for the city of Karachi.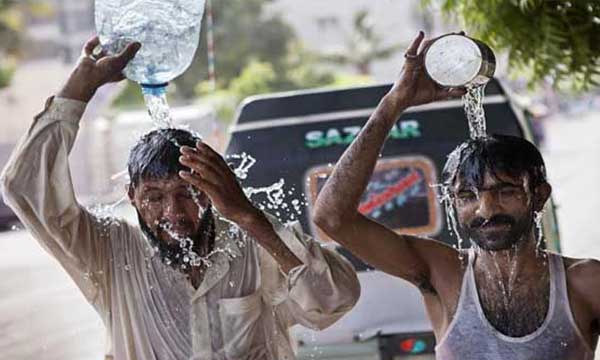 The temperature is expected to rise, and the heatwave will carry on for four days. PMD reports suggest the temperature is expected to rise to 42 degrees Celsius!
"The PMD predicts heatwave in Karachi and its suburbs from May 5 to 8, 2020, and the maximum temperature can rise to 40-42C. Wind flow will generally be from Northwest/West turning to Southwest in the evening during these days," said Sardar Sarfraz, the chief meteorological officer of the department.
Since the holy month of Ramadan is also widely observed in the country, individuals who are fasting have been asked to avoid going into the sunlight and instead are being encouraged to stay at home, especially the elderly.
"Due to the COVID-19 situation and the expected heatwave, people are advised not to venture out next week as the high temperature and an increase in daytime humidity could result in heatstroke to people," said Dr. Khurram Ahmed, a physician at a local healthcare facility.
Reportedly, the Provincial Disaster Management Authority wrote letters to the Karachi commissioner as well as the municipal commissioner of the KMC. These letters request the authorities to take steps to prevent any loss of life.
Stay indoors, stay hydrated, and stay safe!
Stay tuned to Brandsynario for more news and updates.