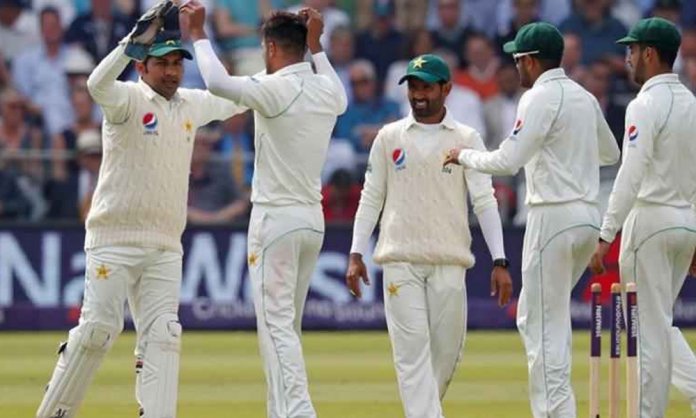 After a poor performance in Asia Cup, Sarfraz Ahmed and his men gear up to switch to the Test format against the Australians.
The first Test of the series starts Sunday at Dubai and the only thing on Captain Sarfraz's mind would be to instill confidence in the side that will depend on the reinforcements to put up a fight against Tim Paine's men. How should Pakistan go about it is a million dollar question that needs to be answered before the Team takes to the field in a couple of days.
India-Pakistan Superfan Friends Prove Cricket 'Has No Boundaries'
Let's begin with the batting order and in Azhar Ali and Imam ul Haq, we have a good opening pair that can do wonders. However, since the team doesn't have a middle-order batsman that can hang in there, Azhar Ali should come down to number 3 and let either Mohammad Hafeez or Fakhar Zaman open the innings. With Fakhar being out of form, Hafeez seems to be the ideal choice especially since he is now allowed to bowl in international cricket. It would have been great had Sami Aslam been in the squad because he did well in the practice match but it seems he is on his way to become another Fawad Alam when it comes to selection.
With Azhar Ali at number 3 and Asad Shafiq at number 4, Pakistan will have a solid middle order that will be strengthened by the inclusion Haris Sohail at number 5. Being a left-handed batsman will have its advantage against Nathan Lyon while he is also useful with the ball in his hand. Usman Salahuddin who made his Test debut in England earlier this year will be ideal at number 6 or can switch places with either Asad or Haris, wherever the management considers him more useful. Babar Azam is the other option but since he hasn't done much in Tests, he should be kept on standby at the moment.
Captain Sarfraz Ahmed must make number 7 his usual position as he knows how to rotate the strike and hit boundaries; he might need a big inning in the series to regain his batting form. Faheem Ashraf proved to be useful as an all-rounder in limited overs and in Tests, he could prove to be vital as well as he bowls, bats and can field. With him at number 8 and Hasan Ali at number 9, the team will have a deep batting line up that will be strengthened by the presence of Yasir Shah who can hit boundaries when required.
Talking about Yasir Shah and you can't help but notice that if he and Shadab Khan play in a match, it would remind Australians of Stuart MacGill and Shane Warne's few matches together; however that's not likely to happen since it will require more than the 3 fifties by Shadab Khan to snatch a spot from Yasir Shah who stands miles ahead of his teammates with 165 wickets in 28 Tests. The team will depend on him and Muhammad Abbas who has had a great first county season in England and will return to the final XI as a better bowler. He will have to share the fast bowling duties with Hasan Ali and Faheem Ashraf as there is no experienced campaigner in the side.
There is comeback man Wahab Riaz who can play in place of either Hasan Ali and Faheem Ashraf, depending on the pitch and the Australian line-up. The more the left-handed batsmen, the better Wahab's chances of returning to the side. There is Mir Hamza as well and it would be great to see him don the whites because the Australians don't know him and he can prove to be a good investment for the future.
Pakistan Team For First Test
Muhammad Hafeez
Imam ul Haq
Azhar Ali
Asad Shafiq
Haris Sohail
Usman Salahuddin
Sarfraz Ahmed (Captain and Wicket Keeper)
Faheem Ashraf
Hasan Ali/Wahab Riaz
Yasir Shah
Muhammad Abbas
Babar Azam/Shadab Khan (12th Man)