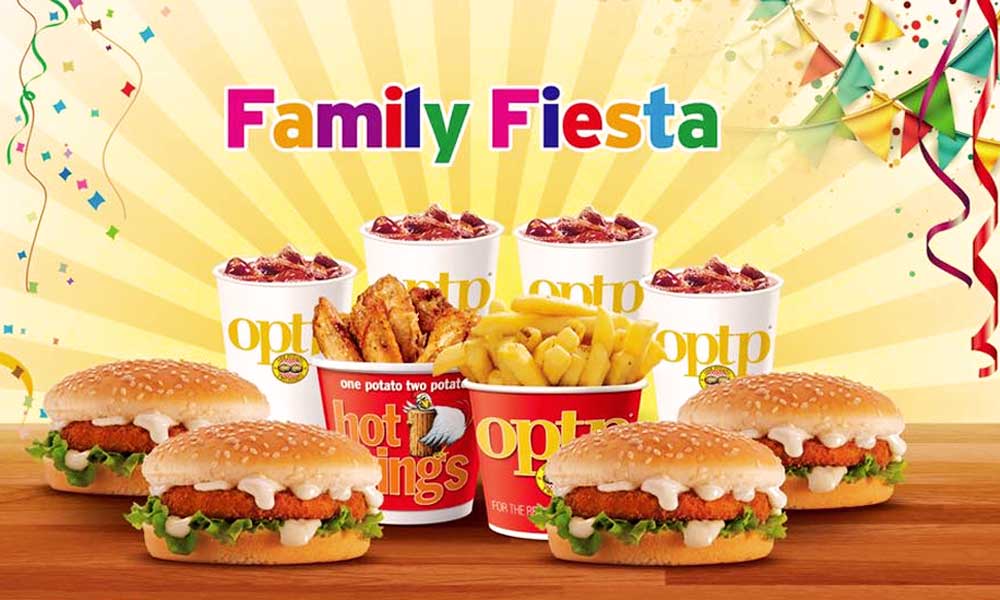 I have always been an OPTP fan and when I heard about this family fiesta deal, I started ranting about how it was a must-have this weekend. My persistence is what pushed OPTP to number one on the family weekend dine-out list. Since OPTP has opened up a new outlet in Muhammad Ali Society we decided to dine-in there.
Since the place is located at a very busy street with a line-up of many restaurants serving delicious cuisines, parking was a big issue and it took almost 15 minutes to get a decent parking space. When we entered we were greeted warmly by the guard and upon entering inside, the person in charge walked me through the menu and the latest deals being offered.
As we had planned earlier, we opted for the "Family Fiesta Deal" that supposedly serves four; however, I think if you have a good appetite and your hunger pangs on the rise, the deal will only serve three people fully.
As we were a family of 6, we ordered an extra burger and a combo deal. After placing the order we went upstairs to the very neatly arranged seats.
OPTP Food
As mentioned earlier, we ordered the Family Fiesta deal but given the size of the GMC burgers, it served 3 people only. Our order comprised of this deal with one Combo 3 (Spicy Chicken Burger+Fries+Drink), one Jalapeno Premium Chicken Burger and one jumbo Nacho Cheese Fries.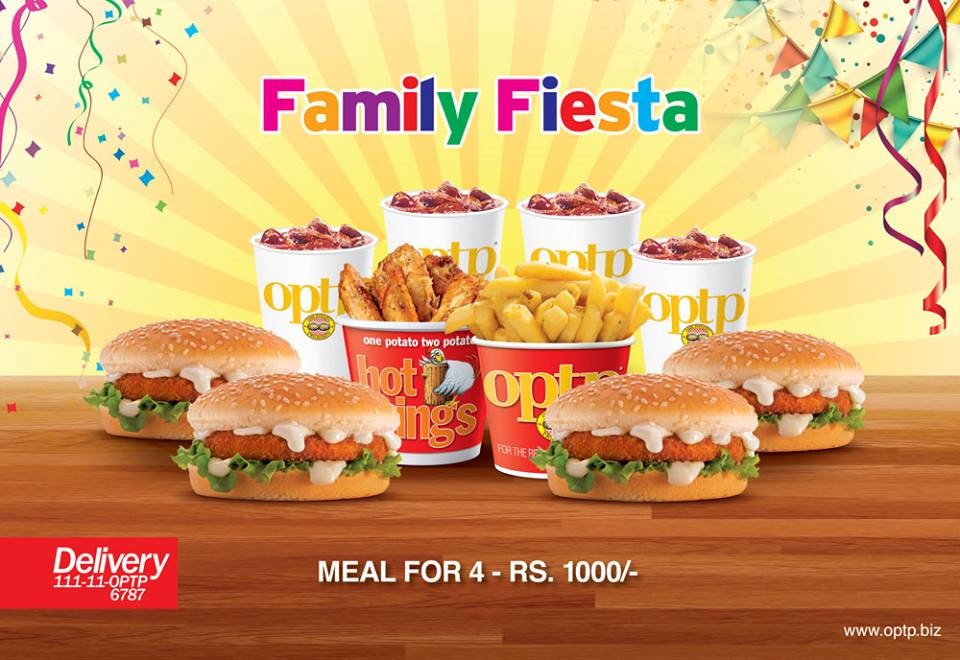 From the buns to the patty, the quality of the food served was excellent. However, the Nacho Cheese Fries had very little cheese over them making them less appealing than the rest of the serving. With a total bill of Rs.2090, I would say Family Fiesta is a good value for money, perfectly satisfying that undying burger craving at dinner time.
Overall, it was a pleasant experience with good service that left us all content and filled. I would definitely recommend 'OPTP Family Fiesta deal'; OPTP surely is a neat place with great food and hearty service.
OPTP Service
With regards to the service, I would say the service was quite satisfactory. While we were ordering our food, a very religious family came to the counter and asked the manager to turn off the music, to my surprise he did oblige, stating that "our customers mean a lot to us" and the music was turned off the very next second.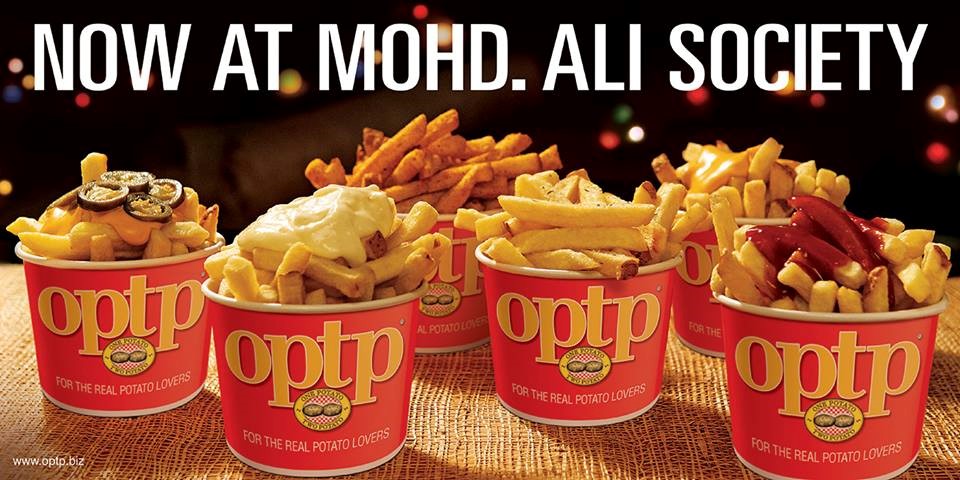 Coming to our order, the food was promised to be ready in 10 minutes but when we went downstairs to collect it, we were asked to wait for 5 more minutes. However, to cover up for it, the man in charge said that they will send the food upstairs so that we don't have to come down again.
The food reached us in 5 minutes as promised and was just like we ordered except that we ordered one burger without cheese but it still had it.
OPTP Ambiance
There is a seating arrangement on the ground floor as well as on the first floor. We preferred the first floor because the seats were placed spaciously, and was much of a family space in comparison to the ground floor's seating plan.
The ambiance was quite pleasant, OPTP has kept it simple but with a touch of elegance. Red couches with wooden tables and metallic seats which were comfortable to sit on add a comfy feel to the place. The best thing
The best thing were the hanging lights over every table, giving each sufficient lighting (A must-have for restaurant selfie). Even though the place was clean and prompt, there were no pamphlets on the table too, making it look vacant and spacious.
RATINGS:
Ambiance: 8/10
Food: 8/10
Presentation: 6.5/10
Service: 8/10
Prices: 7/10
Decor: 7/10
Menu Design: 7/10
Overall Experience: 8/10
My final verdict is that the OPTP Family Fiesta Deal is definitely worth trying! Will be visiting again shortly with friends this time.
Written by Javeriah Irshad.
Stay tuned to Brandsynario for more updates.