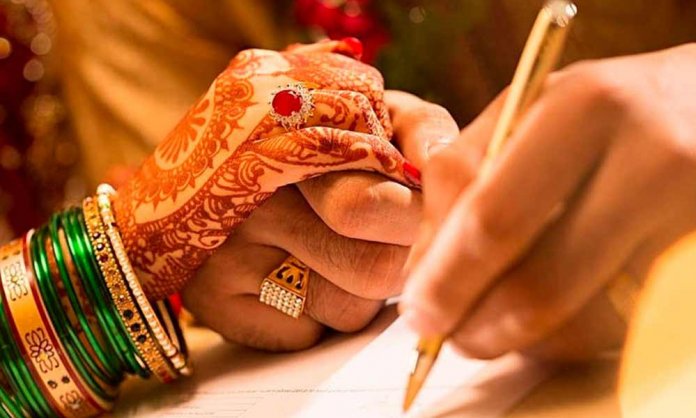 It has been made mandatory to first apply for permission for second marriage to the Arbitrary Council, decided Justice Athar Minallah from Islamabad High Court on Monday.
As per the 1961 Muslim Family Laws Ordinance, it was required for a man to take the current/first wife's consent before second marriage. If not complied, the man would be punished and fined.
The verdict issued by IHC implies that, a man cannot marry for the second time until and unless approval from the Arbitrary Council is obtained, even if the first wife has consented to the idea.
In 2013, a person called Liaqat Ali married for the second time after having married Dilshad Bibi in 2011; he had not taken Dilshad Bibi's consent.
There was a case on him, and he was handed over one-month jail sentence by an Islamabad magistrate for his offense along with a Rs. 5,000. fine. However, an additional judge released him on the grounds that he was a native of Azad Kashmir.
That judge's decision was also nullified yesterday, on Monday, and it was announced by IHC that all laws apply to all individuals with the NIC. He also remarked that judges must hear cases on merit from now onwards.
Social Media reacts to the Decision
There have been mixed reactions from the public over this news.
Bad news for other weddings! Now the permission of the reconciliation council is also permissible for the first wife. Decision of Islamabad High Court.
آپی یہ سب آپ کی ٹویٹ کے بعد ہوا ہے 😂😂😂😜😜 👏👏👏 https://t.co/ff7NeKU7Tk

— Afshi Khan 😍 (@Princesskhan05) June 24, 2019
For some, it is the best news of the day.
Islamabad High Court declares council's (in addition to first wife's) permission necessary for second marriage. BEST NEWS OF THE DAY!#Kudos

— H (@TheLastMiIe) June 24, 2019
While others are totally condemning the verdict.
@shaji182 totally condemn Islamabad high court decision on second marriage permission, our courts promoting anti Islam lobby shame on this govt.

— SHARJIL AHMED (@shaji182) June 24, 2019
@Ali_MuhammadPTI why are your govt not challenging anti Islamic and anti constitutional decision made by Islamabad high court regarding marriage.

— Yezr Khan (@YezrK) June 24, 2019
What do you think about it?
Let us know in the comments!
Stay tuned to Brandsynario for more updates.