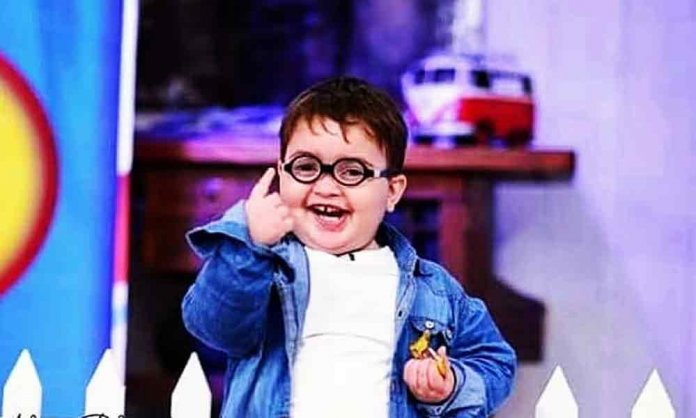 It's 2018 but the morning show craze in Pakistan continues with full force. The race of ratings compel the hosts to air the most controversial content and end up receiving backlash from the public.
Recently, Nida Yasir's morning show 'Good Morning Pakistan' has become the talk of the town for inviting the cute Pathan kid 'Ahmed Shah' in yesterday's episode.
Momina Mustehsan Vs Shireen Mazari's 'Ko Ko Korina' Twitter War: Ahad Raza Mir & Sajal Break Silence!
We all know how the adorable boy became an instant social media sensation with his endearing videos. People fell in love with his hilarious antics and this paved a way for media to start cashing on the little child.
Nida Yasir too seized the chance and invited the young one on her show. However, the audience didn't find her behavior appropriate with Ahmed.
Why has this kid been given so much importance, with these manners? #Nidayasir ye to badtameezi ker reha tha and u were encouraging him to continue 😤😦😱#ARYNews pic.twitter.com/gzsKMr7pk6

— Aunty jee (@RandomBytes1) October 23, 2018
Apparently, the hostess encouraged the child to exhibit anger and prompted him to misbehave on Live TV!
To Ahmed' s parents..his exploitation should be put to halt.. he's an innocent kid.. itna hi Hai to YouTube channel bana lo Apna Khuda ka.. but don't send him to these morning shows https://t.co/BDna6i9Qfs

— sherry (@CherieDamour_) October 22, 2018
Watch a clip from the show below.
Twitterverse was quick to notice how the poor child was triggered on television. 
There's a difference in being cute and badtameez.

Why Ahmad is being promoted on national television? And why host (nida yasir, ofc) is asking him to teach other children how to show anger? So pathetic, for some TRP they can stoop to any level.

— Farooq Qureshi (@farooq221b) October 23, 2018
Viewers objected against the demeaning behavior children will learn from her show.
Just watched some clips of today's nida yasir's show, and it's plain stupid. Asking kids k badtameezi kar k dikhao, is bachay ki tarha gussah kar ke dikhao. The original video of the kid was cute but ab usay drag kr ke annoying bana rahay hain. Is this the content we deserve?

— mishal (@fat_creations) October 22, 2018
People blamed Nida Yasir for not being a responsible host towards Ahmed.
Nida Yasir scares the shit out of me. She crazy af. I feel bad for everyone that has to live with that.

— 🇵🇰Pakistani Reacts (@PakistaniReacts) October 23, 2018
Baby shower, wedding bells, beauty contest, cooking competition now nida Yasir with Woyyyyyyyyyyyyy Pakistan ki Good morning show ki sab se Bari Attention seakar kamyab ho gai Hal rating me pic.twitter.com/lcjYmv6LON

— Lara👑 (@HoorofHeaven) October 22, 2018
Twitterati now wants her show to be banned immediately.
Can we please get #NidaYasir banned from TV? Her irresponsible show promoting all wrongs in the society is the last thing our society needs. @fawadchaudhry @PTIMEDIA @BBhuttoZardari @reportpemra

— Bushra Joyo-Gandhi (@filmyjoyo) October 22, 2018
The Pendu Nida Yasir should be banned on Earth Immediately

— Qureshy Saab (@abdulahadqures5) October 22, 2018
Nida Yasir's show is the bench mark of how morning shows should NOT be.

— Manal Bari (@manal_bari) October 22, 2018
Many did not find the content humorous, which was apparently the aim of the episode.
Mentally sick are the ones who saying that little kido Ahmad on Nida Yasir's show cute… There isn't any humour in video shared, Showing a child aggressive and abusive is what you guys promoting on media..??
Have some sense…
Mazaaq aur btameezi main farq karna seekhen…

— Aymen Khakwani (@AymenKhakwani) October 22, 2018
It is to be noted that our media holds immense power to be agents of change. They can impact a situation positively and especially school our younger generation to behave respectfully.
What do you think of Nida Yasir's show on Ahmed Shah? Let us know in the comments below.