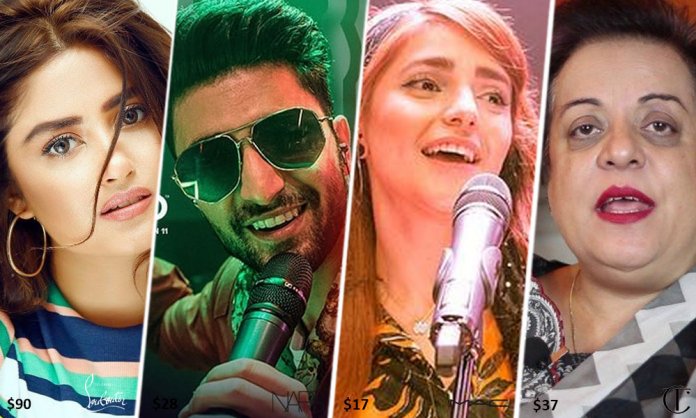 Ko Ko Korina's rendition by Coke Studio has become the talk of the town. Few have loved it, most have hated it and are leaving no stone unturned to bash the singers for ruining the evergreen classic.
Stars and critics too did not shy away to bash Ahad Raza Mir and Momina Mustehsan for the remix-gone-horribly-wrong.
But perhaps, the fiercest feedback of all was by Federal Minister for Human Rights, Shireen Mazari.
Imaan Mazari & Shireen Mazari's Angry Whatsapp Conversation Goes Viral
Calling it a massacre of music, the PTI politician roasted the Coke Studio for the fail!
Horrendous! Destroyed a great classic – why oh why did Coke Studio allow such a massacre of this classic song? https://t.co/Iq5gfCPYcr

— Shireen Mazari (@ShireenMazari1) October 21, 2018
Her views clearly irked Momina who took to Twitter to blast Mazari with full force.
Apologies for hurting ur sentiments. It is ur right to judge us & express ur outrage,just like it was our right to exercise our #FreedomOfExpression. As our Minister of #HumanRights, u should appreciate @cokestudio for allowing us to express ourselves, esp if it was horrendous 🙂 https://t.co/OkYdSE0jCz

— Momina Mustehsan (@MominaMustehsan) October 22, 2018
The clash escalated with the Minister responding back in a defensive tweet.
I gave my personal opinion which I am entitled to esp on a non pol issue having to do with music. To each his/her own! And why bring the ministry into it?! https://t.co/io9q0y6nAf

— Shireen Mazari (@ShireenMazari1) October 22, 2018
But her reply did not settle well with Momina who made it her mission to school Shireen Mazari.
As someone holding office, I'd expect you to be more responsible with how you express yourself on public platforms. We look up to you, ma'am, as citizens of this country. Uncle Ben from Spider-Man said "with great power comes great responsibility". Don't let us down #NayaPakistan https://t.co/Ghvw5tivkd

— Momina Mustehsan (@MominaMustehsan) October 22, 2018
The volleyball of verbal attacks continued with the PTI politician making it clear again that it was her personal choice to like or hate a tune.
R u serious! Liking or disliking a song has nothing to do with anyone or any politics! It's a personal choice. I did not like the song. End of story. https://t.co/7v01spfVZQ

— Shireen Mazari (@ShireenMazari1) October 22, 2018
But the Coke Studio sensation took it further by calling Shireen's opinion close to 'cyber-bullying'
When you hold office, its not about politics or his/her own anymore – it's about the country at large. You represent all of us now, not just yourself or #PTI. In a time when we're trying to curb cyber-bullying and hate speech, please don't fuel it further #SocialResponsibility https://t.co/5cX0Z8OaMl

— Momina Mustehsan (@MominaMustehsan) October 22, 2018
This catfight seems to have ended with the politician now clearly ignoring Momina. But her daughter Imaan took the task to hit back at the songstress.
All set to graduate#LLMGrad #Vienna pic.twitter.com/jx6Gn7cgoY

— ایمان زینب (@ImaanZHazir) September 28, 2018
In a series of tweets, here's what Imaan Mazari had to say:
At a time when we're trying to promote our artists, please behave responsibly and let the ones who can sing come forward instead of expecting us to appreciate those who can't. #moralresponsibility https://t.co/O5UfcQCQsY

— ایمان زینب (@ImaanZHazir) October 22, 2018
I'm sure Mominah feels overwhelmed by the fun at her expense but at the end of the day, the fact remains that she picked a battle where there was no need to have one and in doing so, she made a fool of herself.

— ایمان زینب (@ImaanZHazir) October 22, 2018
Point being: if you don't have thick enough skin to withstand legitimate criticism, dont triviliaze a serious issue (cyber bullying) 2 cover up ur sense of entitlement.Ppl mocking u 4 that entitlement are nt subjecting u 2 cyber-bullying.We all say silly things.Own up & move on.

— ایمان زینب (@ImaanZHazir) October 22, 2018
Ahad Raza Mir has now also responded to the controversy!
I am honoured that I got to cover Ko Ko Korina. Some people enjoyed it and some not to so much, which is fair. Look at how we love to appreciate and criticize. It shows our nation is alive. Even after hearing the song 😉 Pun intended.

— Ahad Raza Mir (@ahadrazamir) October 23, 2018
Most importantly I want to thank CocaCola who gives opportunity to youth, to new faces, who promotes experimentation which uur country needs and who dares to do things in their own style. Coke is almost a pioneer in taking risks in Pakistan. Lets not forget its COKE Studio.

— Ahad Raza Mir (@ahadrazamir) October 23, 2018
Addressing Shireen Mazari, Ahad requested her to use the better choice of words next time!
I am also pleansantly surpired that the minister of human rights noticed out attempt, although she did not have very nice things to say, I'm still happy she noticed.
Just a peice of advice: better choice of words next time Ms. Minister.

— Ahad Raza Mir (@ahadrazamir) October 23, 2018
Ms. Minister you represent a party that wants to bring change, supports youth and new ideas in Pakistan. The reach and duty of Human Rights promotes a caring approach to life. Dont "massacre" its meaning. You represent human rights in our country. Think about what that means.

— Ahad Raza Mir (@ahadrazamir) October 23, 2018
Really all I'm trying to say is that we should learn to be kind. Even in our criticism. Trust me it goes a long way. Our song was a cover, and a cover is meant to deviate from the original. Its not supposed to sound or feel the same. And at the end of the day…it's a song.

— Ahad Raza Mir (@ahadrazamir) October 23, 2018
In the end, he urged everybody to respect artists and spread more love!
Also lets respect our artists. All of them. Everytime an artists works…they take a risk. Not for themselves…but for you. Trust me when I say we work hard for YOU. Not for ourselves. Want to critisize.. do it with love. Works better and definelty doesn't hurt as much.

— Ahad Raza Mir (@ahadrazamir) October 23, 2018
So lets remember something. If we can come together to hate something, we can do the same to love. Take that however you'd like.
Lastly to everyone that appreciated the song, I am honored and now will work twice as hard to gain the confidence of my critics.
Love you as a nation.

— Ahad Raza Mir (@ahadrazamir) October 23, 2018
Witnessing all the hate, Sajal Ali couldn't stay mum on the matter. With Ahad and Sajal being pretty close, this was bound to happen.
Taking to Instagram, the Yakeen ka Safar starlet urged everybody to stop insulting the singers and the song!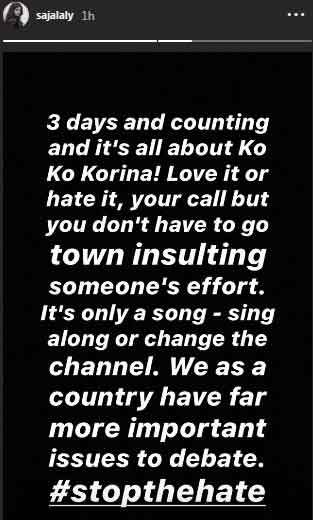 She urged everybody to stop the hate for it won't get anybody anywhere.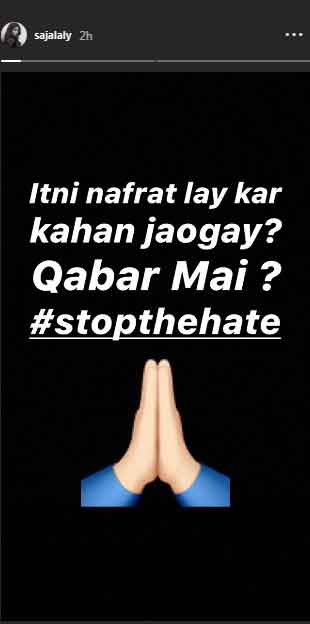 Meanwhile, Pakistani celebrities continue to question Coke Studio and how it could have rolled out a rendition so flawed.
Same here. In fact I like the Leo Twins version of Koko Korina much better than the flat version put out by Coke Studio. No harm in stating music likes and dislikes. And no need to make such choices the subject of convoluted debate. https://t.co/sff8ZdBbWR

— SenatorSherryRehman (@sherryrehman) October 23, 2018
As a joke, I should start a TV show where we get a couple of engineers to give medical patients brain surgery. Just to see what happens? You know, @cokestudio it! #goodlooking #famous #HereIsYourSong

— Ali Gul Pir (@Aligulpir) October 21, 2018
Waheed Murad's son Adil Murad on allowing #CokeStudio11 to cover Ko Korina. pic.twitter.com/peyt6N10tx

— Jibran T. Siddiqui (@jibransiddiqui) October 22, 2018
Just saw n heard Ko Ko Korina, Murdered by Ahad Raza Mir & Momina Mustehsan, in Coke Studio

— Mubasher Lucman (@mubasherlucman) October 22, 2018
Zalima Gannay Nu Agg la Day !

— vasay chaudhry (@vasaych) October 20, 2018
Somewhere above #AhmedRushdi is crying 😢

— Tapu Javeri (@tapujaveri) October 23, 2018
What are your views on the matter? Let us know in the comments below.