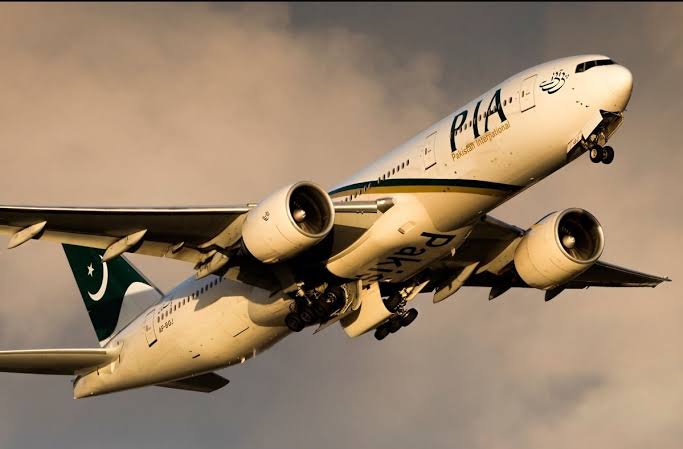 A little over a month ago, on 22nd May, when PIA PK 8303 crashed near the Karachi airport, all of Pakistan mourned.
Over 100 souls, including men, women, children, the elderly, and even one of our aspiring models, Zara Abid, lost their lives.
The crash did not only open a detailed investigation as to what happened and who was responsible behind this devastating incident but also revealed alarming stats about PIA's pilots.
PIA spokesperson Abdullah Hafeez told Dawn that around 260 pilots were found to have 'dubious' licenses leading to their grounding and termination, including the famous sister-duo pilots.
EASA Suspends PIA Operations in Europe
Yesterday, PIA took it to that their official social media accounts to announce that the European Union Air Safety Agency (EASA) has suspended the authorization of the airlines to operate in Europe for the next six months.
EASA has suspended PIA's permission to operate to EU member states for 6 months w.e.f July 1, 2020: 0000Hrs UTC. PIA is in touch with EASA to allay their concerns and hopes that the suspension will be revoked with our CBMs soon.

— PIA (@Official_PIA) June 30, 2020
This decision was taken after the grounding of the pilots following the horrible crash.
EASA told PIA "it is still not sure" if all the remaining pilots are qualified, and that "they have lost their confidence" in the airline, PIA spokesman Abdullah Khan confirmed.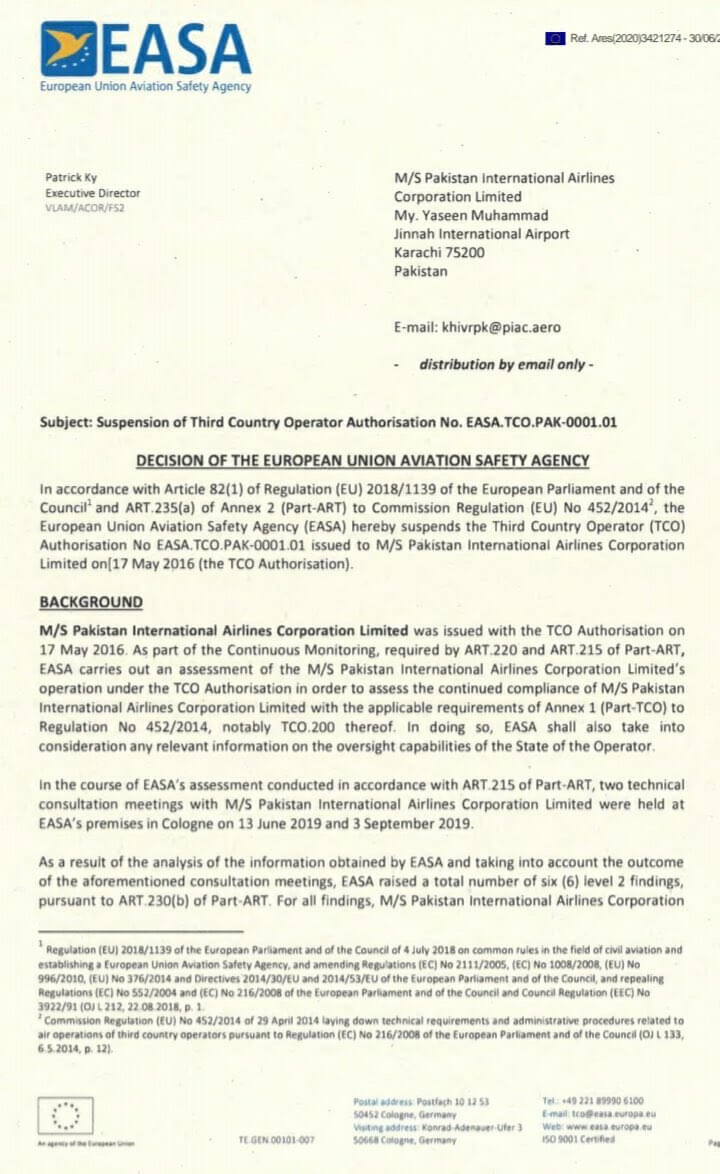 However, PIA has been receiving mixed feelings from netizens after this announcement.
Social Media Reacts to PIA's Suspension
Here's what the people have to say:
Unbelievable! First, Pakistanis not allowed to enter various countries. Then Gulf Airlines refusing to come to Pakistan. Now PIA not allowed into EU! Thank you Selectors and Captain of Team Pakistan!

— Najam Sethi (@najamsethi) June 30, 2020
Now UK has also banned PIA!

— Najam Sethi (@najamsethi) June 30, 2020
#PIAplanecrash
In Pak FA,FSc is required to work on petrol pumps and If you are matric pass & father is in PIA pilots association,you can become pilot of boeing 777 like its a donkey cart See the proud look on their faces after getting planes after matric. #PIAplanecrash pic.twitter.com/i9MzhsENsJ

— Muhammad Umair Khan (@Umair1311891) July 1, 2020
Would PAF hire pilots with fake licenses? Surely not.There are tests, procedures, training, protocols, standards. How did these fakes get jobs as #PIA pilots? I can't imagine they flew planes. At least not as pilot & co-pilot. How did the scam work? I want to read a full account.

— Tunku Varadarajan (@tunkuv) July 1, 2020
I am very happy that European Union cancelled all #PIA flights. I am very happy that the fake pilots news was made public.

Now we have no choice but to fix up our messes.

If your ego is hurt then it means you felt nothing for the ones who died in the crash.

FIX THE DAMN PIA

— Mir Mohammad Alikhan (@MirMAKOfficial) June 30, 2020
#Pakistan International Airlines (#PIA) Pilots who died in 2016 ATR crash in Havilian KPK Pakistan in which 47 People died were suspended by the Pakistani Airways Miinstery yesterday for Having Fake Degrees.🙄pic.twitter.com/bDXSlfNBLm

— Wendigo #BoycottChina (@Being_Windigo) June 27, 2020
PIA pilots that had fake degrees caused disgrace to Nation not the government. Theese pilots weren't hired after this government came so how can you blame Government for this mishap. People who got fake degrees and people who hired them are real disgrace #PIA#DonkeyRajaMinusOne

— Muhammad Abdullah (@Abbdullayy) July 1, 2020
Pakistan is going to change his policy and start a strict policy in every sector, startimg from #PIA towards #Powersector to sector
Future proves his step were taken in these days. We r making these worst days due to COVID Best days by doing Positive changes #Khan@ImranKhanPTI

— Sanaullah Mastoi (@SANAULLAHMASTO4) July 1, 2020
#PakistanAirLine rises & will recorded hos performance, timing with positive change og Pakistani Govt. Proud to be #PMIK for change in Pakistan,
I m sure world 'll accept again #PIA as a best airline again & will help other airlines as done in past.@Official_PIA @ImranKhanPTI

— Sanaullah Mastoi (@SANAULLAHMASTO4) July 1, 2020
So a person who promised millions of jobs pre election has achieved something miraculous. He hasnt only created a situatuon where people lose jobs at home but the governments irresponsible statements has gotten overseas pilots fired as well.. #PIA
1/2

— Ali Leghari (@AL5980) July 1, 2020
Whats next? Health minister saying doctors might have fake degrees… get them fired all over the world? #PIA

2/2

— Ali Leghari (@AL5980) July 1, 2020
PIA Europe Ticket Scandal
PIA not only has lost its six months operations on Europe but also has become a victim to a scam worth 8 million!
Reportedly, some officials, PIA's Sialkot office accommodated around 50 old ticket holders for their travel to Italy and Paris on select flights to mint money breaking the rules and policies.
As per policy, PIA has currently not been accommodating passengers that have purchased tickets before the current COVID-19 pandemic; this applies to any destination.
The select flights have been issued new tickets, which are almost double the average ticket rates.
A source told Dawn that "The officials in question accommodated old purchased tickets by charging extra money from their holders (passengers) for their travel to Italy and Paris." The source also added that the officials who are behind this massive fraud had collaborated with some travel agents.
Moreover, an inquiry has said to be initiated against the culprits.
It is genuinely heartbreaking to see Pakistan's national carrier, which was once one of the best airlines in the world, fail. Successful airlines such as Emirates had taken thorough training from PIA to kickstart their operations, and have become success stories themselves.
We hope that PIA will once again make Pakistan proud and will fly back very soon.
Stay tuned to Brandsynario for more news and updates.