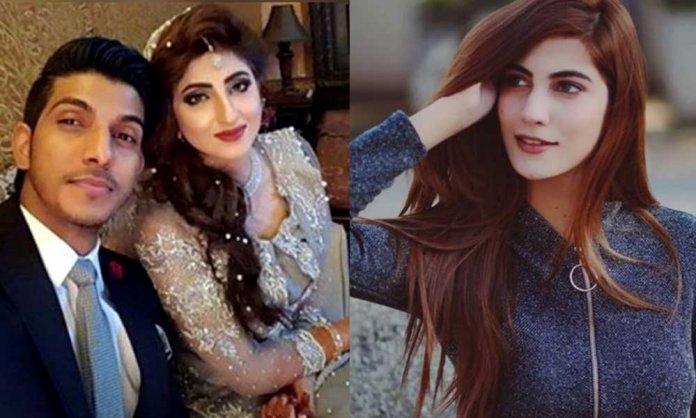 The internet is in shock after famous Pakistani actor cum model cum singer cum writer Mohsin Abbas Haider was accused of domestic violence and an extramarital affair.
The accuser was none other than his wife Fatema Sohail!
Fatema, in a Facebook post, claims that she caught her husband cheating with Pakistani model Nazish Jahangir last year and when she tried to confront him, he started beating her mercilessly.
Last night, the model and actress Nazish Jahangir finally broke silence over the latest controversy and shared that both Mohsin and Fatema have always been good friends of hers.
https://www.brandsynario.com/mohsin-abbas-haiders-wife-accuses-him-of-domestic-violence/
She added that she was shocked to her core when Fatema Sohail dragged her into their personal issues.
She wrote:
Whatever's truth will come out as it is, eventually. Fatima has used a line on me without any evidence that I was sleeping with her husband and all of you accused me of being a homewrecker. Use your senses, if she had any evidence, she would have posted that too as she did of her husband abusing her.
She further added:
I have no idea what happened that she involved me in all of this and accused me of things I could never ever imagine.
View this post on Instagram
Read her full post below!
Soon after her reply, a famous Pakistani actress Yashma Gill revealed the reality of Nazish Jahangir and said that she distanced herself from her because of her such acts.
She took to her Instagram stories and wrote:
Since I am an eye witness of such acts of Nazish Jahangir and know that she has the potential to be such a way, I don't doubt that she can be a home wrecker in this case too.
Read her full post below!
Well, Yashma Gill's claims have left us all shocked and we just couldn't stop thinking over this issue!
What are your thoughts about the story? Let us know in the comments section below.
This post first appeared on VeryFilmi.com
Stay tuned to Brandsynario.
Mohsin Abbas Haider Sends Love to Fans After Viral Depression Post