Nasir Khan Jan, the internet sensation, has apparently gotten married after many months of teasing his fans about it. As only a single picture has leaked, fans are going crazy as they demand more from their idol. Have a trip down the marriage memory lane with Nasir Khan Jan.
NJK Teases Fans About Marriage
For two months now, Nasir Khan has been posting hints about his marriage.
Last pic before marriage pic.twitter.com/WHdbuu40E3

— Nasir Khan Jan (@NKJModel) August 11, 2021
Be it with pictures of his newly renovated bedroom, his new look, or with his father-in-law. The internet sensation has amassed thousands of followers after making ridiculously hilarious videos. Currently, he has over 20K followers only on Twitter.
Since he gets requests for people to make birthday shout-out videos, he even posted about wanting to get more. "Now I'm also getting married, need money," he said in response to people asking to get videos for free. Even Nouman Khan "The Legend", another internet sensation, contributed to this. He posted a photo with the dulha and said he's getting married!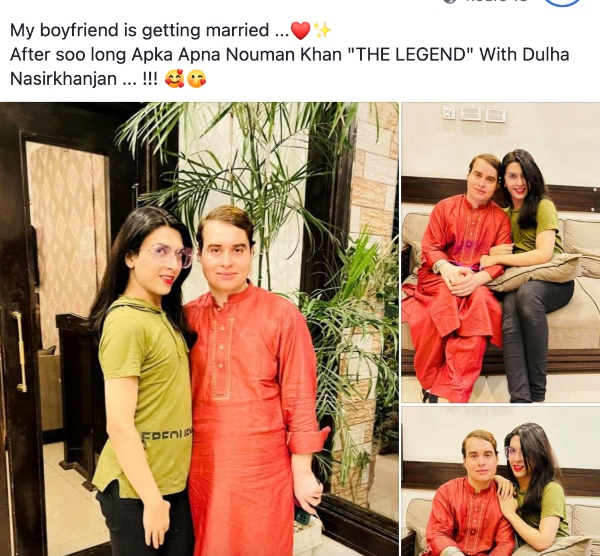 Read more: Nasir Khan Jan Brutally Trolled After Announcing His Engagement!
Have a look at how Nasir Khan has been creating hype for his wedding.
New look for wedding battlefield pic.twitter.com/yxbDWfeo9p

— Nasir Khan Jan (@NKJModel) August 8, 2021
Marriage Hall booked for nasir khan Jan. You guys all are invited but I need expensive gifts and salami on my wedding pic.twitter.com/yL7JJ2oQtV

— Nasir Khan Jan (@NKJModel) July 25, 2021
Me and my father in law. We love each other. Marriage date will be announce very soon
Eid Mubarak from us pic.twitter.com/aCaAd0fV00

— Nasir Khan Jan (@NKJModel) July 22, 2021
Today's The Day
Today, the news has surfaced that Nasir Khan Jan has tied the knot finally. Only one picture has managed to reach the internet and that is with him and his wife in their room. Nasir Khan Jan's face is beaming with happiness as he looks towards his wife. However, the wife's face is covered with an emoji!
NJK likes to keep some things private, it appears. 
Take a look at the exclusive picture from their wedding:
Nasir khan jan got married & you are still single pic.twitter.com/DpFfL5uGVh

— اسامہ (@searchingthis) August 13, 2021
Fans Have Mixed Feelings
A little after this came to people's attention, fans started going crazy on Twitter. They are having a proper field day with this news. Memes are being made at the speed of lightning and shared. Others are roasting their friends for still not having a partner, "even NJK has one now!" Others are simply heartbroken to have their idol get married.
Nasir khan jan ko bhi mil gai bs hamein koi nhi milta

— S. (@polkaadot) August 13, 2021
Nasir Khan Jan broke a lot of girls hearts. Koi baat nhi girls, you deserve better.

— SAAD | Free Palestine🇵🇸 (@Fallen_x_King) August 13, 2021
Nasir Khan Jan got married, how could he do this to us 😭😭💔

— Kashmala🤡🇵🇸 (@IjazKashmala) August 12, 2021
tf nasir khan jan got married fffffff i had a crush on him im gay for him. Broken rn 😭😭😭

— Ali // I STAN MYSELF (@FLOYDs__) August 12, 2021
nasir khan jan got MARRIED?? pic.twitter.com/KuXRtugJsi

— ivan the terrible (@aqaldaar) August 13, 2021
Marriage Content From Nasir Khan Jan?
Nasir Khan rose to fame after making terribly daring videos. Be it either trying to chug a gallon of milk in 30 seconds or eating an entire carrot in 10 seconds. Now that he is married, he will either sober up and make videos on 'lessons of marriage' or make the same videos with his wife.
Whatever the case may be, we're excited to see the content he has in store for his fans.
Stay tuned to Brandsynario for the latest news and updates.