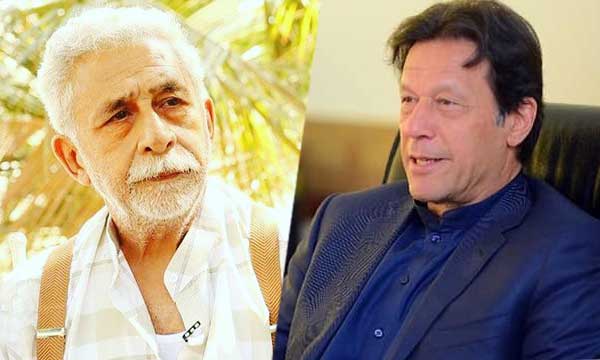 Naseeruddin Shah has found himself in the eye of a social media storm after his recent video interview stirred a nationwide controversy.
Talking to Karwan-e-Mohabbat against mob violence in India and minority rights, the veteran actor expressed his fear for the well-being of his family in light of the religious intolerance brewing up in his homeland.
He boldly stated:
"I feel anxious for my children because tomorrow if a mob surrounds them and asks, 'Are you a Hindu or a Muslim?' they will have no answer. It worries me that I don't see the situation improving anytime soon"
Zaid Ali's Wife Breaks Silence About Being Body Shamed in Pakistan!
His comments created a massive brouhaha, with right-wing groups demanding him to leave India if he finds himself vulnerable living in the country.
Various leaders from Shiv Sena have clearly told the B-town icon to move to Pakistan instead.
 If he is not satisfied, he should go and live in Pakistan
Meanwhile, Prime Minister Imran Khan took note of the unrest in India and cited the matter while addressing the media at 100-day achievements of the Punjab government in Lahore.
Referring to Shah's views, Khan stated:
"We will show the Modi government how to treat minorities…Even in India, people are saying that minorities are unsafe and not being treated as equal citizens"
However, Naseeruddin Shah, who has landed himself in hot water, has responded to Imran Khan with a hostile reply.
Setting this straight, the actor responded:
I think Mr. Khan should be walking the talk in his own country instead of commenting on issues that don't concern him. We have been a democracy for 70 years and we know how to look after ourselves.
Sonu Nigam Expresses His Wish to be a Pakistani [Watch Video]
It is to be noted that Naseeruddin Shah has worked in three Pakistani movies, namely Zinda Bhaag, Khuda Kay Liye and Jeewan Hathi.
The actor has a huge fan following in Pakistan and harbors a soft spot for his fans across the border.
However, his unfriendly reply to PM Imran Khan has raised eyebrows with his Pakistani devotees.
Stay tuned to Brandsynario for more updates.