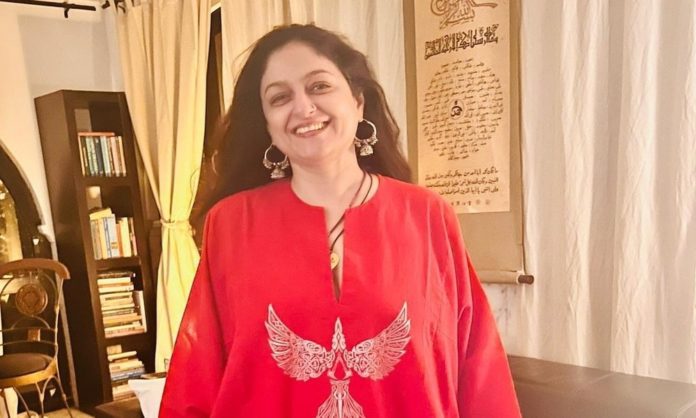 Nadia Jamil recently shared her honest thoughts as she criticizes celebrities for not speaking up for important causes. According to her public figures with millions of followers tend to have a notion where they want to only look good for the public.
Nadia Jamil Criticizes Pakistani Celebrities 
The veteran actress recently shared her two cents about Pakistani celebrities. The actress in an interview with the barrister Khadija Sidique urged celebrities to raise their voice for social causes. According to her celebrities only tend to comment and post about stuff that seems good for their image.
https://fb.watch/m7oIrrBwQj/
Read More: Nadia Jamil Criticized For Her 'Tone Deaf' Review Of Barbie Movie
'Hollywood celebrities including Mark Ruffalo, Leonardo Dicaprio, Meryl Streep these celebrities and more they talk about things. They know that they have a fan following of millions so they want to make that impact on social causes which they believe is their responsibility.' Said the actress.
'However, here I literally have to beg my colleagues and my fellow co-stars to record only one line for domestic labor and abuse victims. Meanwhile, all I get to hear in response is that it doesn't look good for them. What they don't understand is that it is about the people and the message they are conveying to them.'
While mentioning celebrity names, the actress took the names of some of the biggest names in the industry including Humayun Saeed and Hamza Ali Abbassi. She said that she is waiting for the statement from these people who she knows are good at heart and would strive to make a difference. Further adding that she is waiting for these big names to speak up about child domestic labor since it is evil, it is deadly and it kills children.
The actress also added that the only celebrity that sent in a video message right away was Sajal Aly.
Read More: Marwa Hocane Steals Heart In 'Nauroz' With Her Unforgettable Performance
Stay tuned to Brandsynario for the latest news and updates