In the glamorous lights of the fashion industry, having Muslims as your models on the international forums has become a marker of inclusivity. And if they wear hijab, well, that's cherry on top. So brands, when they hire Muslim models, they do it mostly in a way that they control how a hijab is on display. In innovative ways, they cover the model's head but take away the model's agency on practicing her values. Somali-American model, Halima Aden, went through something similar.
Halima Aden: The model
Aden became famous when she participated in the Miss Minnesota USA Pageant, competing while wearing hijab and burkini. This was the first time it happened there. She has been doing some fantastic work, and all that in her hijab is breaking the stereotype that a hijab holds you back.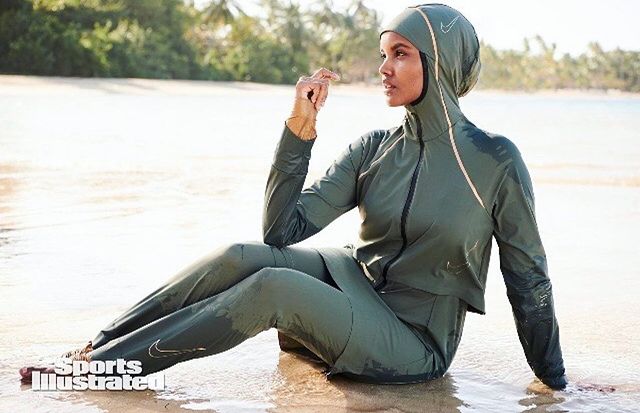 But can it go the other way round? Can the work that your hijab is not stopping could be somehow affecting your hijab? Well, that is something Aden had an epiphany about. In a series of Instagram stories, she shared how she was struggling with her Muslim Hijabi identity.
Mapping The Context
"I can only blame myself for caring more about opportunity than what was actually at stake." 
She also shared a photo of her from the first fashion campaign she did for Rihanna. She mentioned that Rihanna let her wear the hijab she came with. And this speaks volumes about the struggles of practicing Muslim hijabi models. That they are not allowed to wear what they bring. Instead, the stylists dress them up the way they want, usually the way it highlights the brand's products. She blamed this on 'the lack of Muslim women stylists' in the industry. And it is a fact that people who have a similar identity are better able to understand you.
And thus, it spreads so much in our consciousness sometimes that we leave our values and conform to what has been seen in the mainstream culture. Halima mentions that:
"Fellow Muslim sisters would send me DMs and even publicly tag me at the start of my career to say 'stop dressing like an old woman'… which made me feel like I was doing something wrong … I remember wanting to be the 'hot hijabi' as if that didn't just defeat the whole purpose. A hot mess is what it was truthfully."
That's it!!!
She would miss prayers often, not to mention how a brand made her wear jeans in place of a headscarf. She felt like she lost her style and her style was skirts, long dresses, all with her signature headscarves.
When the jeans incident happened, she remembers how she went to her hotel room and cried, but she was too scared to let go of a fantastic opportunity to advance her further in her career. She ends her statement in a significant way:
"If my hijab can't be this visible, I'm not showing up, period. This is the standard moving forward if you want to work with me. Come correct or don't come at all."
She says that if someone wants her, they can get her on 'her' terms. She has put her foot down for anything that remotely hurts her religious values.
Well, 'GO, ADEN!'
Stay tuned to Brandsynario for the latest news and updates!