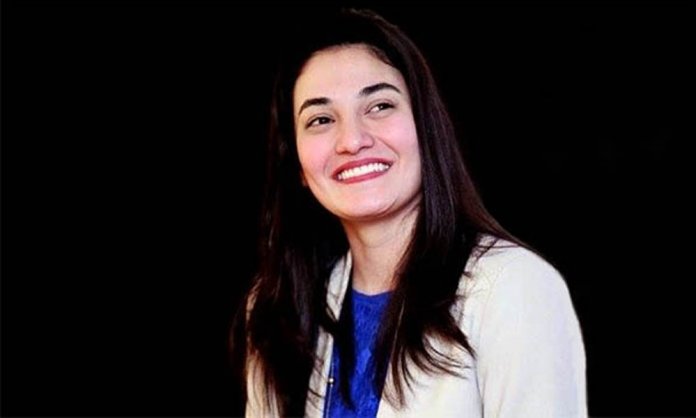 Over the weekend, Muniba Mazari wowed the world with inspirational videos of herself walking and standing back on her feet after 10 years of her tragic accident.
Fans of Pakistan's iron-lady showered her with love and lauded her for being so strong!
Yet again, she has made it to the news but for all the wrong reasons.
Landing herself in a new controversy, the UN Women Pakistan Goodwill Ambassador has been sued again by her ex-husband for defamation.
Muniba Mazari's Ex Husband Sues Her & She Gives an Awesome Response
On Tuesday, Muniba was presented with a notice by the Islamabad court to respond to the complaint, reports the Express Tribune.
Mazari was married to Khurram Shahzad, who is a former PAF pilot. The two had been married for 10 years (2005 – 2015) before going their separate ways.
In a surprising turn of events, Shahzad has accused Muniba of making defamatory and false statements against him on TV and social media.
This is not the first time that the social activist has been presented with a legal notice from her ex-husband.
For those unaware, Shahzad, in November 2017, had filed a defamation suit against his ex-wife but had to withdraw for technical reasons.
According to Shahzad, a legal notice was sent to Muniba in February in which he asked her to remove her defamatory tweets against him and issue an apology; however, she had refused.
Khurram I respect ur support for ur friend who has already moved on in his life, married his gf. since he's unable to pay for the maintenance of my child, he's playing the same dirty game which he did three years back and this time he has made it public! Only Defaming himself!

— Muniba Mazari (@muniba_mazari) December 5, 2017
Although he had initially demanded Rs.10 million in damages, Muniba's ex-husband later dropped that amount in the revised petition and instead decided to seek only legal fees as damages.
According to Shahzad, Mazari on several occasions has ridiculed him on several occasions on different media platforms.
In the petition, he has highlighted several incidents in which Muniba had defamed him. One of them being her 2015 TedTalk where she narrated the accident in which the couple had been involved in that left her paralyzed from the waist down.
https://www.youtube.com/watch?v=Ov9mIKIX1xg
However, Shahzad disputed this and says that a donkey cart had suddenly appeared that led to him losing control of the car.
However, the petition filed against Mazari claimed:
Shahzad] falling asleep while driving' is purely based on falsehood in order to ridicule the plaintiff, as the truth is that the accident occurred due to a donkey cart.
In another show, Muniba claimed that Shahzad had jumped out of the car to save himself.
However, according to the petition:
The statement is completely untrue as the plaintiff was inside the car while the accident took place.
Apart from that, Shahzad also produced several tweets in which Muniba had called him 'greedy' and accused him of cheating on her during their marriage.
This person will always be anonymous for us all. I don't expect anything good from this person. Im happy bcs he's no longer part of my life. His greed for money has no limits. Thank U @JKaziunwomen for your support. I will fight back as I've always done, gracefully Inshallah

— Muniba Mazari (@muniba_mazari) December 4, 2017
According to the notice, Shahzad has sought Muniba to be permanently barred from making such statements along with deleting her earlier social media posts in which she had defamed him as well as produce an apology and pay the general damages.
And that's not all!
He has also requested PEMRA to restrain her from making further such statements on television along with the PTA to remove or block the disputed statements online.
For now, the Islamabad sessions court has issued notices to Muniba and the two regulators to respond to the complaint on June 1 while also granting a temporary injunction restraining the respondent from defaming the petitioner.
Stay tuned to Brandsynario for more updates.