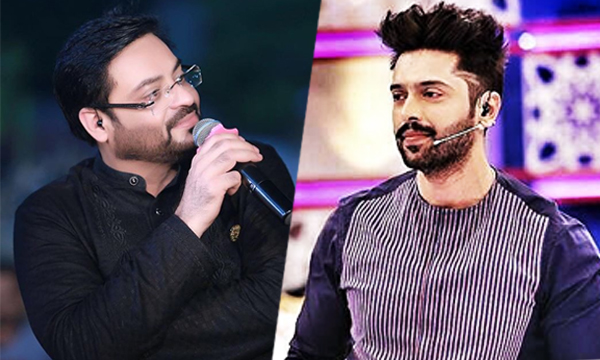 Five television channels and their game show hosts have been directed to appear before the court on May 23rd as directed by  Islamabad High Court's (IHC) Justice Shaukat Aziz Siddiqui.
This notice is in response to the contempt of court petition filed by advocate Muhammad Waqas Malik, alleging the violation of the Ramazan transmission guidelines and IHC order dated May 9th.
Fahad Mustafa's Soulful Na'at is Winning Hearts [Watch Video]
The channels include TV One, Bol News, ARY, Geo, and Filmazia while the anchors who had been summoned include Sahir Lodhi, Fahad Mustafa, Nabeel Zafar and Aamir Liaquat.
The director general (operations) of Pakistan Electronic Media Regulatory Authority (PEMRA) has also been summoned to appear before the court.
The petitioner nominated Seema Taher Khan, CEO Airwaves Media Pvt Ltd (TV one) Karachi, Sahir Lodhi (host) programme Ishq-e-Ramazan, Shoaib Ahmed Shaikh, M/s Labbaik Pvt Ltd (Bol News), Nabeel Zafar, (host) programme Game Show Aise Chaleyga, Salman Iqbal, CEO ARY, Fahad Mustafa, (host) programme Jeeto Pakistan, Muhammad Abid, CEO Leo Communication Pvt Ltd (Filmazia) and Mir Ibrahim Rehman, CEO Geo television, as respondents. With the court's permission, the petitioner also made Aamir Liaquat respondent.
According to his plea, the IHC bench had issued certain declarations and directions to regulate advertisements, dramas and other TV content as per the Islamic code of life.
Apart from that, a complete ban of foreign content had been placed on advertisements, dramas, and films along with programmes suggestive of containing gambling or lottery including Hajj/Umran tickets.
According to the petitioner, the respondents have blatantly violated the direction issued by the court. He further implied that the respondents had committed contempt of the court and had no intention of complying with the order.
Stay tuned to Brandsynario for more news and updates.