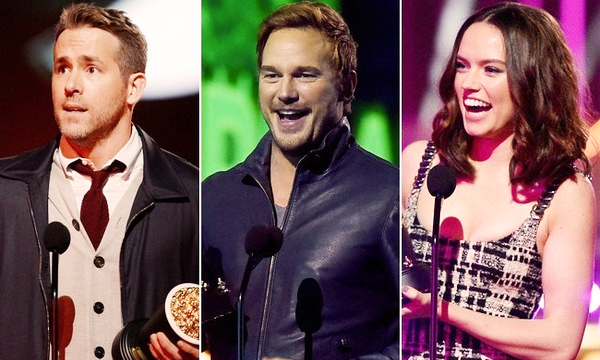 The 25th annual MTV Movie Awards were held at Warner Bros Studio, USA, blessing viewers with enough of exclusive clips and laughs to thrill even the most diehard movie fans. The Hosts for the evening were Kevin Hart and Dwayne "The Rock" Johnson opening the night with a tribute to the Mad Max: Fury Road, and the show started to get more and more exciting.
Space Opera "Star Wars: The Force Awakens" was the big winner at the MTV Movie Awards on Sunday, taking best film and breakthrough performance for its star Daisy Ridley.
It also scooped best villain for Adam Driver's turn as the nefarious Kylo Ren, although Ridley lost out in the best hero category to Jennifer Lawrence, recognized for her role in the final "Hunger Games" movie, "Mockingjay Part Two."
Leonardo DiCaprio took best male performance for "The Revenant," Alejandro Gonzalez Inarritu's epic tale of survival and revenge, which won the filmmaker and his star Oscars in February.
Charlize Theron took the honor in the female category for her turn as rebel soldier Imperator Furiosa in George Miller's post-apocalyptic action movie "Mad Max: Fury Road."
The South African actress, who put on 30 pounds (14 kilograms) and won an Oscar for her portrayal of serial killer Aileen Wuornos in "Monster" (2003), sparked controversy last week for complaining that she had lost out on film roles because she was too "pretty."
"On behalf of all the Furiosas out there, you are all the true warriors," she told the Los Angeles crowd, paying tribute to her "own little Furiosa," her baby daughter.
The audience reserved its loudest cheer for Rebel Wilson and Adam DeVine, who celebrated winning best kiss for "Pitch Perfect 2" by recreating the amorous smooch on stage.
"It's quite incredible we won this award because in real life we have absolutely no sexual chemistry," said Wilson, insisting that she wasn't aroused by DeVine's "little cabbage patch face and his tight little bubble butt."
But the pair then came together in a jokey tryst so faux-passionate that they ended up tumbling to the floor together.
Another offbeat award, best fight, went to Ryan Reynolds and Ed Skrein for "Deadpool," with Reynolds going on to take best comedic performance for the same film.
The superhero blockbuster has dominated the box office since its February release, only slipping out of the North American top ten this weekend.
Starring Reynolds as a Marvel Comics character, "Deadpool" has taken $759 million worldwide after clocking the fastest rise of any R-rated movie in history.
The awards, which have been taking a sideways look at Hollywood since 1992, honor films and their actors with "golden popcorn" statuettes.
The nominees are decided by producers and MTV executives while the winners are decided by the public, who vote online.
Best ensemble cast went to the all-singing, all dancing actors of "Pitch Perfect 2," while Chris Pratt took home best action performance for tangling with some very grumpy CGI dinosaurs in "Jurassic World," a reboot of the "Jurassic Park" series.
Amy Poehler bagged best virtual performance for her portrayal of Joy in Oscar-winning Pixar animation "Inside Out," while "Straight Outta Compton," a biopic about the rise and fall hip hop legends NWA, was awarded the "true story" prize.
IPL-9 2016 Opening Ceremony: Chris Brown, Ranveer Singh & Katrina Kaif Set The Stage on Fire!
Stay tuned to Brandsynario for more updates.