Alyzeh Gabol has found herself in the messiest of jams as rumours about her marriage have gone viral. The model recently got married again however she kept the man a secret. Now it has been revealed that the man is none other than Pakistan's biggest business tycoon's nephew.
Who's The Guy?
The guy is rumoured – or confirmed rather – to be Zoraiz Malik. Zoraiz Malik is the nephew of Malik Riaz, the owner of Bahria Town. A while ago Zoraiz Malik's wedding with Zainab was all over social media. The couple also gave birth to a son but it appears Zoraiz Malik was having an affair. In order to make the affair legitimate, he signed the Nikkah papers with Alyzeh Gabol. 
Read more: Malik Riaz's Grandson's Wedding: Pictures from Lavish Events
What Is The Latest?
The latest news that came out is that the two have now been divorced. Zoraiz Malik's divorce papers with Alyzeh Gabol spread like wildfire on social media. Apparently, the divorce papers were posted on social media by none other than Aasia Aamer, mother of Zoraiz Malik.
A Pakistani page called "Pakistani phupo" confirmed the news on social media. The page is alleging that this has been confirmed by the family itself. In response, Alyzeh Gabol is coming to Pakistan immediately and has also slit her wrist in response.
Read more: Actor Uzma Khan Withdraws Case Against 3 Women & 15 Armed Guards!
Alyzeh Gabol Clears The Air
However, apparently, Alyzeh Gabol has cleared the air now. Talking to Galaxy Lollywood, it has been reported that Alyzeh Gabol has not slit her wrist, she is perfectly healthy. Moreover, she is denying all the divorce rumours. In addition to that, the report adds that she is requesting the media to respect her privacy and keep them out of unnecessary drama. 
View this post on Instagram
 The comments under the post are speculating that this Galaxy Lollywood post is however paid.

Aasia Aamer's Side of The Story
Aasia Aamer, however, has now cleared the air. She posted on social media, a collage of photos in which Alyzeh Gabol was signing the nikkah paper. Then, there is a photo in which both of their hands can be seen in which Zoraiz Malik is putting a ring on her. Lastly, there is a picture in which the divorce papers are shown. Her caption is that she wants to put the rumours at rest.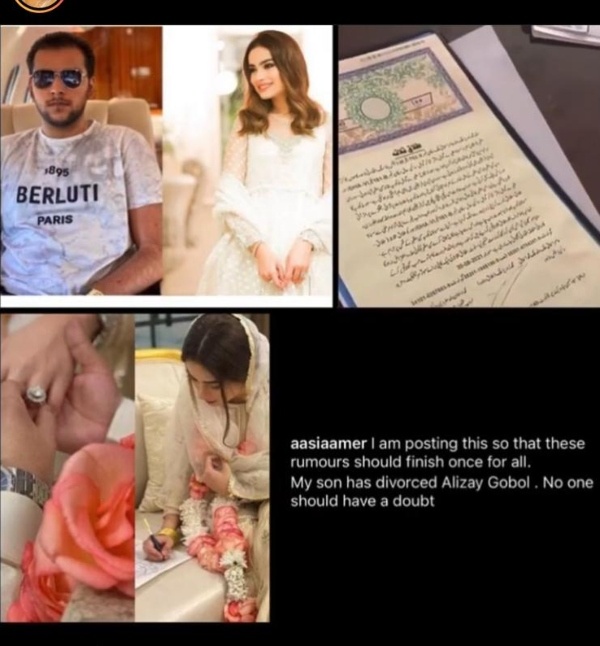 With the mother-in-law also now adding to this feud, we believe nothing is left behind to clear. Let's wait for what Alyzeh Gabol has to say about this.
Stay tuned to Brandsynario for the latest news and updates.