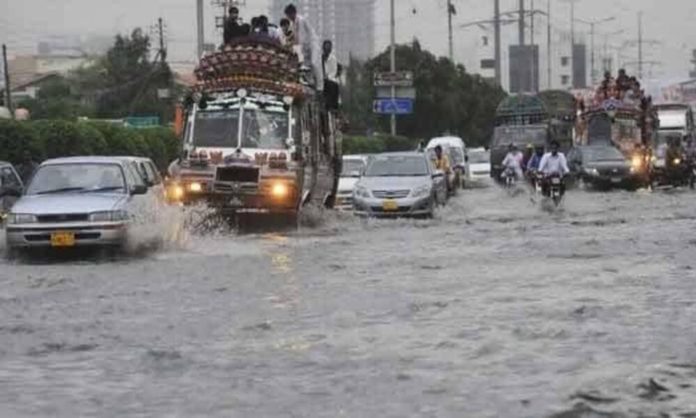 Monsoon season has hit Pakistan, and the disastrous effects of the rain are evident only after a spell of five days. The situation is giving us a major 'Deja Vu' of 2020, which has left us wondering.
The rain situation in Karachi is currently out of hand as parts of Karachi sink, leaving citizens with flooded homes and no electricity since last night. The continuous rain spell of fifteen hours has left the entire city drowning in water. All the major areas and roads have been blocked, making it difficult for the citizens to commute on Eid. Certain areas of the city have been through a blood bath with rain water and sacrificial animals' blood mixing on the roads.
The City Situation
As much as Karachiites wait for rain the entire year, it becomes a dilemma with traffic blockages, accidents, housing societies drowning in standing rainwater and load shedding. This year's situation is nothing different, given the infrastructure requirements of the city have not been met.
Shahrah-e-Faisal faced massive blockages, which resulted in citizens being stuck for hours. Main Korangi road also faced a massive blockage with standing water making it difficult for passengers to walk by. The roads to and from the airport are shut down. Meanwhile, intercity travel is also halted as the authorities block the National Highway.
Ye barish or Khi k roads🙄#KarachiWeather #KarachiRains #KhiAlerts pic.twitter.com/AkS3QKCCkN

— Sania Iqbal (@Saniaiqbaal) July 6, 2022
The DHA Disaster
The residential society became a topic of debate on all the major social media platforms. Since the rain took a massive toll on the infrastructure, thousands of people were stranded in their houses. Urban flooding caused massive damage to citizens' properties and households.
Read More: 5 Things To Be Mindful Of During Eid-ul-Adha 2022
Despite CBC's utter attempts to tackle the monsoon season, the situation in the residential area has not changed drastically. The last night's spell has left the road filled with water putting all the renovations in question made in the past few months. The water pumps installed a few days ago don't seem to work, and citizens are complaining about the rainwater standing in front of their properties. Areas including Khayaban-e-Shahbaz, phase two extension, Golf course roads, and Badar commercial are flooded with water with no means of transport, leaving citizens and sick patients stranded in their flooded houses.
Furious DHA residents are now speaking up in search of help

A group member of a Facebook group, Fawwad Afridi, urges everyone to be careful and keep an eye on the news

Rain doesn't bring joy for everyone.#KarachiRains #WeatherUpdate #Karachi pic.twitter.com/PbYBmF1ZSd

— Mein Rayyan hun. (@Pakista00135410) July 5, 2022
Meanwhile, no efforts have been made by DHA and relevant authorities to drain the water.
آج کی بارش کے بعد ڈیفنس میں پرانی یادیں تازہ

ڈی ایچ اے VI میں بارش کے بعد موجودہ صورتحال وہی نظر آرہی ہے جو 2 سال پہلے کی بارشوں کے بعد تھی۔#KarachiRains #KarachiSinks pic.twitter.com/C1xA09KsPe

— Afzal Nadeem Dogar (@GeoDogar) July 11, 2022
Read More: Inflation Is Pakistan's Public Enemy No. 1
Karachi flood-like situation in almost all areas, rainwater along with garbage entered into houses and shops. The city is presenting the worst picture. I wonder how shameless PPP is, did nothing during their 14-year rule. #KarachiRains#karachi@BBhuttoZardari @CMShehbaz pic.twitter.com/PYJQKJfY7i

— Arhan Ahmed (@Arruu24) July 11, 2022
DHA Phase-II Extension
Video credit: Karachi Doppler/Weather Updates PK#KarachiRains pic.twitter.com/IgmyzT5BgM

— Imran Ayub (@MixPatti) July 11, 2022
Despite the government's efforts, the Karachiites are witnessing the downfall of the city, specifically DHA, yet again after two years. However, if the rain continues to pour down, no wonder what will happen to the city.
For your safety, keep an eye on the upcoming weather conditions as it is likely that there will be another spell in the upcoming days. Check out social media and Facebook for support groups helping stranded citizens and needy patients.
What are your thoughts on this? Let us know in the comments below.
Stay tuned to Brandsynario for the latest news and updates.