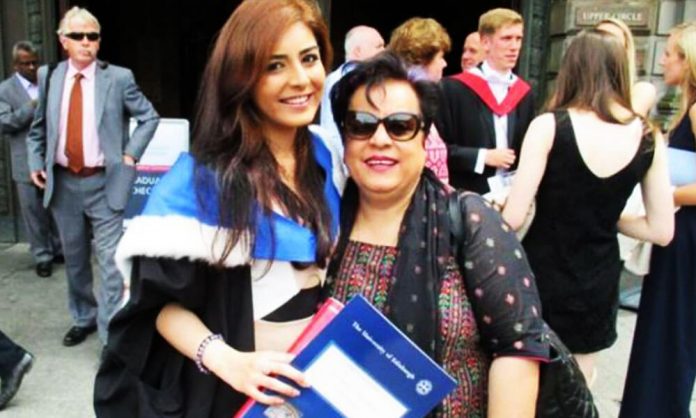 Update: Shireen Mazari has finally given her two cents about her daughter, Imaan Mazari's disappearance from Twitter.
While rumors were rife that the PTI leader must have forced Imaan to quit social media, Shireen has cleared that it no external pressure was involved in the matter.
Here's what she tweeted:
She chose to do so temporarily on her own so I have no doubt she will be back on twitter very soon! Frankly there was no external pressure – altho that would resonate in some quarters! Imaan would not yield to such pressure I can assure u! https://t.co/wXyB8Id5Kl

— Shireen Mazari (@ShireenMazari1) September 24, 2018
Yesterday, after a controversial Twitter drama, Imaan Mazari was back on the site after being away for a few hours. Upon return, she gave an explanation to her followers about why she was missing.
Here's what she had to say:
After things spiralled out of control yesterday, I decided to take a step back to collect my thoughts. One cannot even begin to explain the effect of these pressure tactics on one's nerves (no matter how strong we believe ourselves to be). My intention is never to hurt. (1)

— ایمان زینب (@ImaanZHazir) September 24, 2018
Ultimately, the right to freedom of expression is my fundamental human right and I will continue to exercise it. It is unfortunate that my mother is attacked over my opinions but I refuse to give into this emotional blackmailing by those who try to tear families apart. (2)

— ایمان زینب (@ImaanZHazir) September 24, 2018
---
In a shocking turn of events, Shireen Mazari's much-controversial daughter, Imaan Hazir Mazari has vanished from Twitter.
Yet again, Imaan has landed herself in hot water for sharing her bold views against dam funding and Pakistan Army.
PM Imran Khan Makes it to 'Kaun Banega Crorepati' Indian Game Show
Let's take a quick throwback to all that has been happening!
It all started when junior Mazari created an uproar for supporting the LGBT community after her leaked pictures went viral on social media.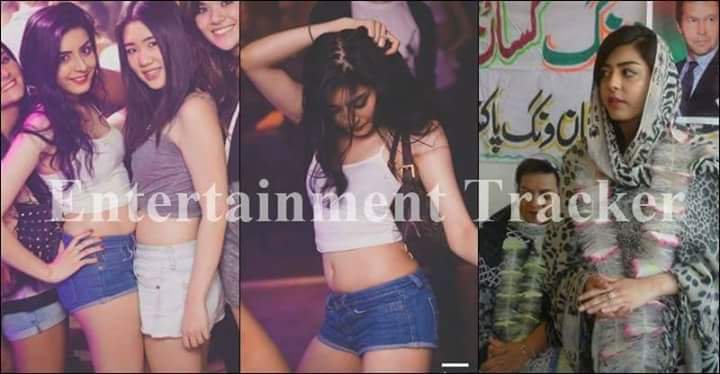 Later, she created an even bigger mess for her mother for her rants against the Pakistan Army.
https://www.youtube.com/watch?v=o2oKwfFsI4k
Her outrageous statements caused Shireen Mazari to openly disown her daughter's views on Twitter!
I want to make it absolutely clear that I do not share the views my daughter Imaan expressed in the video she posted on twitter. I also strongly condemn the language she has used against the armed forces. I love my daughter but totally disagree with her views & the language used

— Shireen Mazari (@ShireenMazari1) November 28, 2017
But clearly, Imaan did not back off! Recently, the wild child was spotted slamming the dam funding and deemed it a stupid idea.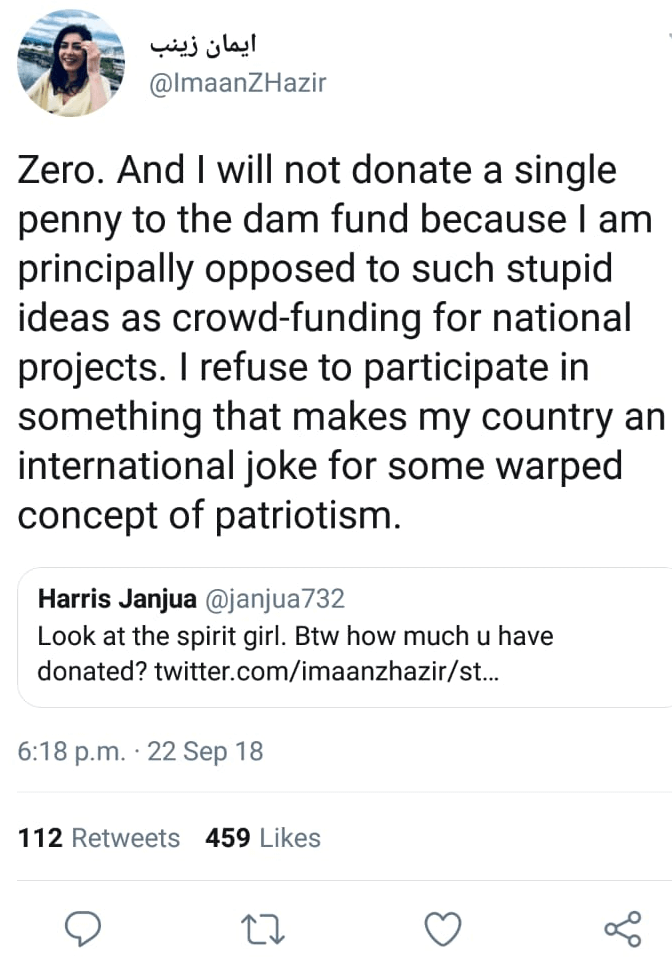 Things started to heat up when she tweeted against DG ISPR's statement regarding India and called him an embarrassment to the nation.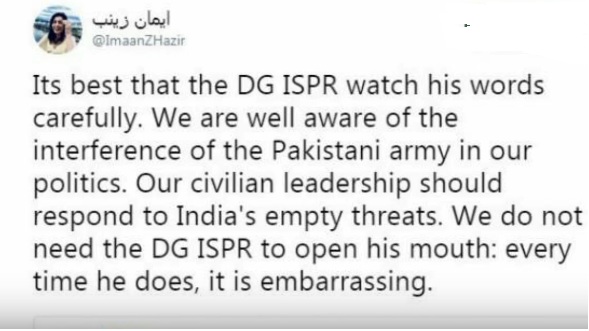 The drama made Shireen Mazari super furious who then schooled her daughter over an angry Whatsapp message.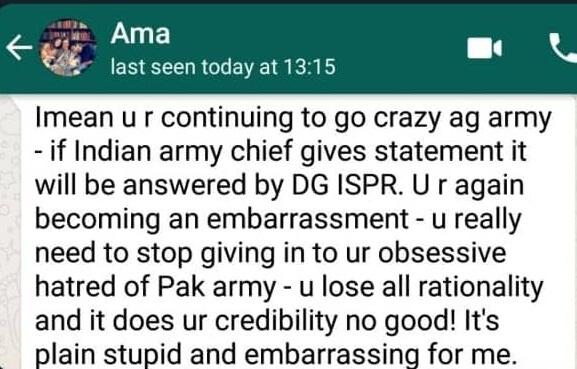 Little Mazari was quite disappointed with her mother's reaction and refused to remain silent!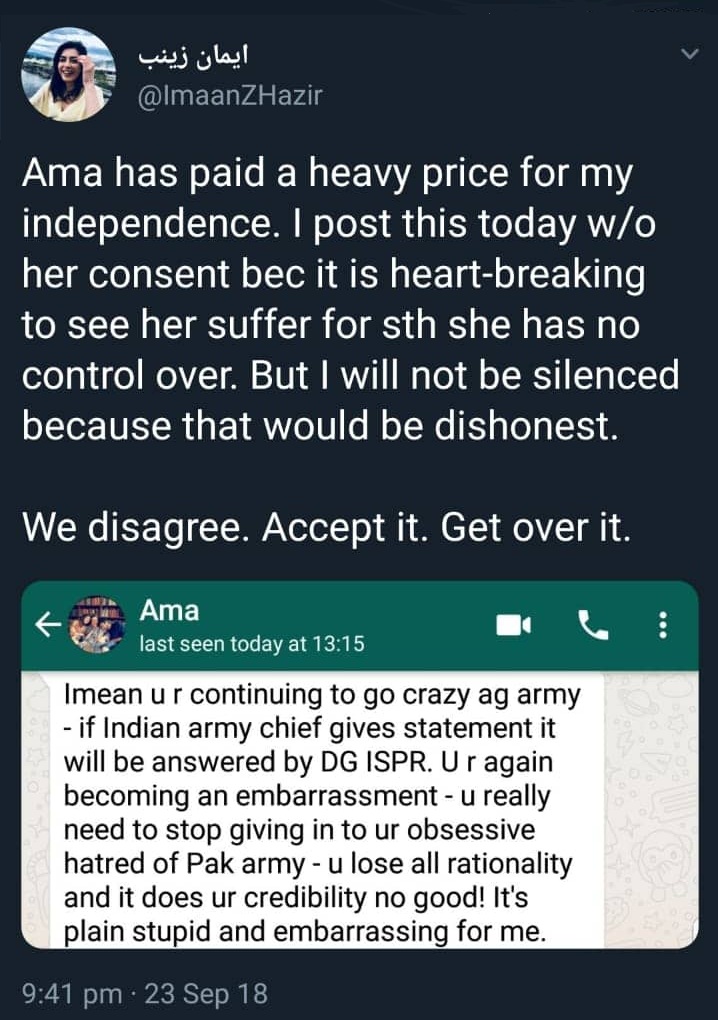 This was the last tweet by Imaan Mazari before she disappeared from social media. It is obvious that her mother stepped in and took control of the heated situation.
Shireen Mazari is the Minister of Human Rights and one of the most active Pakistan Tehreek-e-Insaaf members. She has always emerged to be one of the biggest political figures, whereas her daughter Imaan seems to be the complete opposite.
Stay tuned to Brandsynario for more news and updates.