Minal Khan is one of the most followed celebrities in Pakistan. The actress is mostly globe-trotting with her beau when she's not working on projects here and people give her the credit. However, this time around, she got caught copying Kylie Jenner and Pakistani's haven't forgiven her since then. Have a look at how she responded:
What Did She Do?
Kylie Jenner, a billionaire, is living her life all the time. She posted a story about the ultimate luxurious fruit tray being served to her. We don't even know half the fruits on there! Anyhow, Minal Khan saw the story and thought hmmm.. Maybe I should post the same one. And she did!

That sick urge to replicate and live a pretentious life is toxic in so many levels. These pseudocelebrities are pioneers of introducing starving yourself to death, lame diets, and a perfect happily ever after. #MinalKhan #KylieJenner pic.twitter.com/Yey4irjv13

— The Roasting Doctor (@roasting_doctor) June 22, 2022
She cropped out Kylie's name and posted the same fruit tray on her own story. Maybe she thought people would not find out or maybe she wanted to play a game with her followers. We don't know. All we know is that since then she has become the center and subject of all memes.
The Memes Being Made
Have a look at the kind of memes being made. They're hilarious for sure, we have made that reputation for ourselves. However, Minal Khan is also trending on Twitter. Is all publicity good publicity then?
Minal Khan and Kylie Jenner's stories be like: 😂#MinalKhan pic.twitter.com/39tAtBHM2N

— Aimen Duryab (@BaatSunoAimen) June 21, 2022
Minal Khan be like:#MinalKhan pic.twitter.com/kGBENhsqMk

— MUسKAN 🇵🇰 (@Musskkaan) June 21, 2022
I was studying 5 hours staright in my room and my mom brings this fruit tray for me. She's soo sweet wallah🥺🥹🫶🏻🫶🏻 #MinalKhan #KylieJenner pic.twitter.com/bNhXBcxlwl

— behind you (@Aleenanaaa) June 21, 2022
After lunch…!!#minalkhan pic.twitter.com/EfnHTfri54

— bread pitt🍞🐕 (@seeker_1122) June 21, 2022
After copying #KylieJenner story , #MinalKhan be like :#MinalKhan pic.twitter.com/7s8Yi1PyAP

— Sadia Hussain (@Sadia_hussain00) June 21, 2022
Minal Khan Responds
Minal Khan has responded to the whole fiasco in the most unusual way possible. She shared someone else's meme on the whole situation talking about copying other people's stories and said, "haha so true, soul satisfaction."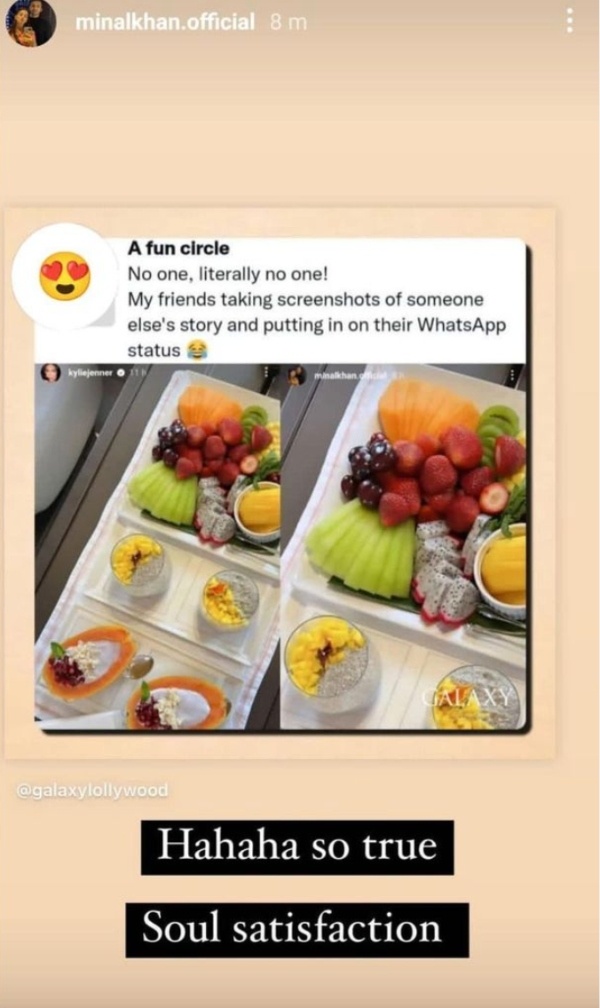 We'd never mean to be rude but Minal, this is a very sad way of trying to save face when you're being pulled into a jam. We hope the actress starts appreciating her originality and own reality now.
Read more: Love Magnum & Nail Polishes? There's A Surprise For You
Stay tuned to Brandsynario for the latest news and updates.