Magnum has come out with something in collaboration with its ice cream that will simply have you shocked. It's not the first thing that comes to your mind and may not even be the last. When did ice cream brands start coming out with their own nail polishes modeled after ice cream? Well, as of now and we're so glad that they are! Read all about it here:
Magnum and Nailpolishes
Magnum announced this news on Twitter. Before we get into that, let's talk about the new ice cream. The new ice cream, 'Almond Duet', is one in which it is half dipped in milk chocolate and half in dark chocolate. The two-tone look is what the nail polishes also try to copy! They announced that the nail polishes they have created with Nails Inc (a British brand) is modeled after the Almond Duet.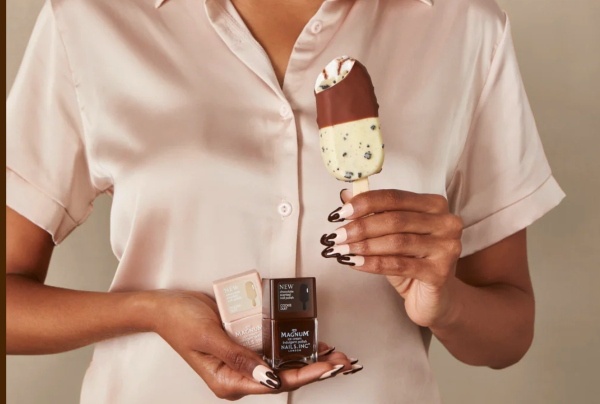 Here's more, the nail polishes have also been specially designed. Mei, a celebrity nail artist who goes by @nailsbymei also helped designed the nail polishes for Magnum. Have a look:
More About The Polishes
The polishes come in many colors and are inspired by the Duet range. The smooth chocolate-scented nail polishes are promised to be just as delicious as the ice cream treat. There's white chocolate, double chocolate, crunchie, raspberry swirl, and many more.

Magnum, in fact, has a whole line of duet ice creams in which two kinds of chocolates are used. That's what Nails Inc and Mei have tried to bring forth in the new nail polish designs. Each nail polish is for 8 pounds, roughly Rs.2000. Would you spend that much on a Magnum nail polish?
What Are People Saying?
People are already complaining about not being able to find the shade they want! It appears the collection has been a hit. Others are marveling over the shades and the collaboration entirely. It is fun, so modern, and completely engages the customer. The capitalist trap if you will? Have a look at what they said:
that looks delicious 😋

— Maxmud Haji✨ (@IamMoon94) June 17, 2022
Wish I could find more flavors … been to two stores and all they have is the double caramel, which is amazing – but would love to change it up a little)… oh, and #SaveMagnumPI

— SaveMiggy #SaveMagnumPI (@Magnum2018Ohana) June 19, 2022
Read more: Here's How You Can Earn Money By Relaxing!
Stay tuned to Brandsynario for the latest news and updates.