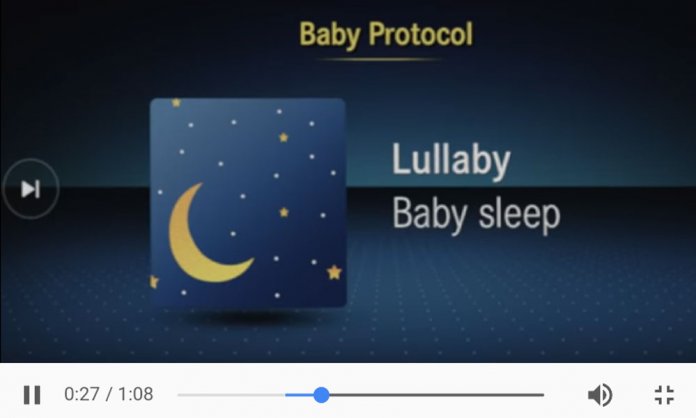 The time your baby naps or goes to sleep can be a relaxing time for you and your little one, however, the process of getting your baby to sleep can be very tiring and stressful.
It takes a while for newborns to develop a sleep schedule, but once they do and get a little older, the sleep timing typically lengthens and becomes more predictable, making your life easy.
If you are a parent struggling to put a bawling baby to sleep, in the future, Mercedes-Benz' MBUX voice assistant could be able to lull babies to sleep.
Have a look at this advertisement where a father, after failing to stop the baby from crying, brings him out, puts him in the car and voila! The baby is put to sleep within seconds and so is the distressed daddy.
YouTube's AR Beauty Feature Lets Viewers Try on Lipstick by Tapping Ads
The 2020 model of Mercedes Benz GLE is shown in the video.
The "Baby Control" protocol can be activated by the driver giving a command, "Hey Mercedes, Activate Baby Control".
https://www.youtube.com/watch?v=H-XsTKSdWEA
"Newborns bring two things:
1) lot's of joy
2) little sleep."
The "Baby Protocol" shown in this video plays a lullaby, darkens windows, sets ambient lights and starts active body control which makes the car act as a rocking chair.
The feature is not available in Mercedes-Benz vehicles at this point in time, but all of the features are available individually, according to the official website.
Have a look at what Twitter has to say about this feature:
can't tell if "baby protocol" is for babies that have or haven't been conceived yet? nice one @MercedesBenz https://t.co/ZIxTgKd9LI

— Jemboolo Doborbablah (@joshuadoliveiro) September 11, 2019
What a thinking ☺️👌

— G Narayanan (@thenbuzzme) September 11, 2019
What are your thoughts? Comment and let us know!
Stay tuned to Brandsynario for more news and updates.