Karachi Rain has taken everybody by storm. Quite literally, that is! The city is seldomly flooded and is merely pleasant even in the coldest of months in Pakistan. Thus, the day before yesterday when the city of lights got persistent rain for a few hours, the condition on the roads immediately became the breeding ground for memes.
What Happened To Karachi?
The city with calming breezes, the smell of the sea and sunshine was flooded. Within a few hours of heavy rain, all roads and houses became submerged in muddy water. So much so that even cars were 3/4th in water. Power obviously had to be cut off from everywhere given that if electric lines fall in the water, people can be electrocuted.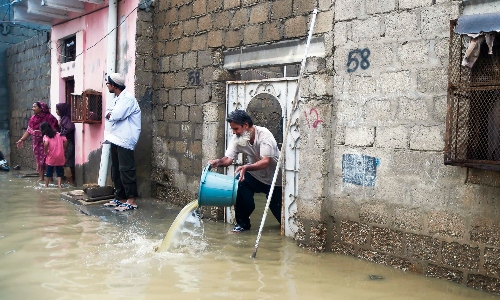 Several areas in Karachi were without electricity for more than 24 hours. Moreover, what's interesting is how one side of Karachi was submerged in water while the other was beaming with sunshine. 
What Was Happening On Twitter?
On Twitter, people were having a field day with all the rain going on. The streets submerged in water and the inconvenience caused was enough for a heavy inflow of memes. Check out some of the funniest ones!
Have a look at these hilarious memes!
The classic Bhutto jokes for the win.
Omg Exclusive footage from Karachi retweet and support bhutto

#karachirain pic.twitter.com/3vYwm1L8gr

— ڈاکٹر نبیل حسن (@NabTheDentist) July 26, 2020
Situation right now in karachi after rain #karachirain pic.twitter.com/vNipmc0bMw

— Inshal Khan (@InshalKhan124) July 26, 2020
We feel you girl!

When it's raining in karachi . But you can't go outside without a boat. 🤣#karachirain #rain pic.twitter.com/5PGUi4mSKE

— The Pakhtoon Girl (@Gulbano2020) July 27, 2020
This one takes the cake!

After raining in Karachi, a rescue operation is still being done on the 3rd day to find Bhutto

#نااہل_کرپٹ_سندھ_حکومت pic.twitter.com/yLbBfoEeda

— PTI Karachi Official (@PTI_KHI) July 27, 2020
Cats and dogs will have to take a back seat for now…
Karachi…it's raining cars and scooters. https://t.co/8ygIagsskq

— Juggarnaut (@RecordOpen) July 26, 2020
Karachi has 2 major problems about rain,
1st: it's not raining..
2nd: it rained too much, that we're now sinking in it.

— Tu Ba 🌸 (@Tu_bbae) July 27, 2020
Rain in Karachi exists.

Le electricity supply in Karachi: pic.twitter.com/UWxSArzGfx

— HamXa Chaudhry (@Cheeku_24) July 28, 2020
Enjoy Every Moment Of Life 🤣😁#KarachiSinks #karachirain #tuesdayvibes #rainbow pic.twitter.com/V3axfyr2aQ

— Faisii_Tweets (@FaisiiT) July 28, 2020
Jokes Aside, We Are In Trouble
The city's flooding within mere hours of rain was pathetic to see for everyone. Following that #Sind is trending on Twitter and political debates about Sindh's negligence are being taken up. The city's sanitation and drainage capacity are beyond terrible and out-dated, to say the least. 
Aside from the memes that lighten the situation, it is also important for us to realise the gravity of the situation. At least 5 people were reported dead on Saturday when the heavy rains hit Karachi. It's not to say that only Karachi suffers from urban flooding, Lahore does too. However, what solution is there in store for such out-dated urban planning?
Why aren't our cities' underlying systems not regularly updated?
What do you think about urban flooding? Let us know in the comments below!
Stay tuned to Brandsynario for the latest news and updates.