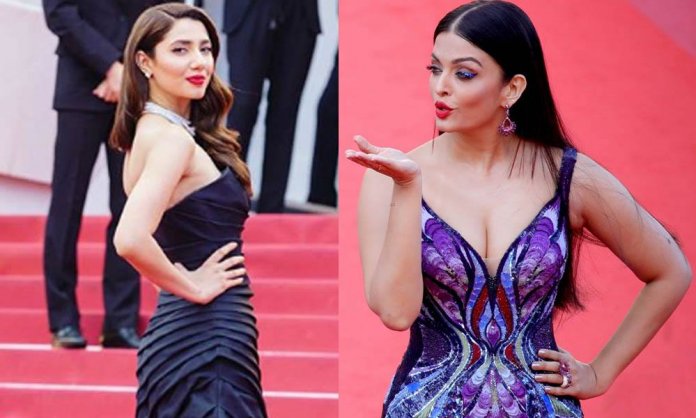 Mahira Khan has been making headlines lately for her debut at the Cannes 2018. The Pakistani actress represented the brand L'Oreal Paris and made quite an impression.
No one could miss her charm – not even the gorgeous Bollywood starlets, Sonam Kapoor and Aishwarya Rai Bachan!
Cannes 2018: Mahira Khan Steals Sonam Kapoor's Thunder at the Red Carpet
We cannot stop gushing over this heartwarming picture of Sonam sharing a warm camaraderie with our Pakistani "haseena".
But who knew that Khan also met with the B-town's timeless beauty, Aishwarya Rai at Cannes?
In an interview with Mail Today, Mahira revealed all about her causal rendezvous with Rai and the pair shared a candid moment together.
"Aishwarya came and hugged me. She gave me a long hug and I told her that it's the warmest hug anyone has given me really in a long time. So that was really sweet of her. Then we talked about our kids"
While this may be Mahira's debut at Cannes, Aishwarya is a regular face there, representing L'Oreal Paris for quite a few years now. So it was great to see the Indian actress's sweet gesture towards the debutante, Mahira.
While Mahira attended the event sans her son Azlan Askari; Aishwarya's daughter, Aaradhya Bachan, accompanied her mother at the festival.
Most adorable! #AishwaryaRaiBachchan hand in hand with #AradhyaBachchan ❤️ #AishwaryaAtCannes @Festival_Cannes #Cannes2018 pic.twitter.com/IJJ2hDF7wQ

— Anushka Arora (@Anushka_Arora) May 12, 2018
#AishwaryaRaiBachchan Over Powering Red Carpet Walk Video.
Its #AishwaryaAtCannes Darling😎 pic.twitter.com/6VkL5JGfyj

— Groovy (@BibaswanM) May 12, 2018
Speaking to the media at the festival, Aishwarya spoke about the need for women to be more sensitive towards one another.
We as women need to stop judging each other. If you apply makeup that doesn't mean you don't have brains. It doesn't mean you lack in substance. It does not meant that you are not sensitive or compassionate.
She further added:
At the same time, if you choose not to use make up, it doesn't mean you are a disinterested person or a person lacking in COLOR. Or that you are brainy just because you don't put make up. Or that you are too serious and not a fun-loving person.
Mahira, on the other hand, was seen talking about how happy she was that she had been given this wonderful opportunity to represent her country at an international platform.
Well! We love how these beauties from the two neighboring countries went above and beyond to reach out to each other and share such warm moments.
What did you think of Mahira's Cannes debut? Let us know all about it in the comments
Stay tuned to Brandsynario for more news and updates.