Most people might think that this film is probably a sequel to Punjab Nahi Jaungi but this is not the case. It has almost the same cast and a title with a similar feel (only this time, it's a male version and a different location). However, LNJ is a completely different story that carries the essence of women empowerment and rejects discrimination on the basis of gender in matters of love. This comes as a pleasant surprise because Khalil-ur-Rehman Qamar (writer of both films) is quite infamous for his inappropriate misogynist comments. With this film perhaps he's trying to absolve himself of all such previous accusations.
Here's the trailer:
The story revolves around the protagonist Jameel Qamar (Hamayun Saeed), a rich feudal landlord who doesn't want to marry his cousin Arzu, played by Kubra Khan. Instead, he hopes to marry a westernized girl rather than 'bahir ki larkee' which, in this case, happens to be Zara Tiwana (Mehwish Hayat).
Their encounter is unexpected and Qamar falls in love with her at first sight. Zara has come from UK and is motivated by a much serious goal that is related to the murder of her father. Too many complications and conflicts prevent Qamar from winning her heart and whether or how he succeeds in doing so or not is something you must watch on screen.
Both, Humayun Saeed and Mehwish Hayat, bring glamour to the screen for their onscreen chemistry (though one can clearly see the signs of aging now). Kubra has never looked so pretty on the big screen before. Besides the lead, we have Sohail Ahmed, Saba Faisal, Iffat Umer, Salman Shahid Saba Hameed, Asif Raza Mir, and Gohar Rasheed in the supporting cast.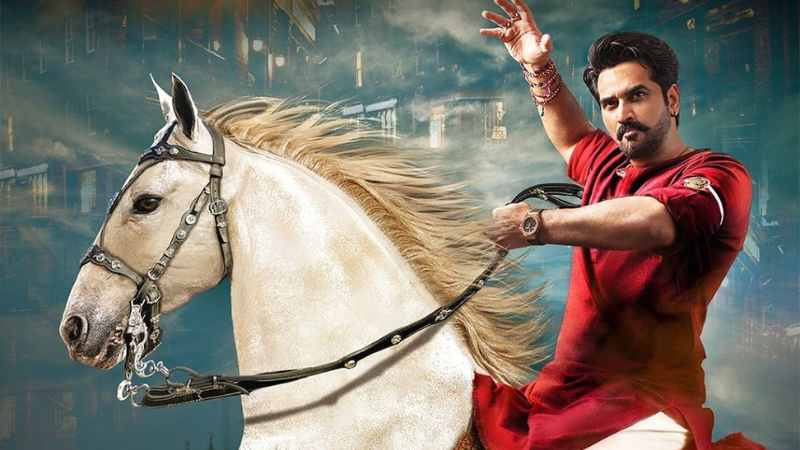 They play members of one joint family while Rasheed plays Saeed's confidant. Gohar Rasheed is a wonderful actor and we do get to see his energetic dance skills accompanied with brilliant facial expressions too. Sohail Ahmad and Salman Shahid are given some nice punch lines that add light humor to a somewhat serious scene. One cannot ignore the absolutely incredible cinematic presence of Asif Raza Mir even though he is given less screen time.
The film is directed by renowned filmmaker Nadeem Baig whose previous films are one of the highest-grossing films at the box office to date and it is no surprise because the man knows his craft well. LNJ has all the right spices needed for a good commercial cinema. Perfectly composed shots, seamless editing and engaging monologues.
The songs are fabulous and the arrangement is fantastic. Music is composed by Adnan Dhool (lead vocalist band Soch) and Saad Sultan. Each song has its own Punjabi desi flavor and filmi vibe that definitely evokes emotions in the viewer. The first song is inspired by typical wedding folk songs 'tappay' sung beautifully by Meesha Shafi. Colorful costumes, great production value, and clap-worthy pro-feminist dialogues make LNJ a true entertainer and a complete Eid package.
Have you watched the movie yet? If you have, let us know your thoughts about this in the comments below.
Stay tuned to Brandsynario for the latest news and updates.