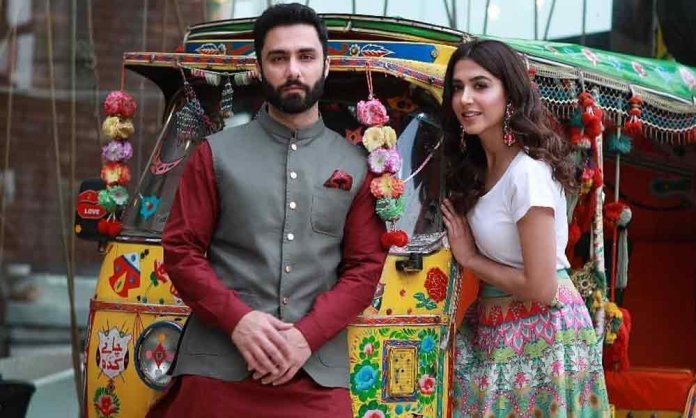 Laal Kabootar is all set to be released on 22nd of March and Pakistanis will be witnessing a quality local movie in the cinema after a long break.
The crime-thriller had its star-studded premiere last night in Lahore with entertainment bigwigs showing support for the leading cast, Mansha Pasha and Ahmed Ali Akbar alongside the director, Kamaal Khan.
Its raw and gritty trailer had already intrigued many, however, movie buffs clealry didn't have high hopes with the movie. Nevertheless, reviews of the movie have started pouring in and it seems, Laal Kabootar has surprised them all with its sheer brilliance.
Clearly, the movie has blown them all away!
This is the best Pakistani movie I have seen! And I do NOT make such statements, hell I don't even give 5 stars to every Careem captain! — watching Laal Kabootar

— Omair Rana (@omairana) March 19, 2019
And they are calling it as good as Cake.
#LaalKabootar turns out a huge surprise. It is an edgy crime thriller which does not look a film but a reality unfolding in front of you and making you feel part of it. Another milestone for Pakistani cinema after Cake. @LaalKabootar #Lollywood

— Zeeshan Mahmood (@zeeshaandaar) March 19, 2019
Critics are giving it a thumbs up to every aspect of the movie.
The music fits each scene perfectly, the visuals and production value is really top notch. Plus, you really feel this is Karachi. The dirt, violence, desperation, this movie is really a poem about the underbelly of Karachi. (2/n)

— nur nasreen (@Nuri_ibrahim) March 20, 2019
Human rights activist and lawyer, Jibran Nasir also attended the premiere and was all praises for the movie.
Congratulations to the @LaalKabootar family. What a brilliant film. Super happy to such cinema coming out of Pakistan. A fast paced thriller with relatable characters and an amazing soundtrack. Well done #KamalKhan @manshapasha #AhmadAliAkbar and hats off to #RashidFarooqui pic.twitter.com/6EhM6Pk5q4

— M. Jibran Nasir (@MJibranNasir) March 19, 2019
Pakistani box-office has gotten its first box-office hit of the year!
#laalkabootar – what an incredible film. Highly recommended!!
Congratulations @manshapasha 🌸and @GeoFilms_Geo .All The Chracter Well Well In Good.
..

— Farhan Magsi (@FarhanMagsi14) March 20, 2019
I ve watched @LaalKabootar , i just wanna to say that the content is impressive and well executed. Good work done By Kamil and Hania Chima as well as @manshapasha and @AhmedAliAkbar You are Guys just awsome in this movie.#laalkabootar #ManshaPasha#AhmedAliAkbar#KamilChima

— H A S N A I N C H A U H D R Y (@jatt_husnain) March 19, 2019
Sans any item song or distasteful humor, the crime-thriller has appealed to the audience.
Final verdict, go watch #LaalKabootar, it is a realistic, not over-the-top, street-crime thriller that really picks up momentum. It takes you to the edge of your seat and entertains you in a twisted way that esp a Karachiite would appreciate.

— Waqas (@waqas_x) March 19, 2019
#laalkabootar the best film anyone can find playing right now. I wanted to pee at the start of the film and couldn't move for an hour and forty minutes. hoping it does well! 7/10.

— Qasim Abbas (@qasimaabbas) March 19, 2019
#LaalKabootar: A joyride with brilliant acting all around. Amazing storyline & camerawork. Gritty, captive, engaging.@LaalKabootar @manshapasha @AhmedAliAkbar

— -saud 🇵🇰 (@saudUkhan) March 19, 2019
If we will continue to have epic movies like Laal Kabootar, we will not need Bollywood movies ever to entertain us.
Watch its trailer and we bet it will compel you to visit the cinemas near you.
https://youtu.be/CgzJ6KRBK8w
Stay tuned to Brandsynario for more updates.