Get your wallets ready because KFC has just come up with a new deal in this exciting new TVC! KFC had been MIA for a while, not making any traffic at their places of establishments or at home delivery, but this is definitely turning things around.
Introducing the 5 in 1 meal box also known as 'Sub Pe Bhaari' deal, the latest TVC will leave you craving for KFC like never before! The combo includes one Krunch Burger, a chicken piece, one regular fries, a dinner roll and a regular drink at a low price of Rs. 360.
Watch 5 in 1 Meal Box TVC below:
They very frequently introduce new deals, having released one at the beginning of the month called the 'Krunch Chicken Combo'. This combo includes a Krunch Burger, a chicken piece and a drink at Rs. 300. The lack of feedback received from this deal urged them to introduce their new 5 in 1 meal box which has everyone talking.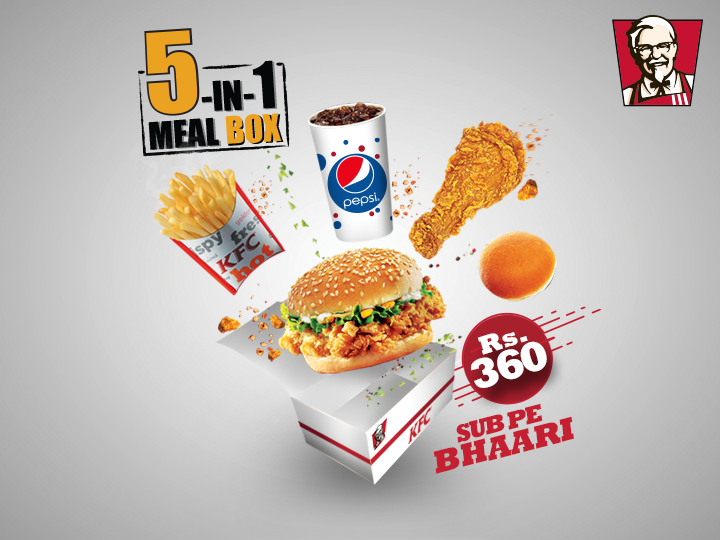 KFC has always known to be incredibly appetizing and now that it comes at a low cost, it definitely blows all the other fast food establishments out of the water.
People are excited to try this combo that will have everyone's hunger passing in no time as it seems to be one of their best deals yet.
Go visit KFC now to experience this life-altering deal or call at 111-532-532!
Stay tuned to Brandsynario for more updates.
Pepsi Latest TVC Features Fawad Khan & Syra Shahroz in #KhanaBaneyExciting
Contributed by Maham Kirmani.