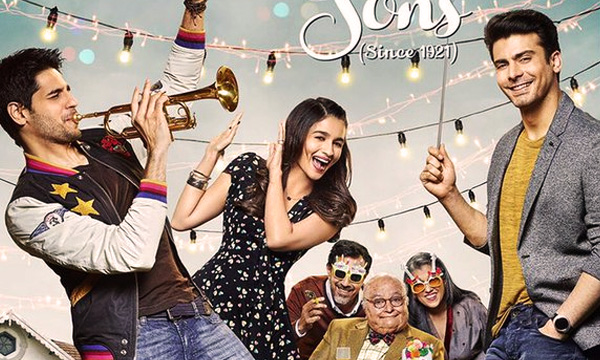 Fawad Khan's Kapoor and Sons is in cinemas today! Starring Alia Bhatt and Sidharth Malhotra, the movie is called 'an emotional family drama'. Kapoor and Sons is a romantic comedy flick by Karan Johar with a relatively younger leading cast and picturesque locations sprinkled with easy listening music has earned his production positive acclaim.
The laudable directorial skills of Shakun Bhatra and very believable acting skills of the cast put together make this movie a must watch!
The story depicts the story of the Kapoor family where the focus falls on the two Kapoor brothers who reunite at their family home at the hill station at Conoor, amidst personal differences.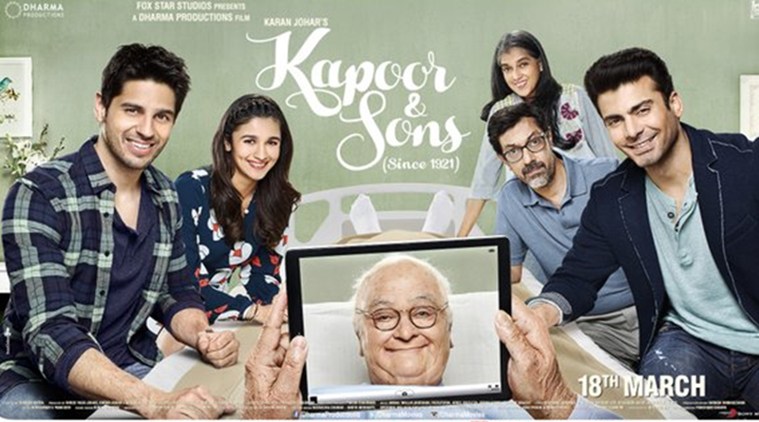 Rahul Kapoor, played by Fawad Khan, is the older of the two and a source of pride for the family whereas Siddarth Malhotra portrays Arjun Kapoor, the younger brother and the deviant in the family.
The movie brilliantly highlights the love-hate sibling relationship between Khan and Malhotra, who as fate would have it fall for the same woman, further entangling their already strained relationship, thanks to great direction by Batra.
Two noteworthy things are the decent performances overall by the entire cast and the subtle handling of atypical personal choices.
The fans loved the relatable story spun beautifully depicting the true imperfect nature of familial relations and the emotions, egos and fights that at the end straighten everything out for the better.
Watch the trailer below:
Alia Bhatt also manages to shine  in a very quintessential girl next door role of uncomplicated Tia. The music is fun and catchy with the song Let's Nacho being the most memorable of them all.
Listen to Let's Nacho below:
The perfectly showcased discord in relationship shared by the two handsome brothers, yet starkly different in natures and social acceptability, with the flames further fanned by them being in love with the same unaware equally likeable Tia.
Shakun Batra successfully amazes as a director by unfailingly capturing the viewers' attention and incorporates a decent amount of twists in the story. All in all, a better movie than most we've seen in the recent years.
This is how Bollywood reacted to the film Kapoor & Sons:
You cannot miss #KapoorAndSons Real, funny &what performances! Take a bow @shakunbatra @chintskap #siddharthmalhotra #FawadKhan & @aliaa08

— Tisca Chopra (@tiscatime) March 17, 2016
A perfect family Picture #KapoorAndSons for 3 generations to watch together @shakunbatra @karanjohar @S1dharthM @aliaa08 @_fawadakhan_

— Ritesh Sidhwani (@ritesh_sid) March 17, 2016
Sometimes in the winds of change we find our new direction! Shakun Batra's Kapoor & Sons ushers in a new dawn! pic.twitter.com/K07iFmqeC5

— Mahesh Bhatt (@MaheshNBhatt) March 13, 2016
#KapoorAndSons prints: 900; Screen count: 1500. India biz.

— taran adarsh (@taran_adarsh) March 17, 2016
Loved #KapoorAndSons .. well written, well directed, well performed, well edited, well.. Just go watch it.. @shakunbatra @karanjohar

— Farhan Akhtar (@FarOutAkhtar) March 17, 2016
Pakistani actress Mahira Khan also had kind words to say about Kapoor & Sons:
Lots of luck you beautiful people! Can't wait to see #KapoorAndSons @_fawadakhan_ @aliaa08 @S1dharthM

— Mahira Khan (@TheMahiraKhan) March 17, 2016
The fans did not stay behind either and posted their reviews which mostly lauded the the emotional story line coupled with brilliant acting by the cast:
.@S1dharthM and @_fawadakhan_ look adorable as brothers & their moments together will make you want to hug your siblings! #KapoorAndSons

— Desimartini (@DMmovies) March 18, 2016
A rollercoaster of laughs, tears and emotions! #KapoorAndSons a dramedy with soul coming soon to Namma Bengaluru… https://t.co/VGZkOecVca

— Abhishek Singh (@strangercalls) March 8, 2016
Performances were so much at ease; it seemed most comfortable within a family. Amazing job @S1dharthM @aliaa08 @_fawadakhan_ #KapoorAndSons

— mukesh chhabra CSA (@CastingChhabra) March 18, 2016
I laughed,smiled,cried,fell in love with each character of #KapoorAndSons. Shakun Batra is our current KJo in terms of making a family film.

— Raghuvendra Singh (@raghuvendras) March 18, 2016
So what do you think of Fawad's 2nd Bollywood movie? Let us know in the comments below!
Stay tuned to Brandsynario for more!