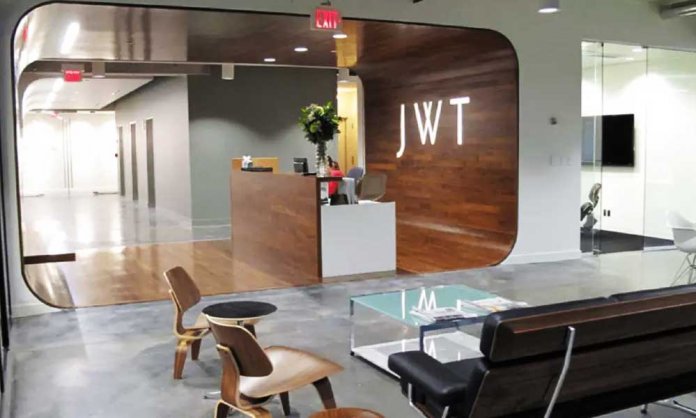 Update: We have just confirmed from an official (confidential) source at J. Walter Thompson (JWT) Pakistan that the news of shutdown of operations is limited to Lahore only and not nationwide as earlier mentioned in a post by Media Coordinator Walter Pakistan Mr. Naeem Sadiq on Khalid Alvi Marketing Next.
---
The World's Largest Advertising company, J. Walter Thompson (JWT) has decided to exit and close down all operations in Lahore.
Mr. Sadiq writes:
In a move that came as a 'shock' to staff, J. Walter Thompson has shuttered its Pakistan operation in Lahore.
Reportedly, this decision comes after the company announced that it is taking cost-cutting measures globally in the face of troubling financing times.
Amir Rizvi, Group Account Director at J. Walter Thompson in Lahore shared that the news came as a shocker to all employees who have been a part of the JWT family for some time now.
Rizvi said:
Out of the blue an email was circulated that JWT will be handing all operations over to Grey and will be exiting Pakistan
Although Mr. Rizvi has stated that the company will be exiting Pakistan, our source says this statement is incorrect- only the JWT Lahore office is closing.
He further on added that many of the staff members have become dishearted after this news broke out as they feel it was not the right way to address the situation.
The former employees of JWT Lahore addressed the CEO's of WPP agencies expressing their disappointment on the termination of all jobs and operations without any prior warning or indication.
The letter reads as followed:
When Hameed Shahbaz, GM JWT Lahore Office resigned, the clients were not taken into confidence. The new appointee GM Ali Nawaz Gondal also resigned within a couple of weeks.

After his resignation, nobody was given charge of Lahore office. No GM was hired. Nobody was promoted within the office to be the GM. The office was running like a headless chicken but the higher management in the Karachi office did not act and put everything at stake. Client were worried because of a communication gap.

A few more people also resigned from account management and design department, but nobody was hired or assigned to take up the responsibilities. The company gave no prior notice to shut down the Lahore office.

The announcement was abrupt and shocking. CEO/CFO/Company Secretary and HR Manager visited the Lahore office and unprofessionally asked everyone to resign or face termination. The term "offensive termination" was used to unethically pressurize the employees to resign.
Omer Yousuf Murad, the CFO of J. Walter Thompson in Pakistan was also named in the letter the Lahore office employees rolled out. In the letter, they mention that they were not given any time to seek other job opportunities.
Without any official notice on email or inter-company discussions, a letter was sent to the employee's home resulting in devastation for many of them. The letter was reportedly dispatched on 13th December.
The employees replied by writing the following:
It was mental torture for us and the people at home. We were extremely shocked and disappointed. JWT-Lahore has been working with minimum resources for the last decade or so.

It is the only office which gives around 30% profit, while the Karachi office is running at $200,000 loss, and Islamabad office is on break even. We cannot comprehend the idea why clients are being fired that are willing to work with Lahore office.

Every single individual works here with passion and dedication. Above all, we are told that it is a global decision to close this office. We are highly saddened by the current chain of events.
The letter concludes with the following statement:
It is a matter of WPP repute in the market. Some have started their careers, some are mid-career while some are nearing retirement, will it be possible for us to remove this blemish of termination from our profiles.
This letter was officially signed by 14 employees, they are as followed:
Albert Victor, Media Planner
Ali Naqvi, Creative Manager
Amir Rizvi, Group Account Director
Faiz Ahmed, Senior Visualizer
Ghulam Dastgeer, Mechanical Artist
M. Shahid, Mechanical Artist
M. Akhtar, Senior Art Director
M. Shoaib, Art Director
Furqan Ashraf, Digital Account Manager
Naeem Sadiq, Media Coordinator
Abdul Mannan, Web Designer
M. Avais, Account Manager
Naeem Ahsan, Creative Director
Shehzad Yousaf, Production Manager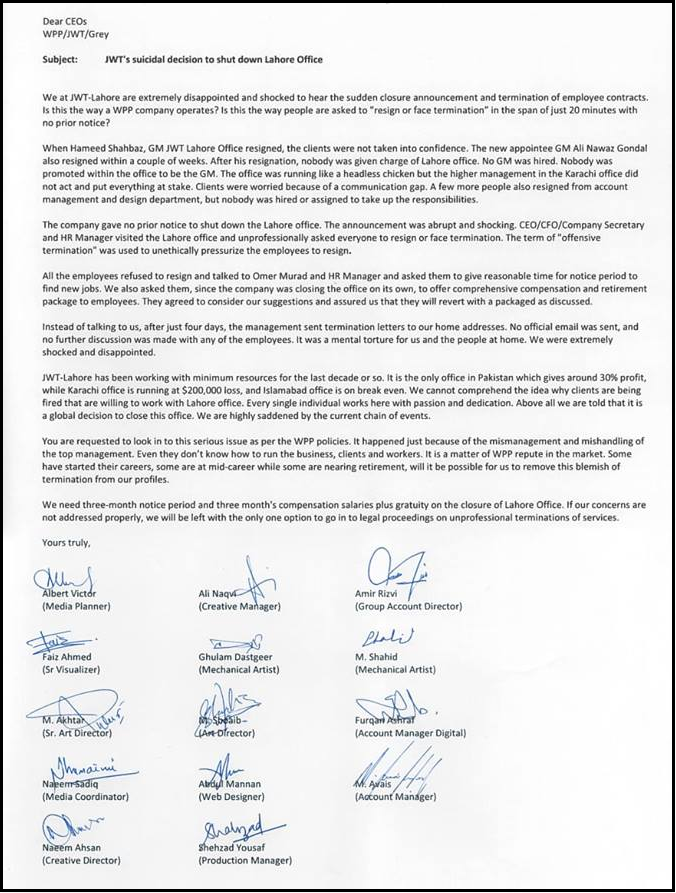 Many were in shock as to how such a huge company decided to shut down operations in such a manner.
What are your thoughts about JWT's exit?
Stay tuned to Brandsynario for more news and updates.
This news first appeared on www.babarkhanjaved.com