Once upon a time, people used to spend their days hitting shopping malls or supermarkets, personally buying items and lugging them back home.
While earlier, brick-and-mortar outlets were considered capable platforms to fulfill all your requirements in just one place, the unparalleled ascent of e-commerce has bid a hearty farewell to this trend and made way for digital shopping portals – faster, simpler and a hundred times more efficient!


With the Internet vastly revolutionizing everyday life combined with the huge influx of eCommerce portals across the country, the recently launched online shopping store Jambo.pk – a startup under Arpatech Technology Ventures (ATV) – is all set to take Pakistan's budding e-commerce sector by storm.
Upping the ante in the digital arena, Jambo.pk stands out from the crowd by presenting not only an assortment of extravagant hi-end products but even generic household items on its website.
From cosmetics to clothes and groceries to gadgets, the innovative e-retailer comes off as the ultimate, one-stop solution for online shopping aficionados.
Touting itself as a fun shopping experience, the e-forum is not only an apparent time saver and hassle-free service but also offers attractive deals and unique discounts. With a 24/7 helpline, acting as an instant messenger to its support team, Jambo.pk scores high on customer service as well.
Amidst cut-throat competition, the tipping point of this new venture is the promise of instant delivery via prompt logistical services through Forrun, another Arpatech venture.
Similarly, in providing grocery, it can rely on the online grocery store TazaMart.pk, another ATV startup. While its rivals struggle for timely delivery of orders, Jambo.pk utilizes ATV's immense infrastructure and world-class expertise to amplify user experience.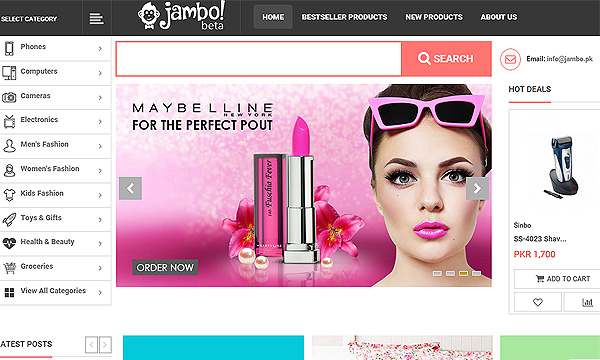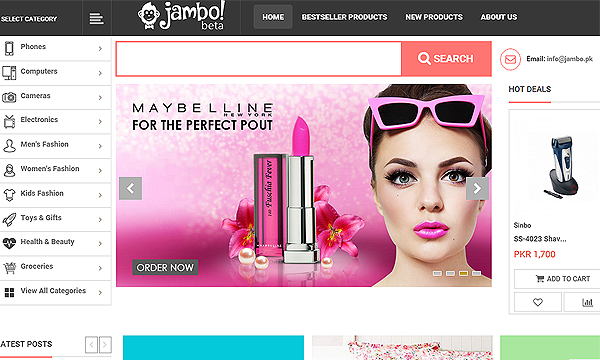 Of course, to meet the needs of e-shoppers fraternity, it has free shipping all over Pakistan, from Kashmir to Karachi, Panjgur to Peshawar, enjoying a loyal following in smaller cities as well.
Within a couple of month of its soft launch, the e-portal boasts a whopping number of SKUs (Stock Keeping Units); having started with 5,000 items, the SKU count is increasing every passing day and closing in on 25,000 SKUs.
Even though Jambo.pk might be at an embryonic stage, their roadmap for exponential growth through highest quality and quantity of SKUs already seems to be following the script to the tee.
Planning to collaborate with big brands and even emerging local entrepreneurs to launch new product lines, it seems inevitable for Jambo.pk to ascend the ladder of success and become Pakistan's preferred online shopping portal.
Now you can get a guitar, buy your favorite lipstick, shop for your kid or even purchase the latest LED TV online fresh fruits all under one (metaphorical) roof! Don't believe us? Visit Jambo.pk for yourself for it is always better to behold than be told!