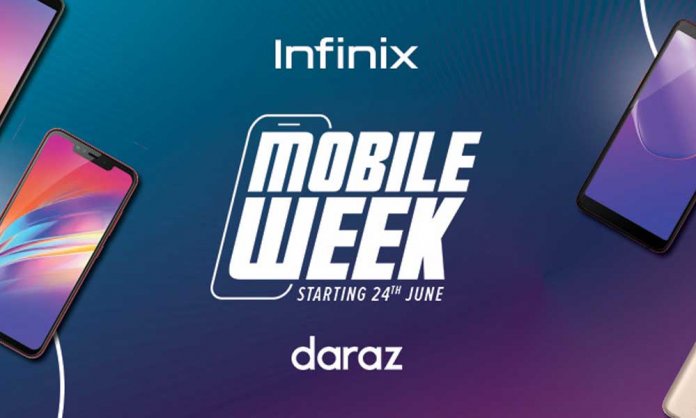 Infinix Pakistans leading smartphone brand has partnered with daraz on the year biggest mobile event known as daraz mobile week.
During mobile week Infinix is offering an exciting new device launch for the highly anticipated Hot 6X along with mind-blowing discounts on a number of available products.
HOT 6X is being offered at a special rate of only PKR 18,499 with 3GB Ram and 32GB Rom.
Main features of Hot 6X include 13MP+2MP rear cameras along with 8MP front-facing camera, 4000mAh battery that lasts up to two days, 3GB RAM/32GB ROM, face unlock & fingerprint sensor. Moreover the Dirac Speaker Sound, the slim design and large Full HD+ display of 6.2" provides users an immersive display that truly upgrades the entertainment experience.
Whether it's video clips, games, reading or online social entertainment, the HOT 6X lets you see it all. The Qualcomm Snapdragon processor provides users with higher image quality and smooth video playback along with faster gaming experience. The phone comes in 32GB along with an expandable memory that can cater to anyone's mobile storage needs.
The 13MP + 2MP dual camera allows PDAF fast focus, DSLR inspired imagery and has the state of the art editing feature of post photo shot refocus. Moreover, the HOT 6X incorporates Dirac HD Sound technology, which provides a phenomenal quality whether you listen through the headset or even through the phone's speaker.
The power pack of 4000mAh battery is sufficient for long-term entertainment and enables a 2-day life. A powerful battery like this infused with a video resolution of 1080p is perfect for watching movies or for extensive gaming.
Hot 6X will be launched on the 26th of June during the mobile week, however, Infinix fans can avail the amazing discounts on other products from 24th June till 30th June! Discounts are being offered for a wide range of Infinix smartphones, let's take a closer look at the details of the discounts
Hot 6 available for Rs.14,999 after a discount of Rs.4,500
Smart 2 [Black and Blue] upto Rs.2,500 off
Note 5 available for Rs.24,999 after a discount of Rs.8,000
S3 (3GB/32GB) available for Rs.18,199 after a discount of Rs.4,300
S3 Plus (4GB/64GB) available for Rs.21,999 after a discount of Rs.3000
Smart 2 HD available for Rs.12,699 after a discount of Rs.2,300
Zero 5 (6GB/64GB) available for Rs.27,999 after a discount of Rs.7,000
Hot 6 [3/32GB and 2/16GB] is being discounted from 20,999 and 18,999 to 18,599 and 15,699 respectively
Hot 7 available for Rs.13,999 after a discount of Rs.2,000
To avail, these amazing discounts visit Infinix Official Store (https://www.daraz.pk/shop/infinix/) on daraz and get your favorite smartphone at an unbelievably low price.