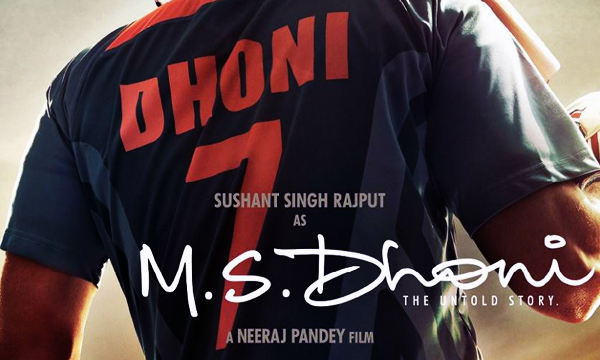 'Ms Dhoni The Untold Story', will feature Sushant Singh in the lead role.  See the movie's exclusive trailer revealed on Hotstar.
If there is one Indian that deserves cinematic appreciation, it is certainly Mahendra Singh Dhoni, the man with nerves as calm as the infinite silent ocean. After all who could deny that where ever Indian Cricket stands today it is only because of this man, and this man alone. 
Watch the trailer below:
Bollywood continues its trend of biopics on great sportsperson, this time with director Neeraj Pandey. Dhoni's character will be played by Sushant Singh Rajput, much loved Indian television and movie actor.
There have been many rumors regarding the movie's existence and credibility, after all there was no official word from movie that was supposed to be about the greatest Indian captain after Kapil Dev, MS Dhoni's life! However all of those rumors can now be out to rest, as the first official look of the movie is spreading like wild fire on the internet. Have a look.
Clearing out all those rumours being carried out past few days.It was all false.. Here you go ….BOOM !!! pic.twitter.com/58vXAGe3Bc

— Sakshi Singh Dhoni (@SaakshiSRawat) September 24, 2014
MS Dhoni's wife Sakshi, revealed it on her Twitter account a couple of days back. The tweet said, clearing out all those rumors being carried out past few days. It was all fake…Here you go…Boom!
One of the rumors circulating was that Mahendra Singh Dhoni has demanded a ridiculous amount of money to hand over the rights to his biopic, director Neeraj Pandey has also scotched all rumors of this sort.
Then there was another rumor that BCCI has some reservations regarding the movie. BCCI however did clarify afterwards that the body doesn't interfere in cricketers personal lives outside the domain of cricket.
Whatever the issues were or still are, the movie is well underway. Sushant Singh Rajput will also work out and receive proper training in cricket, reportedly. Since Dhoni is also a wicket-keeper that means more training for Sushant.
The movie is set for an early 2015 release.