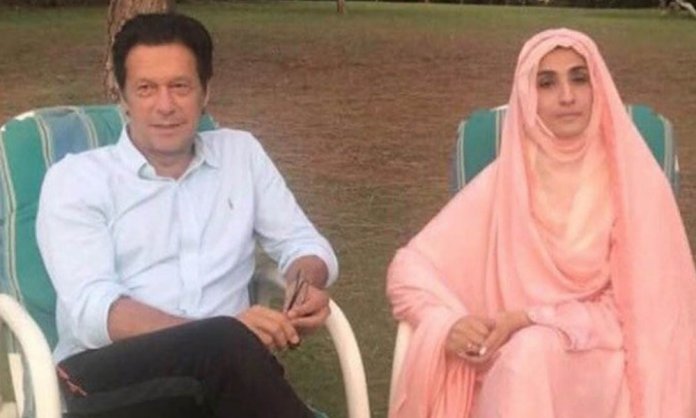 Imran Khan and Bushra Manika have been making headlines lately with pictures of the couple taking the internet by storm.
Recent pictures of this power couple performing Umrah have surfaced online and everyone is falling in love with them all over again.
This Video of Imran Khan and his Wife Praying Together Goes Viral!
The duo has been spotted in Makkah while performing religious rituals together!
The former cricketer won everyone's hearts when he laned in Madina and stepped off the plane wearing only his socks.
Kaptaan captured while offering prayers in Masjid-e-Nabwi on Lailatul Qadar — the 27th night of Ramazan. 
Bushra Maneka also met Pakistani actress Noor Bukhari in Medinah!
Aamir Liaquat Husain shared a video on his Twitter of the politician that has gone viral in a relatively short span of time.
عمران خان @ImranKhanPTI مدینہ منورہ میں جہاز سے اترے تو سرزمین پاک پر جوتے نہیں رکھے بلکہ جوتوں کے بنا اترے… ہاں یقیناً یہ دین نہیں مگر ہاں ہاں یہ ادب ہے ہاں ہاں یہ عشق ہے… pic.twitter.com/y3PkVUPRpX

— Aamir Liaquat Husain (@AamirLiaquat) June 11, 2018
Twitteratis couldn't hold themselves back from admiring the politician and were seen admiring him.
imrankhan k liyey izzat aur muhabbat aur zada barh gyi hai !! #ImranKhan

— Rana Talha Shahid (@ranatalhashahid) June 11, 2018
Bht khoob💕
hero😍
Allah pak sb ko adab krny ki tofeeq den…

— Sadia Nazir⭐ (@sadianazirsadi) June 11, 2018
Loving this ❤
Never seen anyone doing this

— شعیب 🇦🇷 (@MisterShebi) June 11, 2018
Our Great IK😇😇😇😇🙏🙏

— Red Stone Media (@RedStoneProduc4) June 11, 2018
We have to say that we are loving this side of the couple!
Stay tuned to Brandsynario for more news and updates.