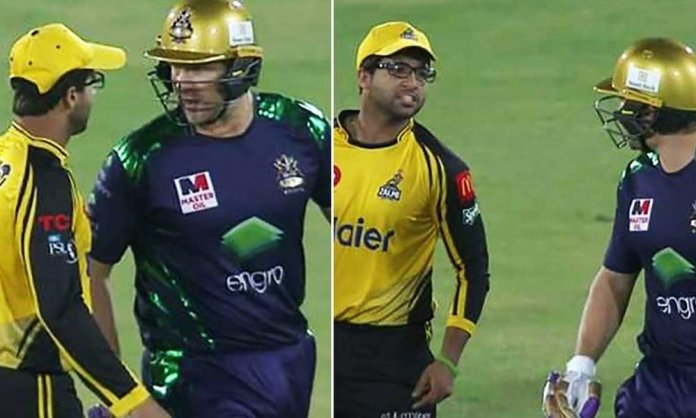 Pakistan won last night as Quetta Gladiators took the Pakistan Super League (PSL) 4 trophy home! While Karachi and Pakistanis stood proud of the achievements and applauded the efforts by our Army and Ranger officials.
However, Peshawar Zalmi's batsman Imam-ul-Haq is now facing severe backlash for his disappointing performance for his team and the insult he showed to senior and former Australian all-rounder Shane Watson.
Ahmed Shehzad and Shane Watson were the opening batsmen from Quetta's side who were brought in to chase down a target of 139. However, after they reached 19-0 in the third over, Watson was the first one to return back to the box after being run out.
He started to walk back to his team when Imam-ul-Haq, known for being the nephew of Inzamam-ul-Haq exchanged heated words with the senior player.
I genuinely have no idea what has happened, but Imam seriously needs to check his act. Shane Watson deserves a lot of respect & even if he did start it, Imam shouldn't have reacted. pic.twitter.com/hr4DNrRCrB

— Kalim Khan (@Kallerz37) March 17, 2019
However, it was Shane Watson whose team walked away with a glorious win and sent a message to Imam and the other Zalmis that this time it is the Gladiator's era! Nonetheless, social media disliked Imam's actions and bashed the young man on different platforms.
Following the backlash, Imam has now apologized for the whole episode.
He stated: 
"My reaction to Watson's inappropriate abusive comments was avoidable, for which I apologize"
Yesterday's incident happened in the heat of the moment. My reaction to Watson's inappropriate abusive comments was avoidable, for which I apologise. It was a good match and a great HBL PSL 2019, let's enjoy its success. Congrats to Gladiators and Watson for the trophy and awards

— Imam Ul Haq (@ImamUlHaq12) March 18, 2019
Meanwhile, Shane Watson has tweeted a heart-warming farewell tweet!
Saying farewell to a few of the main men @TeamQuetta. It has been such an amazing 5 weeks or so with my time in Karachi being the absolute highlight. What a way to finish things off last… https://t.co/kLLEvmdcbG

— Shane Watson (@ShaneRWatson33) March 18, 2019
Pakistani Fast Bowler Shaheen Afridi Salutes Pakistan Air Force Officers
Social Media Reacts to Imam-ul-Haq
Feeling sorry for you man💔… whatson…Pakistani youngsters first of all need to learn how to treat someone…PCB must teach them some manners…and imam ul haqq should be banned for at least 5 or 6 matchz to realiz his mistake…#Imamulhaq pic.twitter.com/o0QnMViAJ7

— Irum Raja🇵🇰 (@IrumRaja3) March 17, 2019
Obviously… Qibla theek kar lo apna #imamulhaq pic.twitter.com/V80deDwQsg

— HamzaIQbal (@HamzaQbal) March 17, 2019
Spirit of PSL vs Shit of PSL
#imamulhaq 😠😠#Parchi pic.twitter.com/Tz0qUXiAkK

— Hamza Nadeem (@HamzaHNK) March 17, 2019
U own huge respect nd love @ShaneRWatson33 Sir! Nd the whole nation is thankful to u for coming to Pakistan nd we r sorry for misbehaviour of #imamulhaq. pic.twitter.com/5VD8zFhNni

— Hasiiibaa (@hasiiibaa) March 17, 2019
😂😂😂😂deserve it #Imamulhaq pic.twitter.com/YzDUmiKMzq

— Irum Raja🇵🇰 (@IrumRaja3) March 17, 2019
This is Ridiculous! This moron @ImamUlHaq12 especially went out of the huddle to sledge and misbehave with the legend @ShaneRWatson33. How dare this jerk talk to such a senior player like this? How dare he misbehave with our honorable guest? Unacceptable! #PSLFinal #ImamUlHaq pic.twitter.com/3BqPre6wKV

— Ubair Khan (@ubairkhaan) March 17, 2019
One word for this Parchi man 😠#PSLFinal #HBLPSL #imamulhaq pic.twitter.com/2xdUZPgJpQ

— *NOOR* (@_DSP_Hsn_Shah) March 17, 2019
We are really sorry legendary @ShaneRWatson33 #Imamulhaq is the piece of shit, you came into cricket by the help of your uncle.@ShaneRWatson33 sir We all Pakistan's thankful to you to came in Pakistan. pic.twitter.com/OkhfTT6gDj

— Ch Xee F (@Chaudhry_Xee) March 17, 2019
Shameful act by Imam ul Haq… Shane Watson is our guest who come in Pakistan for PSL…#PSLFinal #PSL2019 #Imamulhaq@ImamUlHaq12 pic.twitter.com/pLWijMVVay

— Shahlan Malik (@ShahlanMalik1) March 17, 2019
When you invite guests to your home, don't treat them like this. Poor from #ImamUlHaq to give Shane Watson a send-off when he was out#ShameOnYouParchi#HBLPSLFinal pic.twitter.com/bNVVjowSPH

— Munir Asghar (@MunirAsghar321) March 17, 2019
I'm demanding to the @TherealPCBA that you should also train the moral of such players. these players are not just cricketers they are also the beauty of peaceful Pakistan.
so please take a strong action against the #imamulhaq that nobody should even think again like this. pic.twitter.com/nelC3f78M4

— son of Pakistan 🇵🇰 (@izhar11503646) March 17, 2019
#DawayneBravo Rocked 😂 #ImamulHaq Shoked 🤣 pic.twitter.com/X8K8uRqaWq

— Shahzaib Shamim 🌏❤ (@ShahzaibShami15) March 18, 2019
What do you think about Imam's behavior? Was it justified?
Stay tuned to Brandsynario for more news and updates.
Shahid Afridi Responds Over Team India's Camouflage Hats [Watch Video]