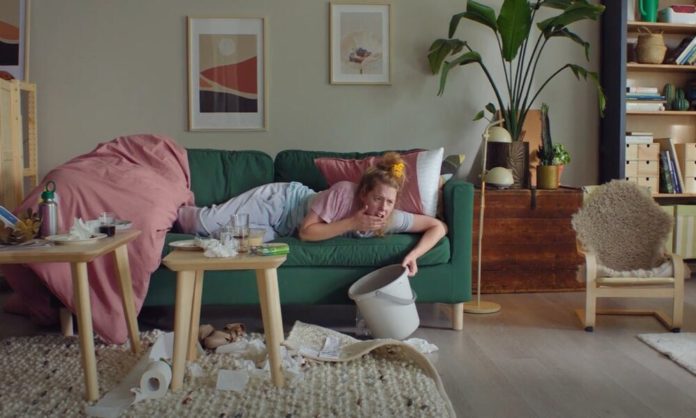 Over time, IKEA has excelled in portraying to consumers the potential beauty of their homes. However, in their latest campaign, the brand openly acknowledges that in real life, "Life is not an IKEA Catalog."
The campaign consists of a series of advertisements that depict the idealized, picture-perfect homes from an IKEA catalog being disrupted by the messiness of everyday life. Instead of merely presenting their new products in the typical inspirational manner, these ads show IKEA furniture being subjected to spilled drinks, vomit, and damage during a party.
'Life Is Not An IKEA Catalog'
The commercials initially follow the anticipated pattern: the camera smoothly glides through a room, highlighting IKEA products while displaying their prices through on-screen text. However, in one video, there's a sudden shift as the camera unexpectedly focuses on a mother vomiting in a bucket while her toddler stands nearby. In another, a similar setup begins, accompanied by soothing music, only for it to come to an abrupt halt when a dog urinates near a bed.
Read More: I'm 'Mercedes' – A Campaign You Just Cannot Miss!
In another ad, a dog shows little concern for its owner's pristine IKEA carpet. Fortunately, in this case, the carpet is machine washable. This underscores the central message of all these ads, emphasizing the ease of cleaning IKEA products.
'The goal is to show its home goods in a "brutally honest" way.' Says IKEA.
Read More: Unveiling of the Haval Jolion: Where Luxury Meets Innovation
"Ikea products are made to let you handle the every day because we believe that both furniture and your home are meant to be used," said Annika Mørch Asté, head of Ikea's marketing communication. "Sure, it's a bit rough to see our products on TV covered in vomit and dog pee. But life isn't always neat and tidy, so we think it's great that the campaign can reflect just that."
"With this campaign, we wanted to showcase the more honest sides of life at home and how our products are designed to withstand daily life," said Celin Kjenslie, country marketing manager at Ikea Norway. "Good design does more than just look great in a catalog."
Stay tuned to Brandsynario for the latest news and updates.