Can concerts in Pakistan remain civil? This is a question that reigns on the minds of many as one after another horror stories and angry performers' videos surface. Just recently, Aima Baig lost her cool at the crowd she was performing for because someone had been disrespectful with her. Here's what you need to know:
Aima Baig's Concert
The video shows Aima Baig on stage surrounded by a host of guards. She is speaking into her mic, asking that the management takes the crowd further back. Baig keeps instructing the management to take them further back to create a greater distance between the crowd and the stage to protect herself.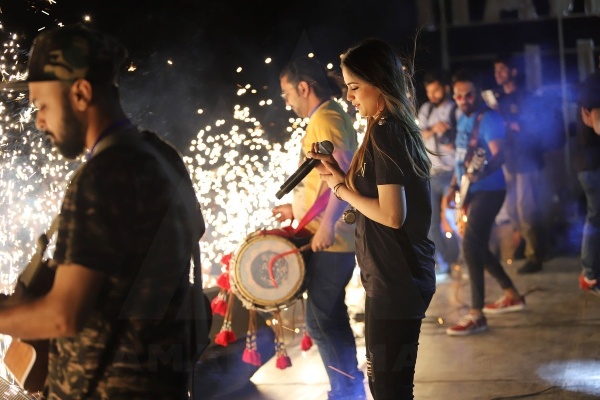 She then proceeds to say that if someone is going to be mischievous and be disrespectful, everyone has to go back. At this, the crowd starts hollering which is again sexist but that's a conversation for another day. Following this, Aima Baig also expresses her distaste over the fact that just because of one bad egg all those who came to genuinely enjoy also have to suffer.
Watch The Video:
Aima Baig is trying to copy Talha Anjum pic.twitter.com/eHWObL1WpA

— Usama ki Memes (@Usamakimemes1) December 27, 2021
Talha Anjum's Incident
This happened just a day ago with Talha Anjum also, a part of the duo called Young Stunners. The two were performing on stage when someone hurled a water bottle on Talha Anjum which made him extremely angry.
Read more: Atif Aslam Arrives On A Bike At His Concert, Video Goes Viral
To jog your memory, Atif Aslam also recently left a concert halfway because the men in the crowd started harassing girls. A girl came onto the stage crying and when Atif Aslam heard the story from her, he left. The issue is how common these incidents are becoming in which not only the crowd is rendered unsafe but the performers too.
Read more: Asim Azhar Fans Chant "Hania" During His Concert & Here's What Happened
What Are People Saying?
People had a range of reactions to this incident and the comparison between Talha Anjum and Aima Baig was also not lost upon all. People are just as surprised at us about why concerts can not remain unproblematic and be enjoyed respectfully. Have a look at what all they said:
Someone misbehaved with Aima Baig too during her concert at Punjab college. I swear to God these college students need to learn some manners.

— Biya Ali Zaib. (@BiyaAli9) December 27, 2021
Jokes aside but have to give respect to our artists. First people misbehave with talha anjum and now with aima baig. If you don't like them, then don't go to their concerts simple.

— Hamza. (@Dirtybrat_) December 27, 2021
Stay tuned to Brandsynario for the latest news and updates.