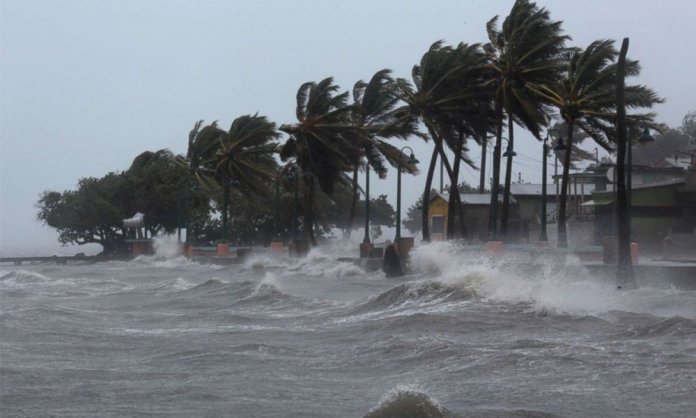 After Hurricane Harvey wreaked havoc across the state of Texas, there is another impending natural threat; Hurricane Irma.
Hurricane Irma has been ranked as a category five storm with sustained wind speeds of 180mph. It is tearing through the Caribbean, currently hurtling across the Virgin Islands. However, now, it is moving away from Puerto Rico and heading towards the Dominican Republic and Haiti. According to forecast, it is set to hit on Thursday.
Watch Video below for details:
Late afternoon sun casting a shadow on Hurricane #Irma's eye. #GOES16 pic.twitter.com/CQaSgHzVN6

— NASA SPoRT (@NASA_SPoRT) September 5, 2017
Irma has brought destruction across the Caribbean and Barbuda has been left in ruins.
According to the Prime Minister Gaston Browne,
"90% of buildings have been destroyed and 60% of the population is homeless."
These are the first images from Barbuda after Hurricane #Irma's direct hit earlier today — the strongest landfall in Atlantic history. pic.twitter.com/LTM2ql7SFf

— Eric Holthaus (@EricHolthaus) September 7, 2017
For anyone in Florida who's thinking about hunkering down, please don't. pic.twitter.com/dfMSphJ1f1

— UnsilentMajority 💠 (@The_UnSilent_) September 7, 2017

Alarmingly, the massive tropical storm is on track to reach Florida, which will be a disastrous hit. Irma is forecast to head towards Cuba and Florida, where mandatory evacuations have been issued to residents in coastal areas, who must leave their homes by Thursday.
From my TV interview with NHC Director "if this hits south Florida this is going to be a once in a generation event…the big one for us" pic.twitter.com/NfODX6xVzd

— Craig Setzer CBS4 (@CraigSetzer) September 7, 2017
While Irma is grabbing all the attention, there are two more hurricanes spinning in the Atlantic Basin:
Tropical Storm Jose
Tropical Storm Katia
In terms of Accumulated Cyclone Energy for all storms so far, 2017 has spiked to well above average in the past week due to Irma. We also have Jose and Katia adding to the tally.
Hurricane Irma, accompanied by Katia and Jose
Cat 5 Hurricane Irma now joined by two other storms, tropical storms Jose and Katia. Katia already in Gulf. pic.twitter.com/hVDXjwVvpa

— Judd Davis (@BamaJD) September 6, 2017
With the 2100 UTC advisories, there are now 3 hurricanes in the Atlantic basin: #Katia, #Irma, & #Jose NHC latest: https://t.co/qcVbOh0r4q pic.twitter.com/QayE2gdqhf

— NWS OPC (@NWSOPC) September 6, 2017
Stay tuned to Brandsynario for more updates.