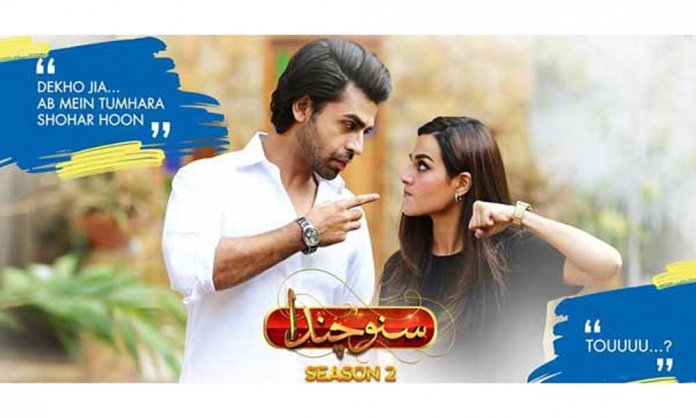 According to exclusive data obtained by Biz Asia, an Asian Media & Entertainment website, Suno Chanda has made it to the top 5 most watched list of shows in the UK.
Raj Baddhan, award-winning presenter and founder of Bizasia took to Twitter and announce HUM TV's Suno Chanda's stellar ratings in the UK.
His tweet made us proud of our local drama
Ratings Watch: #SunoChanda has exceeded all expectations & beaten ALL shows on UK Asian TV (including Star Plus) to take No.1 spot on Thursday, exclusive data on @BizAsia : https://t.co/HUBDf4MhXR @Humtvnetwork #SunoChanda2

— Raj Baddhan (@RajBaddhan) May 17, 2019
Pakistani Actor Faizan Sheikh Blasts HUM TV for Threatening & Harassing Sister
It stands as the number 1 top watched show across all Asian TV networks in the UK with 71,400 viewers (on Tuesday, 21st May 2019).
Surprisingly, the popular Hum TV show as even surpassed the ratings of Star Plus' 'Yeh Hai Mohabbatein', which ruled at the prime time of 19:30 p.m. with 57,700 viewers.
Suno Chanda has been winning millions of hearts since its first season came out in Ramzan 2018. Its second season is being constantly praised by audiences and discussed on social media quite regularly.
Some people admire the humor.
It's not easy to master comedy,, probably the most difficult aspect of acting they say! One has to have great comic timing and skill to do so and this cast has it all. They know how to put the right amount of humour and not overdo it. Kudos to them! #sunochanda2 #SunoChanda pic.twitter.com/bOHPfiepVC

— Saima Akram Chudhery (@saimakramwriter) May 21, 2019
While others are going ga-ga over Arsal and Jiya's 'iconic' couple.
They look so khoobsurat! 🌸💗#ArJiya #SunoChanda2 #SunoChanda pic.twitter.com/t55tt4lPwP

— Eмιι (@EmiiCandy) May 20, 2019
Kami Sid Breaks Silence after Rape Allegations Surface on Social Media
What do you think? Let us know in the comments.
Stay tuned to Brandsynario for more updates.