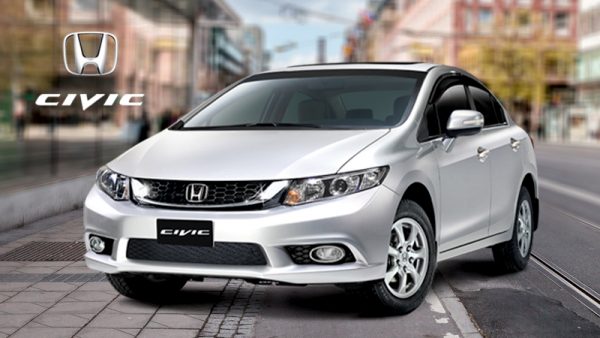 The 2016 Honda Civic 1.8 scheduled to complete the production phase in December has been unveiled! The new Civic has a change in design, a new shape, more interior space and an attractive exterior.
The makers of the car have really brought something new this time around, instead of the original seats and finishes of the car, the 1.8 has received a fresh look for its panels and instruments.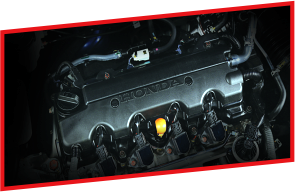 Specs & Features
The Interior
The Civic boasts a shorter nose and wheelbase for better handling, more leg-space as well as overall interior space, it comes with Climate Control System with a touchscreen display with multimedia functions to enjoy while you are on-the-go. The new Civic also comes with a smooth gear box so that gear shifting is very easy, a better and improved cruise control, and a new look for the comfortable seats.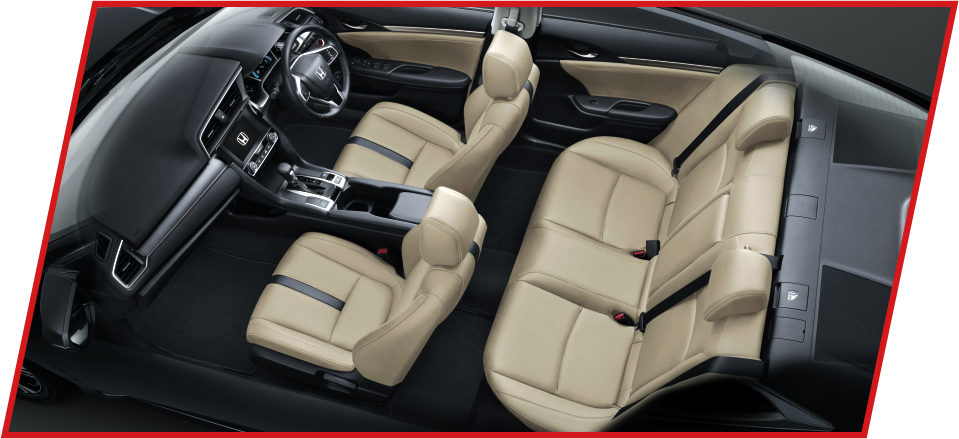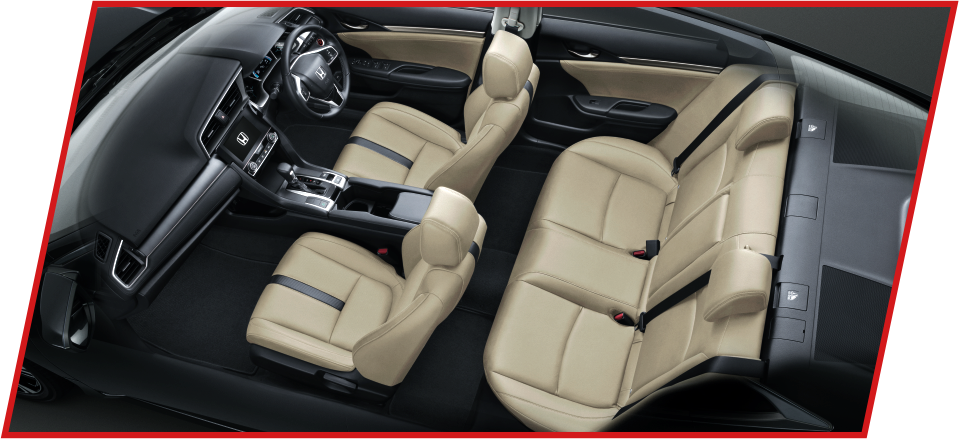 The Exterior
The new attractive exterior of the Honda Civic makes it look absolutely refreshing. This is because the 1.8 Honda Civic 2016 has received new headlights with the feature of daytime running lights, a new bumper style, designed side panel, black finish, rear spoiler, emergency stop signals embedded in the taillights, fog lamps, and LED taillights.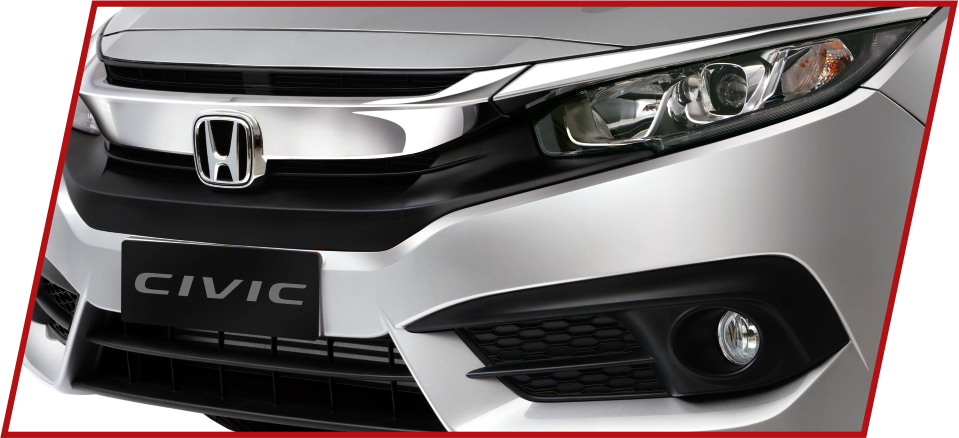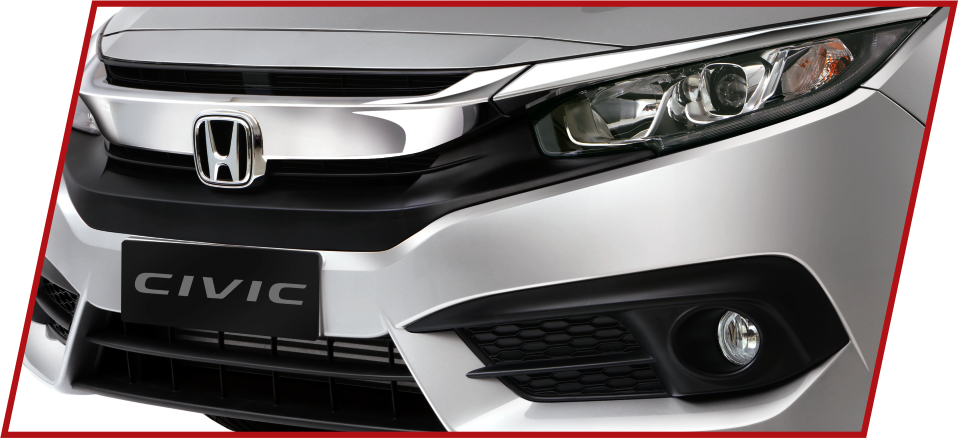 The new design has improved the interior space and sports more efficient aerodynamics, making the cockpit even more luxurious. The low-speed availability is now a part of the standard package. The shredding of the extra weight has improved the engine by 20% compared to the previous models.
Color Variants
The 2016 Honda Civic is available in the following colors:
Taffeta White
Lunar Silver Metallic
Crystal Black
Rally Red
Urban Titanium
Modern Steel Metalic
Brilliant Blue Metalic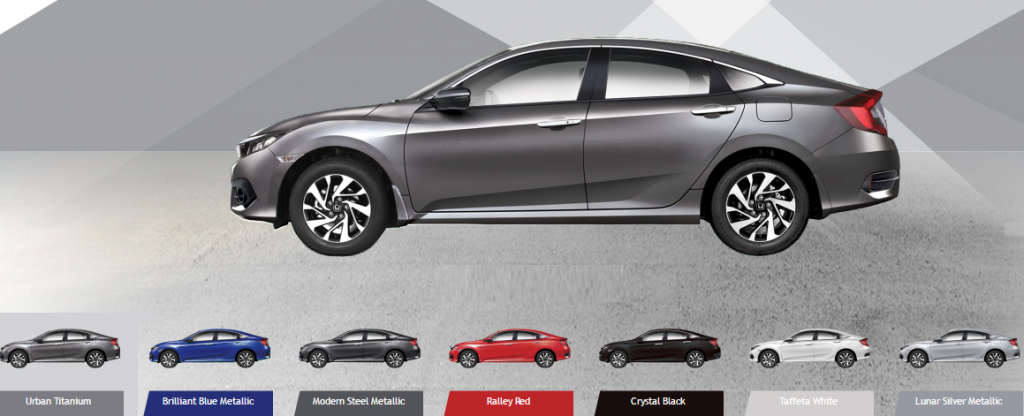 As a sweet treat, Honda has included designer Civic ports draws for the front bumper, lower grille and a black-coated roof for the Dell interior.
Price
The luxurious sedan's price is estimated to be the following:
Honda Civic VTi 1.8 i-VTEC- PKR 2,349,000 (CVT Transmission Basic Model)
Honda Civic VTi 1.8 i-VTEC Oriel- PKR 2,499,000 (CVT Transmission Basic Model)
Honda Civic VTi 1.5 i-VTEC Turbo- PKR 2,999,000 (CVT Transmission Basic Model)
Price
Ex-Factory Price (Pak Rs.)**
Model
Price
1.8L i-VTEC
2,349,000
1.8L i-VTEC Oriel
2,499,000
1.5 VTEC TURBO
2,999,000
Frieght Charges
Lahore
4,000
Faisalabad
7,000
Gujranwala
6,500
Sialkot
6,500
Sargodha
6,500
Multan
11,000
Rawalpindi
12,000
Peshawar
12,000
Hyderabad
12,000
Karachi
12,000
MirPur (AJK)
12,000

Honda Civic 2016 Pakistan Specifications
CIVIC 1.8L i-VTEC
ENGINE & TRANSMISSION
Type
SOHC i – VTEC
Fuel Supply System
Programmed Fuel Injection (PGM-FI)
Engine Displacement (cc)
1,799
Bore & Stroke (mm)
81 x 87.3
Compression Ratio
9.7 : 1
Power kW (ps)/rpm
103 (140) / 6,500
Torque N-m (kg-m)/rpm
169 (17.2) / 4,300
Drive by Wire (DBW)
o
Paddle Shifters
x
Emission Rating
EURO 4
Transmission
Continuously Variable Transmission (CVT)
SUSPENSION
Front
MacPherson Strut with Stabilizer
Rear
Multi-Link
BRAKING SYSTEM
Type
4 – Wheel Disc ABS
Parking Brake Type
Electric Parking Brake (EPB)
STEERING SYSTEM
Gear Type
Rack & Pinion
Power Steering System
Electric Power Steering (EPS)
Steering Wheel
Material
Urethane
Adjustment
Tilt & Telescopic
Controls
Audio and MID
Cruise Control
x
ECO ASSIST SYSTEM
E-CON Button
O
ECO Coaching Ambient
O
DIMENSIONS & WEIGHT
Length (mm)
4,630
Width (mm)
1,799
Height (mm)
1,433
Wheel Base (mm)
2,700
Ground Clearance (mm)
153
Curb Weight (kg)
1,267
Seating Capacity (Persons)
5
Fuel Tank Capacity (Liters)
47
EXTERIOR
Headlights
Type
Projector Halogen Headlight
Daytime Running Lights (DRL)
(LED)
Auto On/Off Timer
O
Fog Light
x
Side Turn Signal
Door Mirror Integrated
Tail Lamps
(LED)
Electrically Adjustable Door Mirrors
O
Electrically Retractable Door Mirrors
x
Door Mirrors (Color)
Black with Body Color Cap
Grill
Chrome
Door Handles
Body Color
Wipers
Variable Intermittent
Wheel Size and Type
16 x 7 J Steel Wheel with Cover
Tyre Size
215/55 R16
Remote Engine Start
x
Keyless Entry System
O
INTERIOR
Audio System
Type
2DIN Integrated Audio
Navigation
Optional
Rear Entertainment System
X
Connectivity
CD, Bluetooth, USB Port and iPhone Connectivity
Speakers
4
Radio Antenna
Glass Printed
Instrument Cluster
Trip Computer Display
Full Color TFT
Type
Digital
Oil Monitor System
x
Air Conditioning System
Auto Aircon
Seats
Driver Seat
Manual with Seat Height Adjuster
Material
Fabric
Seat Back Pocket
Driver and Front Passenger
Power Features
Front Windows
(One touch Up/Down for Driver and Front Passenger)
Rear Windows
O
Door Locks
(Driver and Front Passenger)
Interior Light
Map Light
 O
Dome Light
 O
Trunk Light
 O
Rear View Mirror
Day and Night
Sunvisor
with Vanity Mirror (Driver and Front Passenger)
Shift Knob
Urethane
Power Outlet (12V)
O
Storage
Door Pockets
Front and Rear Doors
Cup Holder
4
Armrest
Front Center
O
Rear Seat
(with Pockets)
Coat Hanger
O
Foot Rest
O
SAFETY & SECURITY
Airbags
Driver & Front Passenger
Auto Brake Hold (ABH)
O
Vehicle Stability Assist (VSA)
O
Hill Start Assist (HAS)
O
Anti-Lock Braking System (ABS)
(with Electronic Brake-Force Distribution)
Emergency Stop Signal (ESS)
O
High Mount Stop Lamp
O
Reverse Camera
Optional
Locking System Auto Door Lock and Unlock
O
Seat Belts
Front
3 P t. ELR (Driver & Passenger)
Rear
3 pt. ELR x 3
Reminder
Driver
Child Lock
O
Immobilizer
O
Security Alarm
O
1.8L i-VTEC Oriel
ENGINE & TRANSMISSION
Type
SOHC i – VTEC
Fuel Supply System
Programmed Fuel Injection (PGM-FI)
Engine Displacement (cc)
1,799
Bore & Stroke (mm)
81 x 87.3
Compression Ratio
9.7 : 1
Power kW (ps)/rpm
103 (140) / 6,500
Torque N-m (kg-m)/rpm
169 (17.2) / 4,300
Drive by Wire (DBW)
o
Paddle Shifters
x
Emission Rating
EURO 4
Transmission
Continuously Variable Transmission (CVT)
SUSPENSION
Front
MacPherson Strut with Stabilizer
Rear
Multi-Link
BRAKING SYSTEM
Type
4 – Wheel Disc ABS
Parking Brake Type
Electric Parking Brake (EPB)
STEERING SYSTEM
Gear Type
Rack & Pinion
Power Steering System
Electric Power Steering (EPS)
Steering Wheel
Material
Urethane
Adjustment
Tilt & Telescopic
Controls
Audio and MID
Cruise Control
O
ECO ASSIST SYSTEM
E-CON Button
O
ECO Coaching Ambient
O
DIMENSIONS & WEIGHT
Length (mm)
4,630
Width (mm)
1,799
Height (mm)
1,433
Wheel Base (mm)
2,700
Ground Clearance (mm)
153
Curb Weight (kg)
1,273
Seating Capacity (Persons)
5
Fuel Tank Capacity (Liters)
47
EXTERIOR
Headlights
Type
Projector Halogen Headlight
Daytime Running Lights (DRL)
(LED)
Auto On/Off Timer
O
Fog Light
(Halogen)
Side Turn Signal
Door Mirror Integrated
Tail Lamps
(LED)
Electrically Adjustable Door Mirrors
O
Electrically Retractable Door Mirrors
O
Door Mirrors (Color)
Black with Body Color Cap
Grill
Chrome
Door Handles
Body Color
Wipers
Variable Intermittent
Wheel Size and Type
16×7 J Alloy
Tyre Size
215/55 R16
Remote Engine Start
x
Keyless Entry System
Smart Entry with Push Start Button
INTERIOR
Audio System
Type
2DIN Integrated Audio
Navigation
Optional
Rear Entertainment System
X
Connectivity
CD, Bluetooth, USB Port and iPhone Connectivity
Speakers
4
Radio Antenna
Glass Printed
Instrument Cluster
Trip Computer Display
Full Color TFT
Type
Digital
Oil Monitor System
x
Air Conditioning System
Auto Aircon
Seats
Driver Seat
Manual with Seat Height Adjuster
Material
Fabric
Seat Back Pocket
Driver and Front Passenger
Power Features
Front Windows
(One touch Up/Down for Driver and Front Passenger)
Rear Windows
O
Door Locks
(Driver and Front Passenger)
Interior Light
Map Light
 O
Dome Light
 O
Trunk Light
 O
Rear View Mirror
Day and Night
Sunvisor
with Vanity Mirror (Driver and Front Passenger)
Shift Knob
Urethane
Power Outlet (12V)
O
Storage
Door Pockets
Front and Rear Doors
Cup Holder
4
Armrest
Front Center
O
Rear Seat
(with Pockets)
Coat Hanger
O
Foot Rest
O
SAFETY & SECURITY
Airbags
Driver & Front Passenger
Auto Brake Hold (ABH)
O
Vehicle Stability Assist (VSA)
O
Hill Start Assist (HAS)
O
Anti-Lock Braking System (ABS)
(with Electronic Brake-Force Distribution)
Emergency Stop Signal (ESS)
O
High Mount Stop Lamp
O
Reverse Camera
Optional
Locking System Auto Door Lock and Unlock
O
Seat Belts
Front
3 P t. ELR (Driver & Passenger)
Rear
3 pt. ELR x 3
Reminder
Driver
Child Lock
O
Immobilizer
O
Security Alarm
O
1.5 VTEC TURBO
ENGINE & TRANSMISSION
Type
Earth Dreams Technology DOHC VTEC Turbo
Fuel Supply System
Programmed Fuel Injection (PGM-FI)
Engine Displacement (cc)
1,498
Bore & Stroke (mm)
73 x 89.5
Compression Ratio
10.6 : 1
Power kW (ps)/rpm
127 (173) / 5,500
Torque N-m (kg-m)/rpm
220 (22.4) / 1,700-5,500
Drive by Wire (DBW)
o
Paddle Shifters
x
Emission Rating
EURO 4
Turbo
Type
(Single Scroll)
Size of Turbo
MHI TD03
Boost Pressure
215kPa (Intake Manifold Absolute Pressure)
Waste Gate Type
Internal
Blow-off Valve
Installed in Turbocharger Piping
Recommended Fuel
Unleaded 91RON
Transmission
Continuously Variable Transmission (CVT)
SUSPENSION
Front
MacPherson Strut with Stabilizer
Rear
Multi-Link
BRAKING SYSTEM
Type
4 – Wheel Disc ABS
Parking Brake Type
Electric Parking Brake (EPB)
STEERING SYSTEM
Gear Type
Rack & Pinion
Power Steering System
Electric Power Steering (EPS)
Steering Wheel
Material
Urethane
Adjustment
Tilt & Telescopic
Controls
Audio and MID
Cruise Control
O
ECO ASSIST SYSTEM
E-CON Button
O
ECO Coaching Ambient
O
DIMENSIONS & WEIGHT
Length (mm)
4,630
Width (mm)
1,799
Height (mm)
1,433
Wheel Base (mm)
2,700
Ground Clearance (mm)
153
Curb Weight (kg)
1,282
Seating Capacity (Persons)
5
Fuel Tank Capacity (Liters)
47
EXTERIOR
Headlights
Type
Projector Halogen Headlight
Daytime Running Lights (DRL)
(LED)
Auto On/Off Timer
O
Fog Light
(Halogen)
Side Turn Signal
Door Mirror Integrated
Tail Lamps
(LED)
Electrically Adjustable Door Mirrors
O
Electrically Retractable Door Mirrors
O
Door Mirrors (Color)
Black with Body Color Cap
Grill
High Gloss Black
Door Handles
Chrome
Wipers
Variable Intermittent
Wheel Size and Type
16×7 J Alloy
Tyre Size
215/55 R16
Remote Engine Start
O
Keyless Entry System
Smart Entry with Push Start Button
INTERIOR
Audio System
Type
7″ Touch Screen Advanced Display Audio
Navigation
O
Rear Entertainment System
O
Connectivity
CD, Bluetooth, USB Port and iPhone Connectivity
Speakers
4
Radio Antenna
Glass Printed
Instrument Cluster
Trip Computer Display
Full Color TFT
Type
Digital
Oil Monitor System
O
Air Conditioning System
Auto Aircon
Seats
Driver Seat
Manual with Seat Height Adjuster
Material
Hi Grade
Seat Back Pocket
Driver and Front Passenger
Power Features
Front Windows
(One touch Up/Down for Driver and Front Passenger)
Rear Windows
O
Door Locks
(Driver and Front Passenger)
Interior Light
Map Light
 O
Dome Light
 O
Trunk Light
 O
Rear View Mirror
Day and Night
Sunvisor
with Vanity Mirror (Driver and Front Passenger)
Shift Knob
Urethane
Power Outlet (12V)
O
Storage
Door Pockets
Front and Rear Doors
Cup Holder
4
Armrest
Front Center
O
Rear Seat
(with Pockets)
Coat Hanger
O
Foot Rest
O
SAFETY & SECURITY
Airbags
Driver & Front Passenger
Auto Brake Hold (ABH)
O
Vehicle Stability Assist (VSA)
O
Hill Start Assist (HAS)
O
Anti-Lock Braking System (ABS)
(with Electronic Brake-Force Distribution)
Emergency Stop Signal (ESS)
O
High Mount Stop Lamp
O
Reverse Camera
(Multi-View with Dynamic Guidelines)
Locking System Auto Door Lock and Unlock
O
Seat Belts
Front
3 P t. ELR (Driver & Passenger)
Rear
3 pt. ELR x 3
Reminder
Driver
Child Lock
O
Immobilizer
O
Security Alarm
O